Description
Beginners Dressmaking #1- Make Pyjama Trousers
NEW FOR 2017!

- Bonus online video lesson access after the course!
Do you want to start using dressmaking patterns but haven't a clue about all the terminology?

Are you itching to get started making your own clothes, but struggling to get going?
Then this is the class for you! Pyjama trousers are the PERFECT first dressmaking project, as they're easy to sew, easy to fit and super easy to wear.
This class runs both as an evening course over 2 sessions on 2 consecutive Monday/Tuesday or Thursday evenings.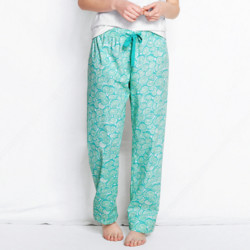 This workshop is the perfect follow on session for beginners who are comfortable using a sewing machine, and are looking to start making clothes.
During the course you will use a simple Pyjama pattern to make up your trousers in your own choice of fabric.

You will need to bring along 2.5 metres of fabric to make your trousers. plus 1.5 metres of ribbon for the waist, and if you have an unusual colour fabric, then get some thread to match.

Use of All tools and equipment including the pattern, is included in your class fee

Learn how to lay pattern pieces correctly on your fabric and understand all the pattern markings including grainlines and notches

Learn how to lengthen and shorten pattern pieces

Learn how to attach a waistband and insert buttonholes.
Cost-

£90 inclusive of
Pattern, Tools,use of equipment and elastic, just bring enough fabric and ribbon) to make your Pyjama trousers.
Materials required-

2.5 metres of light weight woven fabric suitable for pyjamas ( details in booking confirmation) It's a good idea to wash and press you fabric before atending in case it shrinks!
Times-
6.30 pm -9.30 pm(Monday/Tues or Thursday Eves) 11 am- 6 pm on Saturdays.
Do arrive early as sessions start promptly
Unlimited Tea, Coffee and snacks provided, just bring along some lunch at the weekend