Description
Beginners Dressmaking- Sew a Cleo Dungaree Dress
Want to step up your sewing skills and make an on trend dungaree dress?
If you're itching to jump into the world of dressmaking and you're in love with this season's pinafore or dungaree dresses, then this beginners dressmaking class is the one for you!
Available as a 1 day course on a Saturday, or as a 2 session course in the evenings over 2 weeks.
You must have made sewn a couple of simple projects on your own before attending this class.
If not then try our
Ultimate beginners day
first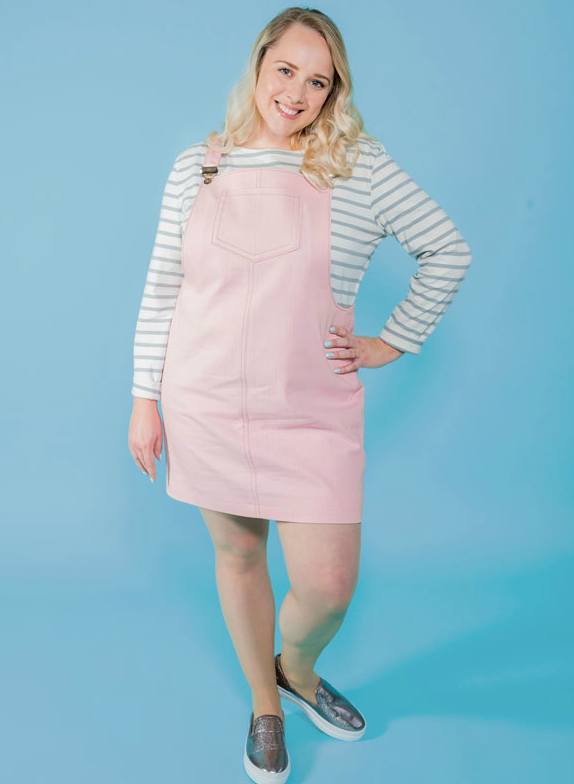 This is the perfect class to learn some basic dressmaking skills. The pattern has two options for fastening: either buckles, or buttonholes and buttons. You can choose to make the short or midi version, which also features a centre split.
You'll learn how to measure yourself and choose the right pattern size
Discover how to lay out a pattern and transfer all the pattern markings
You'll be provided with the list of supplies you'll need on your booking confirmation email.

Discover how

to finish off

an edge with a simple facing.

Get to grips with decorative top-stitching.
Use no sew fastenings i.e. the buckle.
You'll also learn some tips for perfect pocket pressing, and sewing buttonholes if you chose that option.
Cleo is the perfect dress to wear between seasons with tights, polo neck and a cardigan, PLUS it will become your summer staple with bare legs and a t shirt.
Cost: £98 (max number of 6 students)
Time: 10.30 am – 17:30pm weekends. 18.30-21.30 evenings. Arrive on time as session starts promptly!
Materials required: 1.2 -1.9 meters of heavy or medium weight woven fabrics that hold their shape, such as denim, corduroy, cotton drill, gabardine, canvas, (more details included in booking confirmation) : Matching Thread and top-stitching thread.
Refreshments: Unlimited tea, coffee and snacks provided. Do Bring along a sandwich for lunch at the weekend