Description
Payment options
Select 'beginners course' ticket type and pay online (admin fees apply)
or
**Select 'reserve place' ticket type (£50 each place, pay within 24 hours - no fees) and forward IMMEDIATE PAYMENT using one of the following options
1. via paypal to yogawithcaroline@gmail.com , select "send money to friends and family" to avoid transfer fees.
2. Pay Caroline cash
**Although this process is a little more complicated it means you save on booking fees and paypal charges. Unfortunately, if payment is not received within 24 hours from booking, reservations will be cancelled.
Type
pre-book 6 week beginners course
Level
Beginners Course
Class Description:
This 6 week beginners Course, has been introduced at the studio for those students who prefer to attend a course in order to gain confidence before attending our other weekly classes.
A series of seven classes aimed at those with very little, or no previous yoga experience, and for those who find joining an existing class a little daunting. We will be covering aspects of Hatha Yoga including posture practise (asana), breathing techniques and relaxation.
Everybody is welcome - the classes will be aimed at a mixed age group and a mixed potential ability.
Session 1 What is Yoga? A general introduction to yoga Some gentle breathing and asana (posture) practice
Session 2 Standing Postures
Session 3 Backbends and Forward bends
Session 4 Twists
Session 5 Balances
Session 6 Seated postures Where do we go from here?
Caroline Chatterton (BWY Dip & Natural Bodies Dip)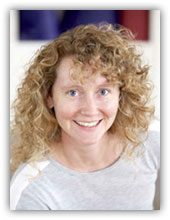 I started practicing Iyengar Yoga in 1997. I have since changed my focus to a practice that revolves around releasing tension, freeing the breath and working from the spine. I have worked with a number of Vanda Scaravelli inspired teachers, and continue my personal practice along these lines. Teachers I have worked extensively with are Gary Carter and Peter Blackaby.
In 2002 I embarked on the British Wheel of Yoga Foundation Course. I then completed the 3 year BWY Diploma course in May 2005. I have been teaching since July 2002. In Dec 2006 I also completed the 2.5 year teacher training course with Gary Cater at Natural Bodies.
I find I am drawn to anatomy and physiology, and a way of working that facilitates change in mind and body. My classes are suitable for all levels of experience from beginner to the more experienced student.
Parking: Please click here for details of available parking for our workshops.