Description
Why should marketers care about behavioral economics?
From priming to the pratfall effect, charm pricing to the curse of knowledge, the science of behavioural economics has never been easier to apply to marketing. However, before you can influence decisions, you need to understand what drives them. That's why we have invited Richard Shotton, author of the best selling marketing book, "The Choice Factory", to help explain the mechanics behind consumer psychology and how to apply it to your marketing challenges (and other areas).

To start off the evening, financial journalist, Alexander Norén will give us an overview of Behavioral Economics in Sweden, based on his new book, "Nudge - så funkar det!". The book, which is one of the first ones about Behavioral Economics in Swedish, is an excellent introduction to this growing field and contains lots of interesting examples from here and abroad.
Both books will be sold at special inroductory prices at the event and can also be ordered when you get your tickets.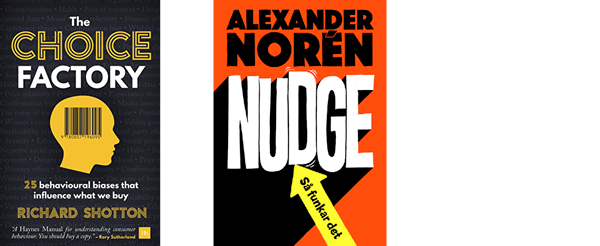 Join us at Sup46 in central Stockholm for an evening of interesting presentations followed by book signings and mingling. Cogex will also be on site to demonstrate how you can turn behavioral science into action with a playful little box of cards called Nuggets.
We look forward to seeing you there!

Date: Thursday, May 31
Time: 18:00-20:30
Place: Sup46, Regeringsgatan 65, 3rd floor
PROGRAM
---
18:00 Doors open
18:20 Presentations by Alexander Norén and Richard Shotton
An introduction to Behavioral Economics in Sweden
Alexander Norén, Financial journalist and author
Understanding the behavioral biases that influence what we buy
Richard Shotton, Deputy Head of Evidence at MG OMD, London
19:30 Mingling and book signing
20:00 End