Event Information
Refund Policy
Refunds up to 7 days before event
Eventbrite's fee is nonrefundable.
Does behaviour & accessibility impact engagement? How can you improve team cohesion? What role does storytelling play in behaviour change?
About this Event
We are keeping a close eye on all updates in relation to COVID-19. Our events until March 2021 are now online, and include the same opportunities as our physical events.
What are the similarities and overlaps between accessibility and sustainability, and why is accessibility important for sustainability? How can business teams increase their collective impact and ability to deliver sustainability goals? How can we make learning sustainability more accessible, and what value does storytelling have on behaviour change?
The Future Economy Network is excited to welcome Network members Kingfisher7, Dotjay and With Many Roots to answer these questions and more.
Expect interactive activities, valuable networking and live discussion alongside informative presentations.
Jon Gibbins, Digital Accessibility and Sustainability Consultant, Dotjay Ltd
If we exclude people in our work, then we create products and services that are less sustainable. And as we look to the future, our idea of what it means to be inclusive and sustainable will shift. Around 1 in 5 people have a disability. We need to include them. We need their help.
Martin Preston, Founder of Kingfisher 7 Consulting
Martin Preston, Founder of Kingfisher 7 Consulting will be speaking about how internal organisational behaviour change can help organisations increase their impact and make sustainability more accessible.
Most organisations have latent potential hidden within their teams and approaches. This not only prevents businesses from maximising the resources at their disposal, but also hinders innovation and transformational growth. Through exploring internal approaches and mindsets this session will share how you can change your internal behaviour to drive a sustainable and accessible energy future.
Sophia Cheng, Founder of With Many Roots, Climate Collage UK Co-ordinator
Sophia's been orbiting around making climate change more accessible for years now. She's been experimenting with presentations and standup comedy but there's no getting around the fact that climate science is hard. Since February she's been delivering Climate Collage workshops in the UK to activists, communities and corporates. Played by more than 100 000 people worldwide they take the UN's climate reports and translate them into an interactive workshop, building confidence with players then building in complexity. 
In Sophia's segment we'll get a taste of the Climate Collage and get curious about systems thinking. And have some fun too!
Agenda
08:45 – 08:50 - Registration
08:50 – 09:05 - Facilitated Networking
09:05 - 09:15 - Introduction from The Future Economy Network
09:15 - 09:30 – Jon Gibbins, Dotjay
09:30 - 09:40 - Questions for Jon
09:40 – 09:55 – Martin Preston, Kingfisher7
09:55 - 10:05 - Questions for Martin
10:05 - 10:20 - Sophia Cheng, With Many Roots
10:20 - 10:30 - Questions for Sophia
10:30 - 10:35 - 60 Second Pitches
10:35 - 10:40 - Close
10:40 - 10:50 - Optional Facilitated Networking
Meet The Speakers!
Jon Gibbins, Digital Accessibility and Sustainability Consultant, Dotjay Ltd
Jon helps organisations make digital products accessible to disabled people. He's known for his practical approach and deep technical understanding, built on almost two decades of experience. Concerned about our planet and its people, he integrates sustainable practices into his work and loves to help others do the same.
Martin Preston, Founder, Kingfisher 7 Consulting
Martin has over 30 years of experience of coaching, managing and leading individuals and business teams. With a background in the Sports Business (including 14 years at the English Football Association) he's led large teams, national and international projects. Martin's expertise at increasing organisational impact and his consultancy is now supporting UK and overseas clients from a variety of sectors to enhance their positive impact on the Planet and People. Martin is also a trustee of two Bristol based charities, an Enterprise Advisor for West of England Combined Authority, a Leadership Coach for Sported and a "GCOlogist"!
Sophia Cheng, Founder of With Many Roots, Climate Collage UK Co-ordinator
Sophia has re orientated her life around the climate crisis. She's forged her decade of communications experience into offering workshops, mentoring and words on the biggest issues of our time. As a communications generalist, Sophia is keen to bridge worlds and break echo chambers. With her start-up, With Many Roots, she is embedding future economic fairness in as it grows. Since February she has delivered intimate interactive workshops on climate-fiction, climate science and climate silence to more than 200 people. She volunteers for Green New Deal UK Bristol Hub, supports Bristol writers facilitating local Shut Up and Write group and helps co-ordinates Climate Collage for the UK, tasked with raising climate literacy in the UK ahead of COP26 next year.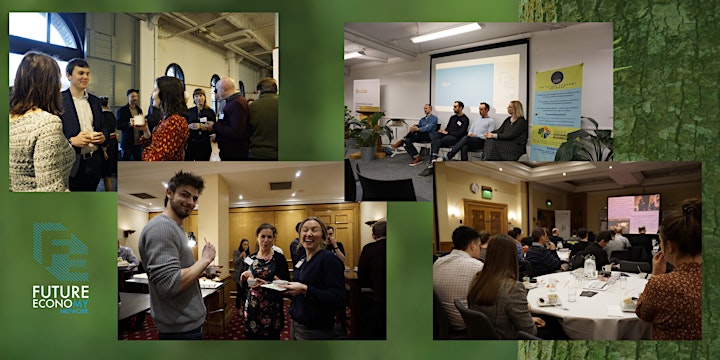 If you would like to join the Network please get in touch via: info@TheFutureEconomyGroup.co.uk
Follow us on Facebook, Twitter & Instagram
Sign up to our newsletter HERE
Event videos will be available on demand here, however these will not include live opportunities or networking.
We will share your Name, Job Title & Company with the other delegates & speakers to this event only. If you don't want this information to be shared please let us know when you have purchased your ticket.
We take photos at our events for marketing purposes, if you don't want your picture taken please let us know in advance.
We record our events for marketing purposes, if you do not want to be in the recording please let us know in advance.
We have included a mandatory £1 carbon offsetting fee to all event tickets in our commitment to being carbon neutral in our operations. You can find out about our chosen charity here.
If you require a complimentary carers/assistant ticket, please email events@thefutureeconomygroup.co.uk at least one week in advance and we will be happy to support you.
#wegrowthhub #business #seminar #sustainable #sme #bristol #businesswithpurpose #climateemergency #betterbusiness #climatechange #community #behaviourchange #teamcohesion #behaviour #teamwork #socialsustainability #storytelling #accessibility #diversity #inclusion
Date and Time
Location
Refund Policy
Refunds up to 7 days before event
Eventbrite's fee is nonrefundable.