Event Information
Refund policy
Contact the organizer to request a refund.
Eventbrite's fee is nonrefundable.
Environment & Climate Campaigners, Sustainability Professionals and Waste Warriors Engage people outside the eco echo-chamber
About this event
2 timeslots available. Choose when buying your ticket(s) for 12:30-2pm or 5-6:30 pm >>>>>>>>>>>>>>>>>>>>>>>>>>>>>>>>>>>>>>>>>>>>>>>>>>>>>>
About you
In your personal or professional life are you focused on:
The 3 P's of sustainability
Carbon reduction and the climate crisis
As an environmental advocate, you're passionate about your cause, and you know that you need other people to buy-in, share your passion and take action!
But inspiring that kind of change can be hard...
If you overwhelm people with stats, facts and consequences, they bury their head in the sand - because the truth can be scary.
And trying to get your message out past the echo-chamber is essential - but non-environmentalists don't seem to care, and it can be hard to reach them.
Understanding Behaviour Change principles can help you:
Inspire others to take action
Communicate your message with confidence
Reach people outside your echo chamber
Create and run inspiring campaigns that lead to meaningful, widespread change
Join Sustainability and Behaviour Change Consultant, Livvy Drake for this 1.5 hour online workshop, where she will show you how behaviour change principles can transform your campaigns.
Livvy has studied behaviour change at the University of West of England and has a successful track record of applying these principles to award-winning campaigns, including:
Shambala Festival - addressing waste, recycling and left tent challenges
City to Sea - Single-use plastic reduction campaigns including Refill, Plastic-free Periods
As well as providing training for Devon Council Reuse Team and the Bristol Reuse Network.
*Accessible pricing*
To make these sessions accessible there is tiered pricing with suggestions for different types of organisations and individuals. Please pay the price point that you can most afford. This will support the scholarship places and the two charities that are each receiving 10% of the proceeds.
Testimonials from past participants:
"That was a cracking session - learned so much about how we perceive things and coming from a different angle such as positives can create a better mindset!" -Mi Apparel
"You shared so many great insights, I'm really looking forward to applying them to a few projects I'm working on now." -Jessica Ferrow- Twelve
"I think looking for non-environmental reasons for doing it are links I want to start making." -Elizabeth lambert -Plastic-free Helensburgh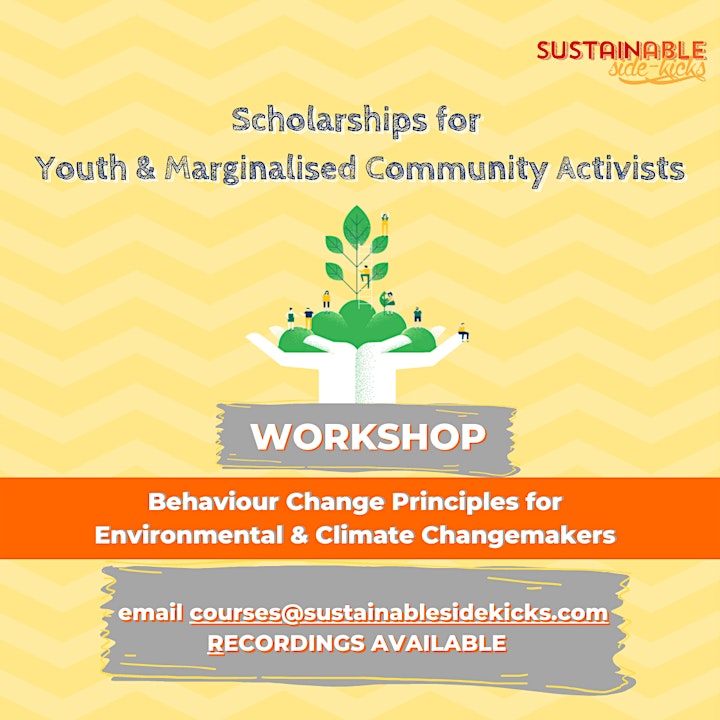 Scholarships
There is a scholarship programme available for campaigners from marginalised and underrepresented communities. Please email through the contact box to get a free place.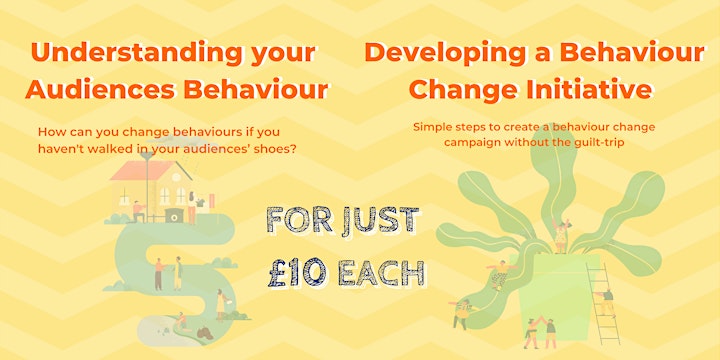 As part of this series of events, you can then delve into further workshops that provide you with the practical tools to truly understand your audience's behaviours; when and why they occur and how to develop initiatives to change them.
Join these two further workshops for just £10 each when you buy in advance:
Understanding your Audiences Behaviour. How can you change behaviour if you haven't walked in your audiences' shoes?
During this workshop, we will use practical tools used by designers and behavioural psychologists to get into the day-to-day lives of the people you want to engage and identify opportunities for interventions and communications
Developing a Behaviour Change Initiative. Simple steps to plan an environmental behaviour campaign that creates change without the need to guilt-trip people.
If you can't attend any sessions live you can watch the replays. Sign up now for these discounted rates by choosing an add-on with your ticket.
Understanding your Audiences Behaviour - 14th October @ 12.30-2pm & 5-6:30pm (BST)
Developing a Behaviour Change Initiative - 21st October @ 12.30-2pm & 5-6:30pm (BST)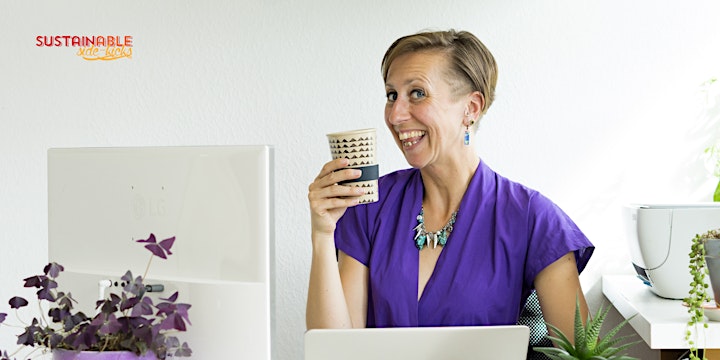 The Sustainable Sidekicks provide training and support for changemakers, campaigners, green champions and business owners who's purpose is to reduce their environmental impact and increase their positive impact.
Lead Sidekick Livvy Drake has a background in events and marketing. When she began working in the field of sustainable events and plastics campaigning she realised that the environmental sector was not engaging people outside of its green bubble. So she began training in and working with behaviour change practitioners to understand how greater crossover could be achieved and how marketing and communications of environmental issues could be presented differently.
She has worked on waste reduction projects for events and festivals, award-winning plastic reduction initiatives as well as providing training and support to reuse schemes and engagement initiatives.
These training modules on behaviour change package up some of the key principles Livvy finds are applicable to behaviours on a day-to-day basis and can easily be adopted and understood to deliver change outside of the 'eco echo chamber'.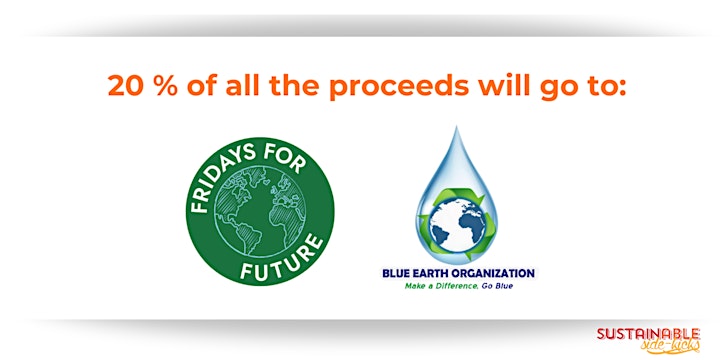 The workshop will donate 10% to Blue Earth Organization
Based in Mombasa, its flagship project focuses on nature regeneration by planting mangroves in an area that is prone to flooding and where mangroves were destroyed to pave way for infrastructure development.
Their seedlings are sourced from the nearby community members who, due to the pandemic, had lost their income.
Apart from the benefits to the community, mangroves are known to absorb 4x more carbon than normal rain forests, making them a vital tool in the fight against climate change. Moreso, mangroves are important biodiversity hotspots with several fish, crustaceans, turtles and sharks coming in to feed and nest.
The organisation is nearly halfway to planting10,000 mangroves.
Another 10% will go to Fridays for Future Activists in Risk Zones who are supporting their campaigners who are at risk of persecution. Currently, they are working to evacuate Afghan activists.
Location
Refund policy
Contact the organizer to request a refund.
Eventbrite's fee is nonrefundable.
Organizer of Behaviour Change Principles for Environmental & Climate Changemakers