We're DELIGHTED to announce this months #Beingreal, continuing our journey into the Book of Assistance. We'll be joined by Mohammed Isaaq.
About this event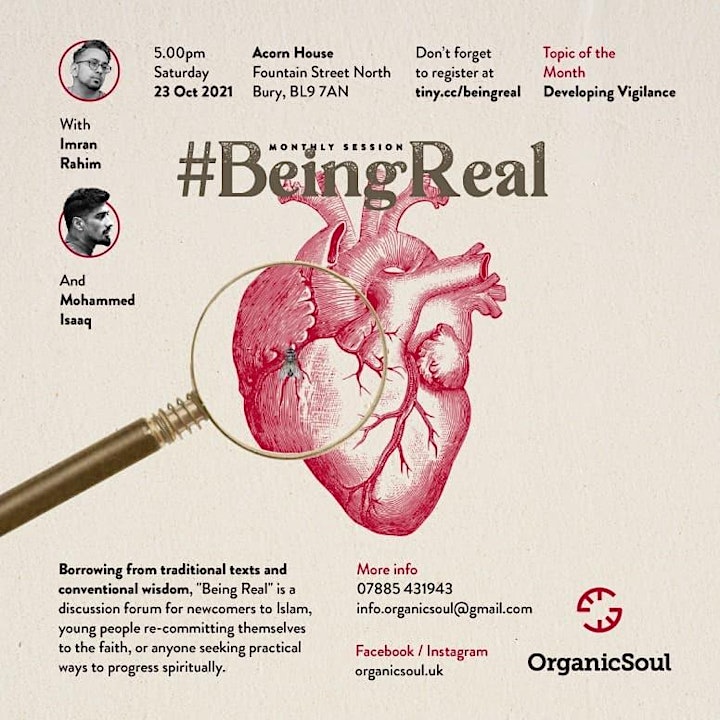 #beingreal
We return, refreshed and ready to engage. Things will be a little different but it's the same positive vibes and blessings we're used to.
______________________________________________
We'll be reading from a widely-celebrated book on practical spiritually, The Book of Assistance, written by the famous 18th century scholar and guide, Imam al-Haddad.
It was written for the common person seeking closeness to God and is broken down into small, manageable chapters and covers topics from having certainty in faith, to sincerity and worship. It has been taught far and wide since the author's death and continues to be used as a manual for success for people journeying the spiritual path.
The book can be purchased on Amazon by clicking here.
______________________________________________
About Being Real
An authentic space for people to come together to share, reflect & grow.
What to expect?
Borrowing from traditional texts and conventional wisdom, "Being Real" is a discussion forum for newcomers to Islam, young people re-committing themselves to the faith, or anyone seeking practical ways to progress spiritually.
______________________________________________
Guest
Isaaq Mohammed
Organiser of Being Real - October 2021