Being the Example - Rethinking Da'wah in the UK

Sunday, 22 March 2015 from 12:15 to 18:30 (GMT)
Event Details
TICKETS SHALL BE AVAILABLE TO BUY AT THE EVENT

The Myriad Foundation are excited to announce a truly remarkable and unique event that is planned to take place at the British Muslim Heritage Center in Manchester on Sunday 22nd of March 2015.
We'll be focusing on issues Muslims face in the UK and our current Da'wah efforts alongside how we can build a legacy through active relations and 'being the example'.  The Myriad Foundation has long been promoting the concept of Holistic Da'wah. We feel that the holistic approach is synonymous with the Da'wah of the Prophet (salallaho alayhi wa sallam) and that it should be brought to the forefront of our methodologies once again. We feel that an approach that focuses around building relationships and trust as well as creating a legacy of Islam in communities within the UK will help demystify Islam and open the hearts of non Muslims; thus enabling the message of Islam to reverberate much deeper in society. 
The event will include lectures, a showcase of research and activities as well as cross panel discussions from well known speakers and Du'aat around the UK with the addition of a 3-course meal.
If you have any queries you can contact the organisers at events@myriadfoundation.org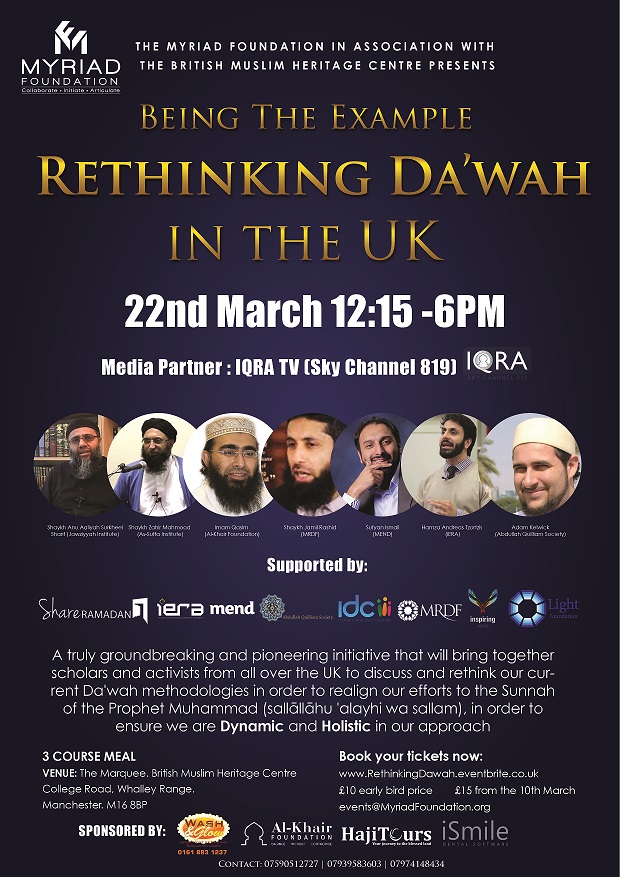 This is a unique networking opportunity and anyone who wishes to be working towards best practices in Da'wah and wants to be on the very cusp of developments within the Da'wah in the UK really cannot afford to miss this event.
Tickets
Discounted Early Bird Tickets
£10.00 (On Sale until 9th March 2015)
Standard Tickets
£15.00 (On Sale from 10th March 2015)
*Applicable to all attendees
*This is not an event suitable for children

Registration and Prayer Facilities and Times
Registration: 12.15pm till 12.45pm
Please kindly be at the event for 12.45pm latest to ensure you are registered on time. Thank you.
There are Salah/Prayer facilities at the event
Zuhr Salah: 12.45pm 
Event Ending: 19:00pm
Contact us at: events@myriadfoundation.org
FAQ
What are my transport/parking options getting to the event?
There is ample parking at the event. Please enter from the entrance on College Road through the main gates.
Can I bring my children?
The events target audience is  adults. However, if you do have children above the age of 6 that need to acompany you then please ensure they remain with you and are seated throughout the event. Each seat at the event requires a ticket

Where can I contact the organiser with any questions?
If you have any questions or queries please contact us at events@myriadfoundation.org
Is my registration/ticket transferrable?
Yes your ticket may be used by another attendee or transferred to them. Please email us at events@myriadfoundation.org
Do I have to bring my printed ticket to the event?
Yes please bring your ticket whether in paper or on your mobile device.
What is the refund policy?
No refunds after you have bought the ticket. If you wish to speak to someone about any issues please email us on events@myriadfoundation.org
Is there any overnight accommodation?
If you require overnight accommodation please contact us at events@myriadfoundation.org
Will there be Salah/Prayer Facilities?
Yes there will be. Zuhr Salah 12.45 and Asr towards the end of the event.
When & Where

British Muslim Heritage Centre
College Road
Whalley Range
M16 8BP Manchester
United Kingdom


Sunday, 22 March 2015 from 12:15 to 18:30 (GMT)
Add to my calendar
Organiser
The Myriad Foundation is a UK-based Islamic organization established in September 2013.
We are a collective of like-minded individuals who recognised the potential of developing an organisation with our core shared Islamic beliefs. 
We discussed the need to form an organization in Britain to convey the message of Islam locally and nationally. 

The Myriad Foundation is primarily involved in social welfare and social reform with an Islamic ethos. 

The Myriad Foundation is also involved in the development of centres of learning, youth initiatives, crime prevention, relief work and providing a platform to cater for the socio-economic needs of society.



About

To create a holistic approach to catering for the needs of society at large based on the beliefs, values, and principles of the Islamic Way of Life.


Mission

To create a holistic approach to catering for the needs of society at large based on the beliefs, values, and principles of the Islamic Way of Life.
The Myriad Foundation aims to:
- Develop God-conscious individuals 
- Promote community cohesion and social harmony
- Tackle poverty and isolation among socio-economically challenged demographics of society.
- Enlighten society on the true beliefs and teachings of Islam.



To achieve the aims outlined, the Myriad Foundation plans to undertake the following objectives:

- Establish and develop new and existing networks with Islamic organisations, Mosques and Community Centres

- Develop a platform to fulfil the the religious and social needs of the Muslim community

-Actively participate in existing projects and bring new projects that encourage inclusive welfare and relief

- Establish support avenues that cater for and tackle the issues faced by young people

- Create, develop and deliver opportunities for effective Da'wah to society at large.

- Establish links with educational, social and political establishments in order to maximise the effectiveness of our mission.

- Promote and expand the organisation and its core values through the strategic use of multimedia

Description
In addition to sharing the beliefs and teachings of Islam, we provide practical benefit and support that are core to the Islamic way of life. We aim to cater for the physical and spiritual needs of human beings within the communities that they reside. We aim to provide a holistic approach to social welfare and social reform.
The Myriad Foundation is open to any project which brings about the bet
terment of society, providing the following observed:
I. Adherance to the Quran & Sunnah
II. Beneficial outcomes for communities
III. Potential to project a positive image of Islam
IV. Direct or indirect Da'wah opportunity
The ethos, efforts and vision of the Myriad Foundation are deeply entrenched in and motivated by the Noble Quran and the exemplary life and teachings of the Prophet Muhammad (may the peace and blessings of Allah be upon him). 
We hope to inspire, prepare and enable the Muslim and non-Muslim community to live a more socially cohesive and psychologically balanced life. 
We hope to work for the greater good of humanity by sharing the message of Islam, and through sincere and dedicated efforts to embody those values practically. Ultimately our vision for today and for the future is to create a successful and productive society with content individuals.
Contact Myriad Foundation at: events@myriadfoundation.org