A virtual event during National Inclusion Week to create a moment of belonging for everyone
About this Event
We thought it would be nice to celebrate the end of National Inclusion week with our much loved Belonging Hour, hosted by Daniele Fiandaca and Tolu Farinto. During Belonging Hour we will come together and share the songs that mean something to us all. No work chat. No Covid19 talk. Just music and uplifting stories of Belonging. Expect to come away with a spring in your step, a smile on your face and an appreciation of the importance of inclusion, diversity and belonging.
How it works
Before the event we will ask you to share your Song of Belonging and whether you are happy to share your story. If not, then no worries. You can still simply join us and just enjoy listening to other people's stories. We have now run it over 10 times, and everyone has loved it. So let's be part of something bigger and connect during National Inclusion.
Practicalities
The session will be hosted in Zoom so please ensure that you have the latest version. Further details will be provided closer to the time.
The Belonging Hour Playlist
After the session we will be updating the Belonging Hour playlist which you can find on Spotify HERE.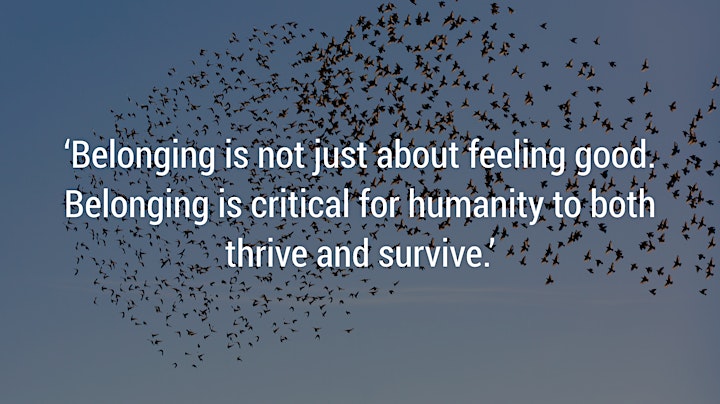 And here are some examples of people's stories of belonging to get you inspired:
Asad Dhunna (The Unmistakables) - Fastlove, Pt. 1 by George Michael
There's a line in here that resonates with most gay men in their late 20s / early 30s can: My friends got their ladies, they're all having babies. It still puts a smile on my face when I leave another wedding or baby shower.
Brian Bell (Music Artist) - "Smells Like Teen Spirit" by Nirvana
Because of being in the music business or just because of being in the scene in Los Angeles and knowing Courtney Love (who gave me the cassette), I was able to get my grimy mitts on an advanced cassette version of Nirvana's "Nevermind" months (at least 3 to 4 months) before it came out. I believe it was actually remixed before it's initial release, so this cassette version was more raw sounding. By the time the record came out we (my roommate and friends who wore sucker out) were already sick of hearing those songs. "Smells Like.." just had a sound that captured the invincibility of youth. I felt like this the answer to everything, a sense of belonging. I remember thinking Curt Cobain is my generation's John Lennon.
Charlie Craggs (Nail Transphobia) - Born This Way by Lady Gaga
I don't actually even really like the song, but it holds a special place in my heart because it literally started playing the first time I walked into a gay bar. It was just after I left school/sixth form where I was really badly bullied for being LGBT so to hear that line in the bridge of the song about it being okay to be LGBT, meant more to me than I can express. I didn't know any other LGBT people and it had been something I'd been bullied for from about 7 so to finally find my people and to hear that song playing as I did was a moment I'll never forget.
Daniele Fiandaca (Utopia) - Summer Breeze by Isley Brothers
This song reminds me of my 2.5 years working a Saturday job at Blazer (the menswear company) which was still to this day the most diverse team I have ever worked with and from the very first day it was a place I felt I belonged. It was the song we played every Saturday without fail and every time I hear it on the radio, it makes me smile.
Emma Mainoo (Utopia) - Someday by CeCe Rogers
This song is one of the most beautiful, uplifting dance classics that reminds me of summers in Ibiza - every time it plays, no matter where you're from, people come together to dance to this. It's an anthem about belonging and living 'as one family in sweet harmony' and it couldn't be more relevant at this time.
Gemma Arterton (Actor) - Ballerina by Van Morrison
Just reminds me of a time in my life when I felt really secure, happy and loved.
Lisa MacFarlane (The Gut Stuff) - Caledonia by Dougie Maclean
When I first moved to London I would also listen to that when I was feeling alone, to know that I still belonged somewhere, even though my new home felt so alien… it still makes me sob every time I listen to it, even still…
Nadya Powell (Utopia) - Another Brick in The Wall by Pink Floyd
"You can tear down the wall....no matter who you are, where you come from, you can tear down the wall that blocks your progress and happiness. often that wall is your own self doubt."
Roshni Goyate (The Other Box) - Vou Festejar by Beth Carvalo
I've played Brazilian samba since I was 16. Part of samba culture is getting together for big parties known as rodas de samba where we play music around a table and everyone sings along, dances along and it's a great big festa. This song by Brazilian ICON Beth Carvalho is a staple in the roda de samba repertoire and there's nothing more joyous than everyone singing along at the tops of their lungs, arms in the air, reveling in the beauty of collective enjoyment. The opening chords on the cavaquinho make my skin tingle with excitement, and in the track you can hear the crowds singing along. It really encapsulates the spirit of samba for me.
Tolu Farino (Utopia) - I Luv by Dizze Rascal
For me this was the first time I saw parts of my life being represented in music on such a massive stage. At 13 years of age it was also further indication that someone who grew up as I did could achieve something.
This event is part of: