Description
2017 "Belt and Road Forum in Technology" & 10th China-UK Entrepreneurship Competition FINAL
The 2017 "Belt and Road Forum in Technology" forum will revolve around the theme of Sino-British technological collaborations under the context of the Belt and Road (B&R) initiative. Put forward by president Xi Jinping in 2013 and inspired by the historic Silk Road, the B&R aims to promote inclusive development trough cross-border consultation and exchange across Asia, Africa and Europe. Keynote speakers at the Forum include Mr. Sunan Jiang, Minister Counsellor for Science and Technology from the Chinese Embassy; Mr Eric Van der Kleij, CEO of the Centre for Digital Revolution (C4DR), formerly Level39.
Following the forum, the finalists of the 10th edition of the China-UK Entrepreneurship Competition will pitch their idea to a panel of judges and the winning team will be announced. The contest aims to encourage business collaborations between China and the UK while connecting bright entrepreneurs with early-stage investors and venture capital businesses.
The Competition was founded by the Prime Minister and supported by both the British Council and by Hanban's Confucius Institute Programme. This year marks the 10th anniversary of the competition, which started running in 2008. Backed by governments, academic institutions and companies both in Britain and in the UK, this competition has now become a central event of the vibrant Sino-British tech scene. Cocoon Networks is pleased to co-host the competition with Northumbria University, Lancaster University, University of East Angelia.
---
Speakers: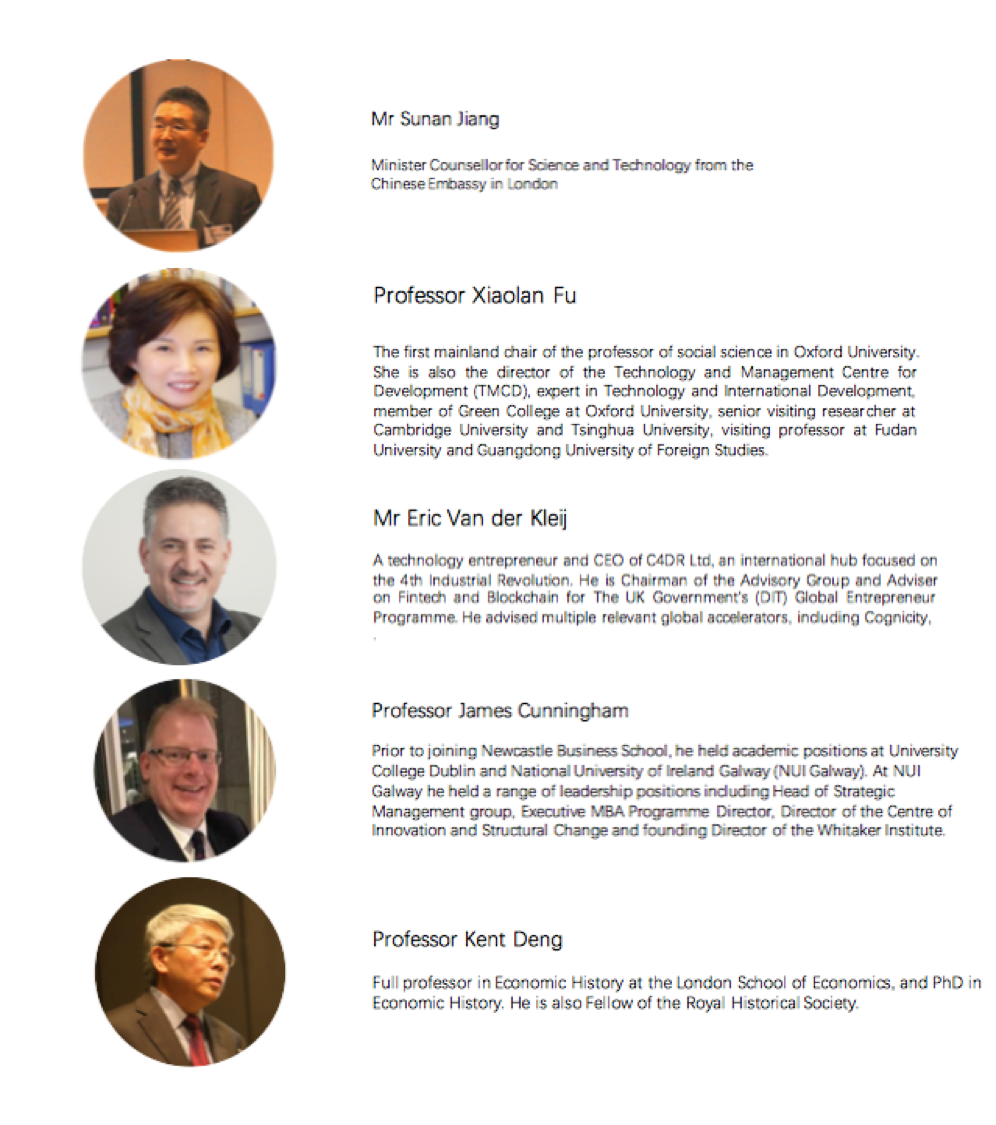 ---
The panel of judges will have a private discussion to deliberate the winning teams. Winning teams will have access to the following opportunities:
- £12million policy support and a series of £500,000 cash support from the Ningbo Government, China;
- £2 million support for each project from the 'Peacock Project' led by the Shenzhen Government, China;
- Special offers for a desk at Cocoon Networks London's co-working space (4 Christopher St, London EC2A 2BS);
- Cocoon Networks accelerator programme;
- Contact with 20 Cocoon Networks VC partners in China;
- Consulting services on IP management in China;
- Strong network development with top Chinese universities.
Judges include Mr Elson Zhou, Chief Financial Officer at Cocoon Networks, Professor David Brown, Professor at Lancaster University Management School, Dr Carol David Daniel, Head of Technology Transfer and Commercialisation at City, University of London, Mrs Marie Francis OBE, University of East Angelia and other prominent investors and academics.
---
Preliminary Agenda:
1300 – 1320 Registration & Refreshments
1320 – 1330 Welcome Speech Mr. Sunan Jiang Minister Counsellor for Science and Technology from the Chinese Embassy
New developments in China Technology, innovation, and Entrepreneurship
1330 – 1450 Professor Xiaolan Fu, Director of the Technology and Management Centre for Development , Oxford University
International collaboration and radical innovation: How Belt & Road Initiative may benefit the world
1350 – 1400 Mr Eric Van der Kleij, CEO of the Centre for Digital Revolution (C4DR), formerly Level39.
1400 – 1410 Professor James Cunningham,Northumbria University
1410 - 1420 Professor Kent Deng, London school of economics and political science
Opportunities to China's Economic Growth with the Belt-Road Strategy
1420 - 1430 Tea break
1430– 1710 Competition Introduction Prof. David Brown, Director of Lancaster University China Center
Individual team presentation
Judges Deliberation
1710 - 1800 Award Ceremony hosted by Prof. David Brown
1800 - 1830 Networking
We are looking forward to having you attend our forum as well as the competition final.
Email us: London@cocoonnetworks.com or di.luo@cocoonnetworks.com