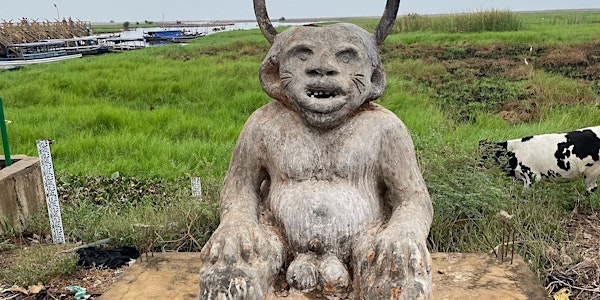 Benin: History, Sacrifice and Vodun - Dr Louise Fenton
Refund policy
Refunds up to 1 day before event
She will discuss the turbulent times, colonisation and the enslavement of people, human sacrifice and the culture that permeates all of this
About this event
Benin is a small West African country situated between Togo and Nigeria. It is known for being the 'Cradle of Voodoo', however, this is just part of the story.
Dr Louise Fenton will uncover a brief history of this fascinating country. She will discuss the turbulent times, colonisation and the enslavement of people, human sacrifice and the culture that permeates all of this, Vodun, the beating heart of Benin. Vodun is evident throughout the country and not hidden away as it is in much of the Caribbean and the wider diaspora. This is a fully illustrated lecture and Louise will use her own photographic archive to show key locations and Vodun ceremonies. Join Louise as she introduces you to the exciting, enthralling and beautiful country that is Benin.
Louise has recently returned from leading a study group for The Last Tuesday Society in March 2022. This fascinating trip led us to seeing Vodun up close, having front row seats at a village Vodun ceremony, experiencing Vodun worship, seeing altars and sacrifice, immersing ourselves in Benin culture and meeting fascinating people including Vodun and Yoruba Kings. We are travelling to Benin again February 2023 so please contact The Last Tuesday Society if you would like to join us and for more details on this exciting trip to West Africa.
Bio
Dr Louise Fenton is a senior lecturer at the University of Wolverhampton and a cultural and social historian. She teaches contextual studies in the School of Art and supervises PhD students; she is also an artist and illustrator and uses drawing within her research. Her interest in West African Vodun, and particularly Benin, began when studying for her PhD which she was awarded from the University of Warwick in 2010. Most recently Louise has appeared on the BBC Radio 4 programme, 'Beyond Belief' and is a consultant on a new drama for BBC 3. Her research covers West African Vodun, Haitian Vodou, New Orleans Voodoo and Witchcraft, especially curses and cursed objects.
don't worry if you miss it – we will send you a recording valid for two weeks the next day