Bertie the Buffalo is back for an exciting new adventure! Join us on Thursday 10th June for readings from Wendy and Bertie!
About this event
Please join us on Thursday 24th June at 4:30pm for an exciting reading from Wendy and Bertie!
-
Bertie the Buffalo is back for an exciting new adventure! A mysterious letter arrives inviting him to represent Scotland in the Worldwide Games. Bertie and his friends fly to Tokyo where they meet new and exotic animals and try to win first prize! Bertie is sad when he isn't winning but finds out if he works together with his friends, he will be a winner in the end.
-
Assuming all goes according to plan, this will be our first 'in-person' event for 18 months! Bertie and Wendy will be 'in-person' in The GLO Bookshop* for younger children at 4.30pm. Please order a ticket for each person in your Group. This event will also be streamed via Facebook Live.
-
And then Wendy will conduct 'Bedtime with Bertie' reading for children of all ages. This will be on Facebook Live only at 6.30pm, so no ticket is required for 6.30pm reading. Simply go to our Facebook Page at the time and Bertie will appear live there.
-
*Limited numbers for in-person event- pre-booking essential. Please order one ticket for each person in your group, including ALL children. Children must be accompanied by an adult at all times. Family groups will be seated together, socially distanced from other groups. We would request that children remain with their group at all times. Face coverings must be worn by adults and children, unless medically or age-exempt. Attendees will be required to use sanitiser on entry. No food and soft drinks allowed, please, other than your own water bottles.
Please contact us for further details - 01698 275343 or books@globookshop.com.
-
About Wendy:
Wendy H. Jones is the President of Scottish Association of Writers. She is a crime and children's book writer and an avid public speaker.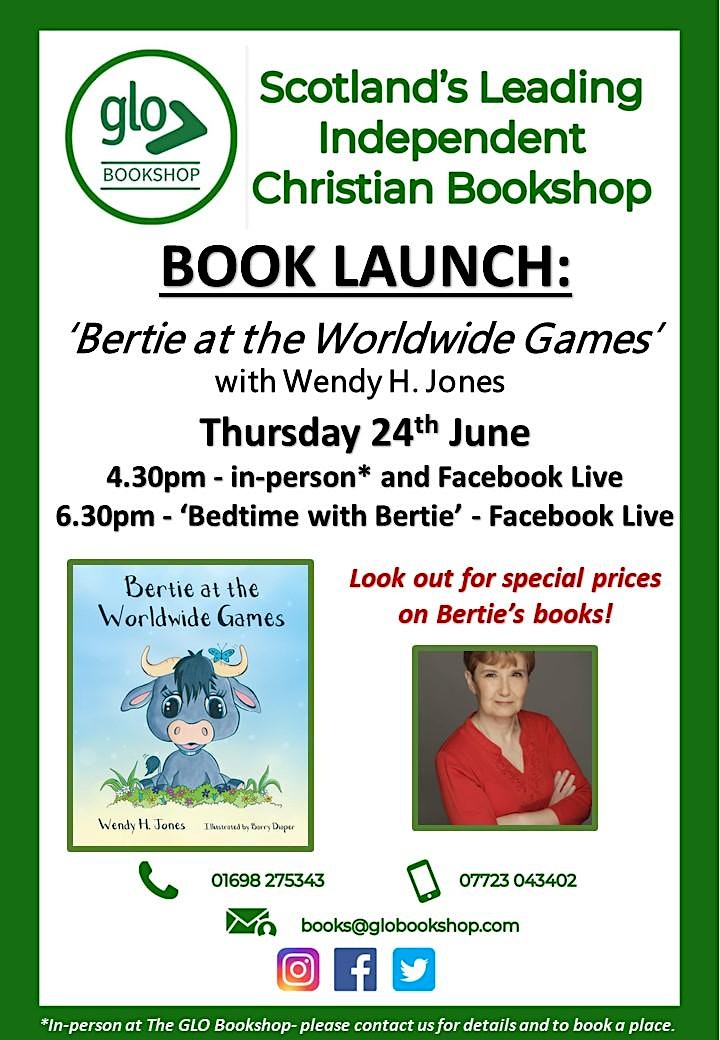 Organiser of Bertie at the Worldwide Games In-Person Book Reading with Wendy H. Jones