Description
Best of Blackfriars
Explore the area once dominated by the black friars
Explore with us on this scheduled guided walk the best bits of Blackfriars on this circular guided walk in the City of London. We visit the King's Wardrobe, two theatres, priory remains and an ancient Guild.
In the early part of the 13th century a group of black-robed friars attached to the Order of St Dominic settled in London. By 1276 they had become a prosperous community building a church, cloisters and other priory buildings including their own quay.
Wheelchair accessible: No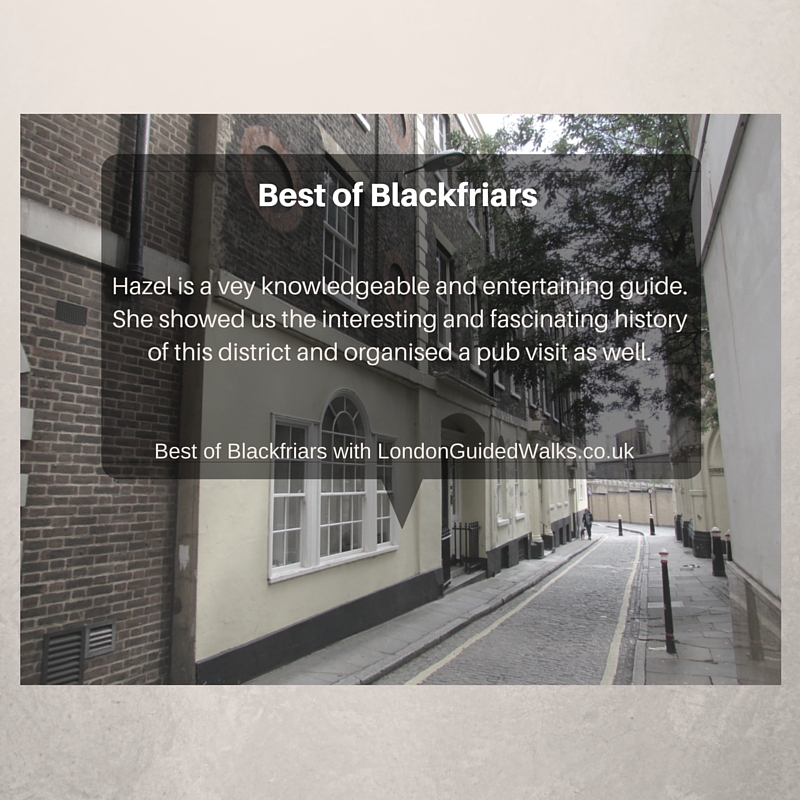 Reviews:
"Best of Blackfriars"
The route for this walk was a good one, taking in much of London's core history and some hidden delights. The best bit, though, was the guide. I have been on many guided walks and the people leading them are of variable quality. Hazel, the organiser here, knows her stuff and knows how to communicate it. Highly recommended.
"†Best‡ of Blackfriars"
Blackfriars is an area of London that I've never really explored and knew was full of history. Hazel opened it up to me in 90 mins and I will be going back to re-explore some of the new places that she introduced our group of about 12 people to. She really knows her sites and history and is constantly adding to her knowledge and she makes people easy with each other. We finished with a drink at the interesting Blackfriars pub.
"†Best‡ of Blackfriars guided walk"
What a terrific way to spend an afternoon. I can't praise Hazel highly enough. She is knowledgeable, fun, friendly and paces the walk perfectly. The length is just right, avoiding information overload but leaving you wanting more. It's made me see Blackfriars in a different light and I can't wait to attend other walks with Hazel.