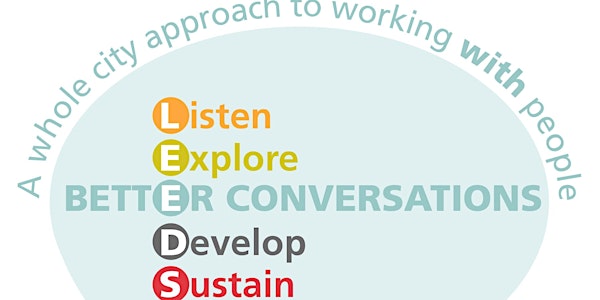 Better Conversations - Virtual Interactive Session
Virtual Interactive 3 hour Workshop Supporting YOU through kind Conversations is aimed at staff within Leeds Health and Social Care system
About this event
Now more than ever, is the time for kind, compassionate conversations with one another. The Workshop will give you the opportunity to reflect on how you are feeling and what impact your conversations are having, whilst we stay connected with colleagues and the citizens of Leeds. Our approach focuses on how staff can support the public to be more actively involved in their own health and care, encouraging the collaborative conversations which are central to the way we want to communicate as a city.
How do you feel after a difficult conversation?
What matters most to you when building a relationship?
Where can you add value to your conversations?
Join us to spend some protected time reflecting on the reality of your conversations, explore the core communication skills that can enhance your conversations. Share learning and experiences with others.
By the end of the session you will be able to:
• Understand the key skills for a productive conversation.
• Understand the dynamics of communication.
• Deepen your awareness of your conversations.
• Reflect on your own skills when communicating.
• Use tools and structure for communicating.
Book now to secure your place.
For further details visit the Inspiring Change Website link below.
http://www.betterconversationsleeds.org.uk/
Need more information?
Contact: better.conversations@nhs.net