Learn how to balance your business with better mental health in this deep dive into wellbeing and building resilience as an entrepreneur.
About this event
There's no denying that entrepreneurship can be a long and lonely road. In these fast-paced and often stressful industries, it's become increasingly difficult to turn off and resist the temptation to be hustling 24/7 – especially in the early stages of setting up your own business, platform, or creative project.
Research shows that 1 in 4 of us are suffering from poor mental health, with over 60% saying that it stems from work and our working environments. So, in the face of all this, don't you think it's about time that we started centring our wellbeing and figuring out ways to not just look after our businesses and side-hustles, but ourselves as well?
This interactive workshop with Sonya Barlow will shine a light on the reality of work and spark conversations around wellbeing, what mental health actually means for entrepreneurs and founders, and how to better yourself so you can better your business.
In the session you will:
Learn the importance of prioritising your mental health and wellbeing as an entrepreneur or when starting a side-hustle
Brainstorm tools and strategies to take care of yourself whilst growing your business
Leave feeling empowered to centre yourself and your wellbeing in your entrepreneurial and creative journey
This event is part of Creativity Works, a Mayor's Fund for London programme supported by Citi Foundation and delivered by Create Jobs at A New Direction.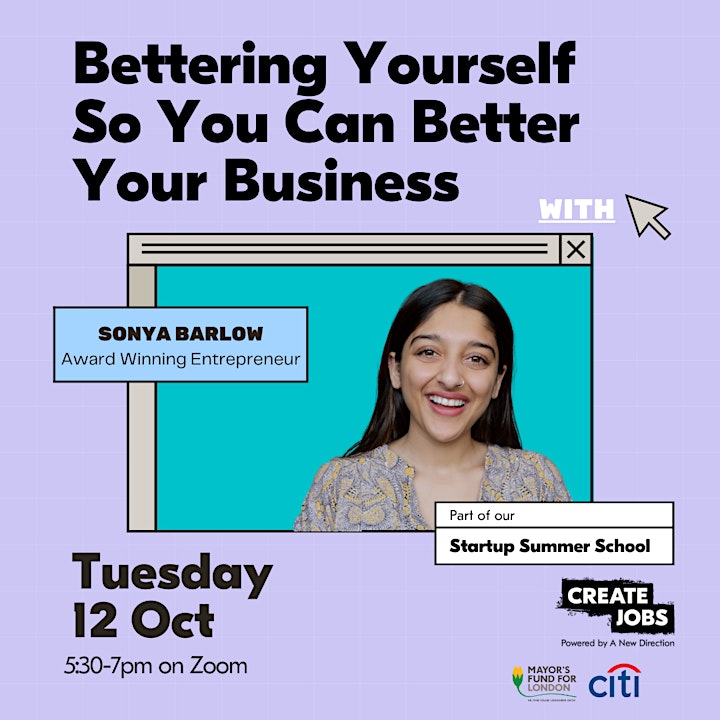 Organiser of Bettering Yourself So You Can Better Your Business with Sonya Barlow