Description
BETWEEN HEAVEN & EARTH - Charity Gong Bath
Come along and bring your friends for a healing evening, while helping to raise much-needed money for a great local charity.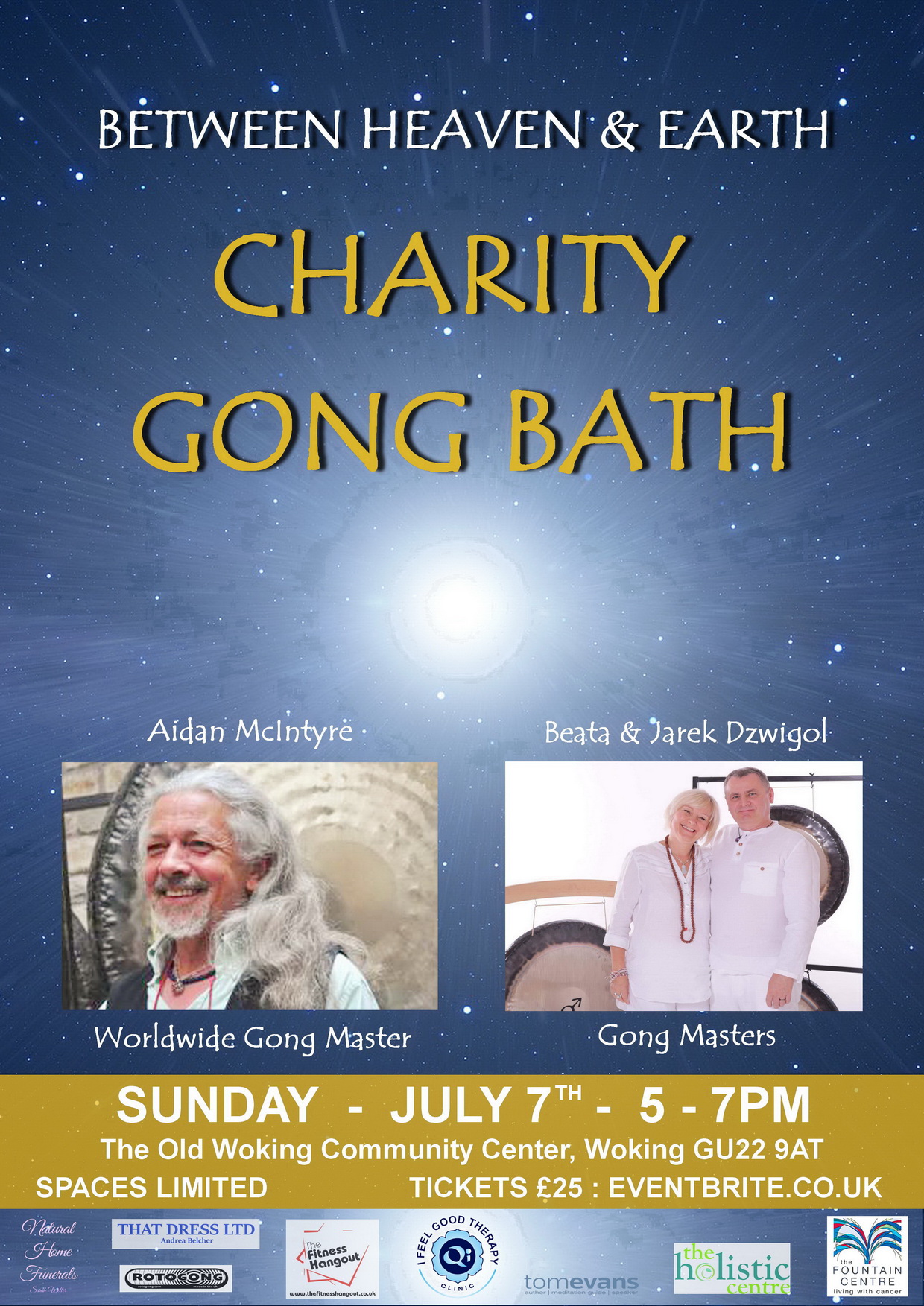 The Charity Gong Bath is in aid of The Fountain Center in Guildford. The Fountain Center is a charity for cancer patients, their families, and carers located in the St Luke's cancer unit at the Royal Surrey County Hospital.
The Fountain Center offers advice, counseling and a huge range of complementary therapies, in a calming and relaxed atmosphere for their clients. www.fountaincentre.org
The gentle and beautiful sound of the gongs, singing bowls, and other instruments will take you on a healing journey to help you deeply relax, improve your concentration, calm the mind and body, assist in the management of pain and improve your well-being.
"The secret of the gong is its tremendous potential for healing and rejuvenation.
Because the gong covers the full spectrum of sound, it vibrates all the cells and bones and organs, some more than others, depending upon the pitch of the gong.
You feel an influx of energy coming from it in your body as well as hear it.
The gong is more accurately a force of energy, like a divine engine, affecting the body's meridians. By and large, after it's over, you just feel great. You feel like you've been healed by the spirit of nature." Don Conreaux Grand Gong Master.

The Sound of Gongs opens the gates of Love, so you can connect with all the things you create around yourself and realize just how great a power you have to create your own happiness.
Benefits of The Healing Gong
- it reduces stress
- improves sleep quality
- reduces a person's perception of pain
- creates deep relaxation
- eases anxiety and depression
- emotional release
- creation of self-esteem
- re-balancing
- well-being
- aura cleansing
- body and cells rejuvenation
- connection with light and spirit
- gaining a deeper knowledge of yourself and your unlimited possibilities
- healing that which aches the soul

What to bring:
We ask you to please bring your yoga mat, blanket, and a pillow so that you can lie down comfortably during the Gong Bath. If you are not comfortable lying down you can sit on the chair, stay in your wheelchair or bring a reclining chair. Wear comfortable clothes, please.
Please arrive a minimum of 15 minutes early. Late-comers will not be allowed in once the event is underway.

BOOKING
As places are limited it is advisable to Book Online ( Purchase ticket) to guarantee your place. The option Pay on the Door will be possible if there are any free places available only.
Children are very welcome to attend the gong bath with their parents. To allow all of our guests the enjoyment and relaxation, we respectfully advise everyone to stay calm and silent during the gong bath. May we request the parent to leave the room with your child should they not settle.
Special Offer - Children (aged 8-16) discounted ticket
To reserve a space the ticket must be purchased first.
Cancellation Policy: We are unable to offer refunds unless the event is canceled.

Contraindication and Precaution:
There are a few contraindications like the first trimester of pregnancy, serious mental health problems, epilepsy/seizure.
Precaution: if you have a pacemaker, or recently you are after the surgery, you should speak to us before you purchase your ticket.
Children under 10 years old, please speak to us before you purchase the ticket.

You can contact us directly on 077316 73759, or via email info@ifeelgoodtherapy.com, please.

DONATION
If you cannot attend our event you can still make a donation on our event page for 60 days after the event.
The Fountain Center will also have a donation box at the event should you wish to make a cash donation or have a chat.
VENUE
The Old Woking Community Centre (next to Woking College) 
Sundridge Road 
Woking 
GU22 9AT 
Free car park. Ground floor. Suitable for a wheelchair. Access to the toilet.
FACILITATORS
Beata Dzwigol & Jarek Dzwigol
Gong Masters Teachers
Aidan McIntyre
Worldwide Gong Master Teacher
www.gongmastertraining.co.uk
For more information contact Beata 077316 73759 or Jarek 079356 051585 or email info@ifeelgoodtherapy.com, please.
Aidan McIntyre
is a Worldwide Gong Master Teacher, Singing Bowl Master and Sound Artist who has over twenty-six years' experience in the fields of Sound Therapy and teaching.
He is an incredibly humble and loving person, who is calling himself as The Healing Gong Player.
Aidan has for many years traveled all over the world teaching the art of the gongs with Don Conreaux. He has held workshops in Argentina, Australia, Austria, Brazil, Croatia, Dubai, France, Greece, Hong Kong, India, Italy, Poland, New Zealand, Portugal, Slovenia, Uruguay, USA, Denmark, German, Ireland and in many other countries.
He has worked with autistic and special needs children as well as in hospices and hospitals. Aidan gives individual therapy sessions using Singing Bowls, Gongs and other instruments, as well as performing Gong Baths and Sound Journeys for groups and individuals.
Along with Don Conreaux he has run and continues to run the annual 10 days Gong Master Training over the world and in Hawkwood College in UK.
Aidan joined the College of Sound Healing in 2007 and teaches the Himalayan Singing Bowls module for them. After living in San Francisco for thirty years he now lives in Gloucestershire, England. Always and forever a student of sound he considers that the Gong of Peace is at the heart of the global sound healing revolution.
Beata & Jarek Dzwigol
are Gong Masters Teachers in Surrey, Complementary Therapists, and Reiki Masters, they are passionate about Life, Healing, Sound and Well-being.
They have been trained by Aidan McIntyre, Don Coreaux, Tom Solton, and Abby del Sol and others many years ago. They are exceptionally humble, honest and positive individuals.
In 2012 Beata and Jarek from a basis of pure passion created a small, family complementary clinic in Guildford - I Feel Good Therapy Clinic, where, through sound, holistic therapies and courses many people have found themselves in a better place in life which has enabled them to achieve their goals. Additionally, Beata volunteered as a complementary therapist for 6 years at The Fountain Center.
Beata and Jarek play gong baths and all-night gong baths called the gong puja on a regular basis in Surrey, Berkshire and in London.