Between Knowing & The Known: New Year Retreat 2019/20 with Venerable Canda
About this Event
On this retreat we will cultivate the three Right Intentions ~ of renunciation, loving kindness and gentleness ~ as wholesome ways of relating to our inner world.
When we understand freedom lies not in manipulating experience but in transforming our relationship to it, then every situation provides an opportunity to deepen our wisdom, compassion and peace.
The daily programme will comprise of Dhamma reflections, guided & silent meditations, mindful movement practices and question sessions, all of which are optional.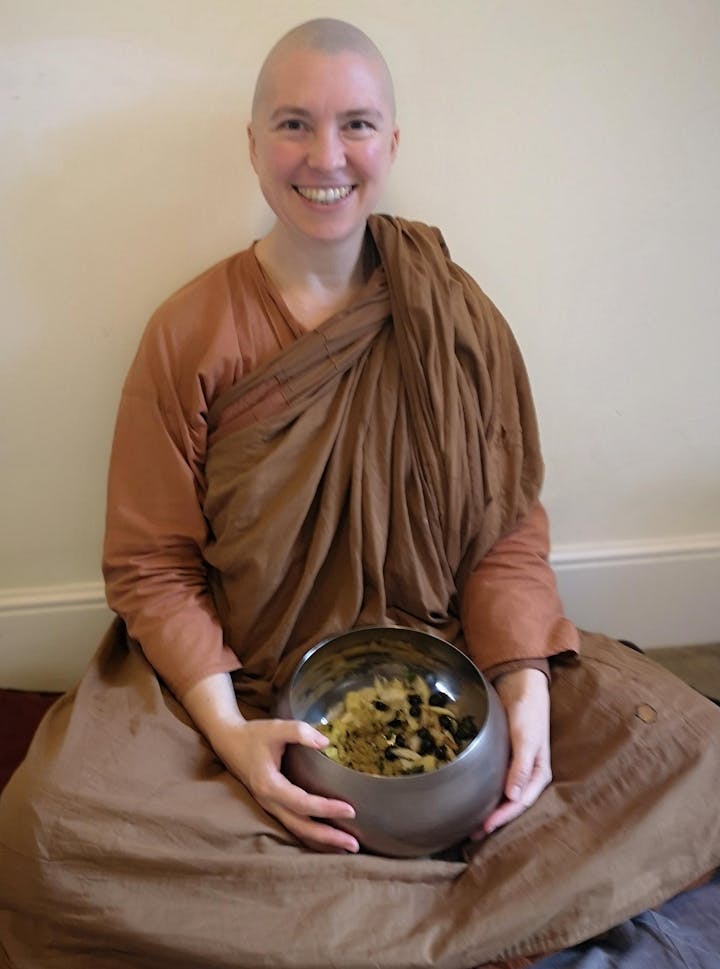 Ven Canda began meditating in 1996 with SN Goenka. She ordained as a Buddhist nun in Burma in 2006 and subsequently took full 'bhikkhuni' ordination in Perth, with the encouragement of her Teacher, Ajahn Brahm.
Her approach to meditation focuses on kindness and letting go as a means to deepening stillness and is richly informed by the compassion and pragmatism of the early Buddhist texts. In 2016, Ven Canda founded Anukampa Bhikkhuni Project with Ajahn Brahm - a UK charity aimed at establishing a nun's monastery in the UK (https://anukampaproject.org/)
Practical details
Arrive and register from 9.30 am. Participants are welcome to stay for a cuppa & social time at the end. Please bring your own packed lunch. There are some mats and cushions available to borrow but please bring your own if you are able to. There are plenty of chairs available.
Ticket options explained (green ticket button at top)
You are encouraged to attend for all 3 days but various 1 and 2 day options are available.
The teaching is offered freely in accordance with the Insight Meditation tradition. During the retreat you will be invited to make a voluntary contribution (Dana) for the teachings. Please read more about Dana here. Payment taken for the ticket is toward the cost of running the retreat (+ EventBrite fee);
We offer a range of ticket fees from freely given to a sponsor rate . No one will be turned away through lack of funds.
Please pay the sponsor or standard rate if you can. If most people pay this we will cover our costs during the course of the year.
The Sponsor rate includes an additional £5 donation to help support all to attend, regardless of means.
The Standard rate covers the cost of the venue, administration and teacher's travel costs.
The Supported rate is offered for those whose income is too low to pay the standard rate.
The Freely Given rate is offered to make our events as accessible and welcoming as possible. We recognise that in the current political and economic climate many struggle to pay for food and housing, let alone meditation retreats. We offer this rate particularly for those who have little or no financial support, for example: young people, people who are homeless or vulnerably housed, asylum seekers or those who are living on state benefits.
(Our Retreatant Support Fund supports those who access our Freely Given and Supported Rates. There will also be an opportunity during the retreat to contribute to the Retreatant Support Fund which helps us to keep our retreats accessible to all, regardless of means.)
Contact us if you don't have a UK bank account or if you'd like to pay a different amount.