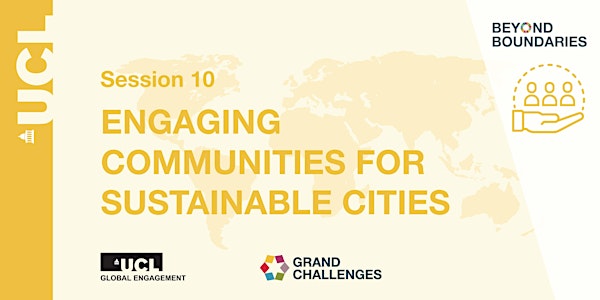 Beyond Boundaries Session 10: Engaging Communities for Sustainable Cities
Session 10 of Beyond Boundaries: Realising the UN Sustainable Development Goals. See all sessions at uclbeyondboundaries.eventbrite.co.uk
About this event
About this session
SDG 11 calls on us to make cities and human settlements inclusive, safe, resilient and sustainable. This session will showcase actions and research that place the voices of diverse communities at the heart of sustainable urban development. Through presentations from expert practitioners and researchers, we will explore development challenges in Havana, London, Kisumu and Delhi, and reflect on how collaborative research with communities and local authorities can help respond to them. This will be followed by a live Q&A session.
Speakers
Chair: Professor Audrey Prost
Professor of Global Health in the Institute for Global Health
Professor Audrey Prost is a social anthropologist with training in epidemiology. Over the last 12 years, she has worked on developing and evaluating community interventions to improve maternal and child health in close partnership with the Indian civil society Ekjut, in eastern India. Audrey is the Director the UCL Centre for the Health of Women, Children and Adolescents and co-Chair of the UCL Grand Challenge for Cultural Understanding.The focus of her work is evaluating community engagement approaches to improve women's, children's and adolescent health.
Nicky Gavron
Member of the London Assembly and London Sustainable Development Commission, UK
Nicky Gavon has a track record in urban policy development for the government. She has been at the forefront of developing sustainable planning policies for London. In 2000, she became the first statutory Deputy Mayor of London. Leading London's response to climate change, she introduced policies and programmes to reduce C02 emissions across energy, water, waste and transport.
Dunu Roy
Director, Hazards Centre, New Delhi
Dunu Roy has worked pan India dealing in various sectors, ranging from FREA to World Wide Fund for Nature, to setting up own enterprise in a village. He believes that most of the developmental activities are micro-experiments limited to a few clusters of villages and sectors like healthcare and education. According to him, the problem lies in not understanding what people want.
Priyanka Sharma
Project Coordinator, Urban Development, Ekjut, Ranchi, India
Priyanka Sharma has been working in the public policy industry for many years. She leads the Ekjut humanitarian projects on capacity building, fighting malnutrition and inequities and sustainable environment within the organisation's vision of "a world where every human being has a right to life with dignity, a world that respects and celebrates every life and diversity".
Dr Emily Morris
Research Fellow, UCL Institute of the Americas
Dr Emily Morris is an economist at UCL, specialising in economic development. Prior to UCL, her career included employment as an economics teacher, lecturer at the University of Sussex's Institute for Development Studies and SOAS, senior analyst for Latin America  &  the  Caribbean at the Economist Intelligence Unit,  and  country economist  for  Central America at  the Inter-American Development Bank.  
Joining instructions
This event will take place via Sli.do and will be live streamed from here. The link to watch and Sli.do code to participate will be supplied to registrants via email closer to the event.
You will be able to participate via Sli.do using the Q&A and poll functions to interact with panel members and ask your own questions. You can also join the discussion on Twitter @UCL_SDGs and follow for updates.
All sessions will include subtitles or closed-captioning in English. All video recordings and presentation materials will be made available after the event. If you have any accessibility requirements, please do not hesitate to contact beyondboundaries@ucl.ac.uk
This session is part of Beyond Boundaries: Realising the UN Sustainable Development Goals. See all conference sessions here.