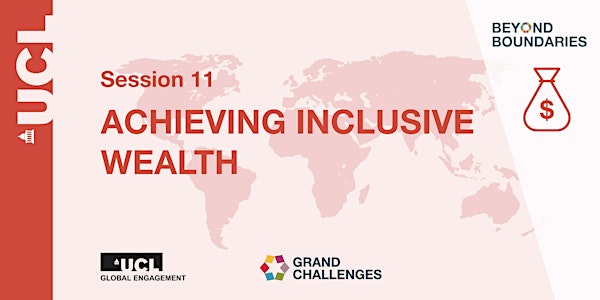 Beyond Boundaries Session 11: Achieving Inclusive Wealth
Session 11 of Beyond Boundaries: Realising the UN Sustainable Development Goals. See all sessions at uclbeyondboundaries.eventbrite.co.uk
About this event
This session will bring together world-leading intellectuals on ecology, macroeconomics, digital democracy and race.
Chaired by Anthony Costello, Professor of Global Health and Sustainable Development and a former director at the World Health Organization, the panel will discuss the world's most pressing political, economic and ecological challenges.
We'll be joined by Professor Wendy Carlin, UCL professor of economics, adviser to the UK office of budget responsibility, and author of Macroeconomics: Institutions, Instability and the Financial System; Carole Cadwalladr, an award-winning journalist and author, who exposed the Facebook-Cambridge Analytica scandal, and whose TED talk "Facebook's role in Brexit — and the threat to democracy" has had four million views; Professor Ibrahim Abubakar, Professor in Infectious Disease Epidemiology and Director of the UCL Institute for Global Health, who runs a global health research programme that addresses major diseases affecting vulnerable groups; Professor Sir Partha Dasgupta, Frank Ramsey Professor Emeritus of Economics, University of Cambridge; and Dr Michael Spence, Vice-Chancellor and Principal, University of Sydney.
Questions to be answered during this session include:
• How can we account for the environment as an economic asset? Which environmental strategies offer the best hope of addressing the SDGs and tackling climate change?
• Is the new digital revolution our main hope for sustainability? Or a major political and democratic threat? How can we use data for planetary goals?
• How can we build a macroeconomics which places sustainability first? Are universities teaching economics as a way to create sustainable growth or simply to boost income and share prices?
• How do disadvantaged people view the ecological and climate crisis? Can we link the dismantling of class and racial hierarchies to sustainable development? Is inclusive wealth more a socio-cultural challenge than an ecological or economic one?
• What is an equitable approach to health improvement, and how do global, regional and within-country inequalities guide this approach?
Speakers
Chair: Professor Anthony Costello
Chair of Global Health and Sustainable Development, Institute for Global Health, UCL
Anthony has worked as an NHS doctor, as Director of the Institute for Global Health at UCL, and as Director of the department of maternal, child and adolescent health at the World Health Organisation. He is a co-chair of the Lancet Countdown for Climate Action and Health, and author of The Social Edge: The Science of Sympathy Groups for Health, Wealth and a Sustainable Future.
Sir Partha Dasgupta
Frank Ramsey Professor Emeritus of Economics, University of Cambridge
Partha is the Frank Ramsey Professor Emeritus of Economics at the University of Cambridge and Fellow of St John's College, Cambridge. He is a Fellow of the British Academy, the Royal Society, and a Foreign Associate of the US National Academy of Sciences, and is currently preparing a Review of the Economics of Biodiversity at the invitation of UK's Chancellor of the Exchequer. Professor Dasgupta was knighted by Queen Elizabeth II in 2002 for services to economics.
Carole Cadwalladr
Investigative Journalist
Carole is an award-winning journalist for the Guardian and Observer. She worked with whistleblower Christopher Wylie to publish her investigation into Cambridge Analytica, which she shared with the New York Times. The investigation resulted in Mark Zuckerberg being called before Congress. She has also uncovered multiple crimes committed during the European referendum and evidence of Russian interference in Brexit.
Professor Wendy Carlin
Professor of Economics and Research Fellow of the Centre for Economic Policy Research (CEPR), UCL
Wendy Carlin CBE is Professor of Economics at UCL, Research Fellow of the Centre for Economic Policy Research, London, external professor at Santa Fe Institute and member of the Expert Advisory Panel of UK's Office for Budget Responsibility. Her research focuses on macroeconomics, institutions and economic performance, economics of transition, and evolution of economic research and education using machine learning.
Professor Ibrahim Abubakar
Director of the Institute for Global Health, UCL
Ibrahim is Director of the UCL Institute for Global Health. He led the UCL Centre for Infectious Disease Epidemiology, UCL-TB and was a senior investigator at the MRC Clinical Trials Unit. Ibrahim was head of TB at Public Health England and is Chair of The Lancet Migration: global collaboration to advance migration health. He was also Chair of the WHO Strategic and Technical Advisory Group for Tuberculosis.
Dr Michael Spence
Vice-Chancellor and Principal, University of Sydney
Dr Michael Spence has led the University of Sydney as Vice-Chancellor and Principal since 2008. During his time, Sydney has forged a new strategy focused on the transformation of undergraduate education and promoting interdisciplinary research. In 2017, he was awarded a Companion of the Order of Australia for service to leadership of the tertiary education sector, to the advancement of equitable access to education and of programs focused on multidisciplinary research.
Joining instructions
This event will take place via Sli.do and will be live streamed from here. The link to watch and Sli.do code to participate will be supplied to registrants via email closer to the event.
You will be able to participate via Sli.do using the Q&A and poll functions to interact with panel members and ask your own questions. You can also join the discussion on Twitter @UCL_SDGs and follow for updates.
All sessions will include subtitles or closed-captioning in English. All video recordings and presentation materials will be made available after the event. If you have any accessibility requirements, please do not hesitate to contact beyondboundaries@ucl.ac.uk
This session is part of Beyond Boundaries: Realising the UN Sustainable Development Goals. See all conference sessions here.