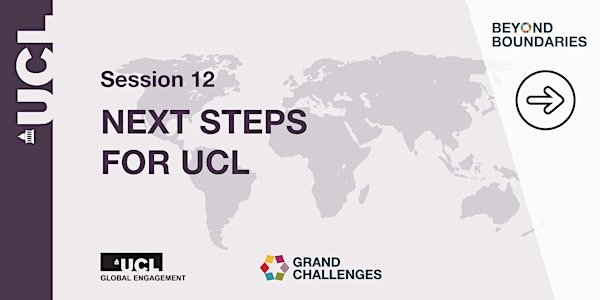 Beyond Boundaries Session 12: Next Steps for UCL
Session 12 of Beyond Boundaries: Realising the UN Sustainable Development Goals. See all sessions at uclbeyondboundaries.eventbrite.co.uk
About this event
This conference aims to highlight some of the most pressing issues in global development. We have heard from some of the most insightful minds in social, ecological, economic, and health policy. We recognise the complex interrelationships between these spheres of activity, and how they impact on local, regional and global communities. Our task is to construct a world in keeping with the Sustainable Development Goals, and which we are all proud to inhabit.
Drawing from the past two weeks of discussions, this session is an opportunity for UCL staff and students to identify more specifically how UCL can contribute to this vision, and will be critical in determining the future UCL strategy for sustainable development.
There will be two panel discussions:
Part 1: SDGs through Partnership
This panel discussion will be chaired by Professor Deenan Pillay, in discussion with Proessor Monica Lakhanpaul, Professor Susan Michie, Professor Ijeoma Uchegbu and Dr Saffron Woodcraft.
Part 2: Role of the University and SDGs
This panel discussion will be chaired by Professor Deenan Pillay in discussion with Professor Dan Osborn, Martha Mcpherson, Sophie Mepham, Tanya Dudnikova amnd Professor Anthony Costello.
Questions to be addressed include:
• How can UCL make a difference?
• What sort of partnerships are required?
• Which research activities should be prioritized?
• How can our students be better educated to contribute to the improvement of lives around the globe?
• How do we measure our success in achieving these aims?
Speakers
Chair: Professor Deenan Pillay
UCL Pro-vice Provost International and Professor of Virology
Deenan Pillay is Honorary Consultant Virologist at University College London Hospital. His long term interest is in the epidemiology, transmission, treatment and prevention of HIV, and was Director of the Africa Health Research Institute in KwaZulu Natal, South Africa. He is a member of Independent SAGE, a group of scientists providing advice to policy makers and the public in relation to COVID-19.
Professor Anthony Costello
Chair of Global Health and Sustainable Development, Institute for Global Health, UCL
Anthony has worked as an NHS doctor, as Director of the Institute for Global Health at UCL, and as Director of the department of maternal, child and adolescent health at the World Health Organisation. He is a co-chair of the Lancet Countdown for Climate Action and Health, and author of The Social Edge: The Science of Sympathy Groups for Health, Wealth and a Sustainable Future.
Professor Dan Osborn
Professor of Human Ecology, UCL
Dan Osborn is Professor of Human Ecology at UCL, Co-Chair of UCL Environment Domain and Editor-in-Chief, UCL Open: Environment. He researches the links between natural resources and people's wellbeing and how knowledge of these linkages can improve our lives. Dan has participated on advisory committees with government and industry, contributing to UK National Ecosystem Assessments and co-led people and built environment aspects of Evidence Report underpinning the Second UK Climate Change Risk Assessment.
Dr Saffron Woodcraft
Executive Lead for IGP's Prosperity Co-Lab UK
Saffron has led the Institute's work to develop a citizen-led Prosperity Index since 2015, which is now being adapted internationally. She manages the London Prosperity Board and IGP's longitudinal study of prosperity in the UK (2021-2031). Saffron is Research Fellow on the Knowledge in Action for Urban Equality (KNOW) programme, working on research to understand prosperity and pathways to urban equality in cities in the Global South. This work focuses on examining prosperity and urban equality in the SDGs.
Professor Monica Lakhanpaul
Professor of Integrated Community Child Health, Pro-Vice-Provost (South Asia), Co-Director CHIP (Childhood Infections and Pollution Consortium) UCL
Monica Lakhanpaul is a consultant paediatrician at Whittington Hospital, Pro-Vice-Provost for South Asia at UCL, Professor of Integrated Community Child Health at UCL Great Ormond Street Institute of Child Health and Co-director of the CHIP consortium. She works in the UK and internationally, using participatory and citizen science approaches. Examples include improving childhood feeding practices in South Asian communities in East London with her NEON project and PANChSHEEEL in rural India.
Professor Susan Michie
Professor of Health Psychology, Division of Psychology & Language Sciences, UCL
Professor of Health Psychology and Director of the Centre for Behaviour Change at University College London, Professor Michie is also co-Director of NIHR's Behavioural Science Policy Research Unit. She serves as an expert advisor on the UK's Scientific Pandemic Influenza Group on Behavioural Science (Covid-19) and is a consultant advisor to the World Health Organisation on Covid-19 and behaviour and is an investigator on three Covid-19 research projects.
Tanya Dudnikova
UCL Graduate, BA English Literature and French
Tanya Dudnikova is a recent UCL graduate, former Student Media Representative and former President of the UCL Film & TV Society. She is passionate about enhancing student participation in UCL's approach to sustainable development issues and recently moderated a webinar: "Reaching the Sustainable Development Goals: universities and students looking for solutions", organised by the British Council and University PSL. Tanya is an ambassador for Global Vision International, an organisation specialising in community development and conservation initiatives.
Sophie Mepham
UCL Grand Challenges Co-ordinator (Sustainable Cities and Transformative Technology)
Sophie works on UCL's Grand Challenges programme, co-ordinating cross-disciplinary research activity on Sustainable Cities and Transformative Technology. She graduated from UCL with an MA in Cultural Heritage Studies and has served in previous roles managing environmental, education and cultural development projects for the British Council and the UNESCO World Heritage Centre, as well as for smaller NGOs in the UK and Middle East.
Professor Ijeoma Uchegbu
Professor of Pharmaceutical Nanoscience, UCL
Ijeoma Uchegbu is Professor of Pharmaceutical Nanoscience at the School of Pharmacy, UCL, UCL's Pro-Vice Provost for Africa and The Middle East, the Provosts' Envoy for Race Equality, and Chief Scientific Officer of Nanomerics Ltd. Nanomerics, a UCL spin out company, recently licensed NM133 to Iacta Pharmaceuticals. Nanomerics won first prize for its Molecular Envelope Technology at the Royal Society of Chemistry's Emerging Technologies Competition 2017, Health category.
Joining instructions
This event will take place via Sli.do and will be live streamed from here. The link to watch and Sli.do code to participate will be supplied to registrants via email closer to the event. You will be able to participate via Sli.do using the Q&A and poll functions to interact with panel members and ask your own questions.
You can also join the discussion on Twitter @UCL_SDGs and follow for updates.
All sessions will include subtitles or closed-captioning in English. All video recordings and presentation materials will be made available after the event. If you have any accessibility requirements, please do not hesitate to contact beyondboundaries@ucl.ac.uk
This session is part of Beyond Boundaries: Realising the UN Sustainable Development Goals. See all conference sessions here.