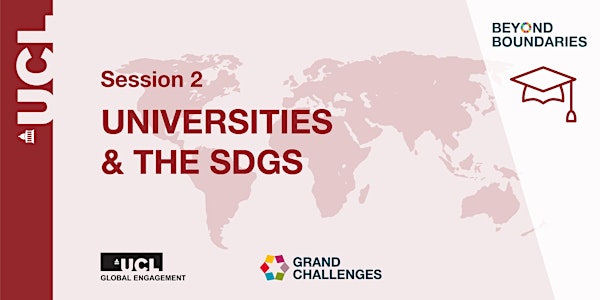 Beyond Boundaries Session 2: Universities & the SDGs
Session 2 of Beyond Boundaries: Realising the UN Sustainable Development Goals. See all sessions at uclbeyondboundaries.eventbrite.co.uk
About this event
In this session, we challenge universities to consider whether they should be implementing the SDGs or whether the sector plays a different role. We ask: does the current framework model favour Western institutions, and what does the next generation of students expect from their institutions?
This is a rallying call to the higher education sector to take a deeper look at how, and why, they seek to implement the SDGs and what the benefits will be to the institution, its staff and students, and wider society. It will bring together panellists from around the world to share perspectives and offer provocations.
Anyone involved in higher education will find this an interesting and thought-provoking session, prompting them to look closely at what the SDGs mean to them and how they might implement the goals.
Speakers
Chair: Martha McPherson
Head of Green Economy and Sustainable Growth, UCL
Martha McPherson is Head of Green Economy and Sustainable Growth at the Institute of Innovation and Public Purpose (IIPP) at UCL. She coordinates IIPP's research and policy engagement on transitions to a sustainable, climate-resilient green economy, taking a lens of public value, and rethinking the role of states. This encompasses work on green industrial and innovation policy and green new deals; local, regional and urban green innovation; the Just Transition; climate-aligned finance, and a green economic renewal after the COVID-19 crisis. 
Professor Tristan McCowan
Professor of International Education, UCL
Tristan McCowan is Professor of International Education at the Institute of Education, UCL. His work focuses on higher education and international development, particularly in Latin America and Sub-Saharan Africa, including issues of access, quality, innovation and impact. His latest book is Higher Education for and beyond the Sustainable Development Goals (Palgrave Macmillan, 2019), and he is editor of Compare – a Journal of International and Comparative Education. He is currently leading a multi-country Global Challenges Research Fund project on universities and climate change.
Phil Baty
Chief Knowledge Officer, Times Higher Education (THE)
Phil Baty is an award-winning journalist and international authority on university performance and strategy, with more than 23 years' experience in global higher education and research including a decade as Editor of the prestigious Times Higher Education (THE) World University Rankings. He created the THE World Academic Summit, now the flagship of a global series of senior university leadership events.
Tanya Dudnikova
UCL Graduate, BA English Literature and French
Tanya is a recent UCL graduate who acted as the Student Media Representative and President of the UCL Film & TV Society. She is oriented towards a career in the creative arts whilst also being passionate about enhancing student participation in UCL's approach to sustainable development issues. Most recently, Tanya moderated a webinar titled "Reaching the Sustainable Development Goals: universities and students looking for solutions", jointly organised by the British Council and University PSL. Tanya is an ambassador for Global Vision International, an organisation specialising in community development and conservation initiatives.
Professor Duncan Ivison
Deputy Vice-Chancellor (Research) and Professor of Political Philosophy at the University of Sydney
Duncan Ivison is Professor of Political Philosophy and Deputy Vice Chancellor (Research) at the University of Sydney. He completed his BA at McGill University in Montreal, and his MSc and PhD at the London School of Economics and Political Science. He has held academic posts at the Australian National University, the University of York, and the University of Toronto. He was previously Dean of the Faculty of Arts and Social Sciences at the University of Sydney.
Professor Adriana Allen
Professor of Development Planning and Urban Sustainability & Vice-Dean International, The Bartlett, UCL
Adriana Allen is Professor of Development Planning and Urban Sustainability at UCL The Bartlett Development Planning Unit, and The Bartlett's Vice-Dean International. She is also President of the Habitat International Coalition (HIC), as well as regular advisor to UN bodies. She is actively engaged in advancing urban justice through transdisciplinary research, social learning and international advocacy.
Aromar Revi
Director of the Indian Institute for Human Settlements (IIHS)
Aromar Revi is the founding Director of IIHS, India's prospective interdisciplinary national University and Institution of Eminence, focused on urbanisation. He is a global practice and thought leader and educator with over 35 years of interdisciplinary experience in sustainable development, public policy and governance, human settlements, global environmental and technological change. He is Co-Chair of the UN Sustainable Development Solutions Network (SDSN), member of the Advisory Board of UCLG and member of UN-Habitat' Stakeholder Advisory Group.
Joining instructions
· Click on the link: https://app.sli.do/event/mnorrlbu
· Alternatively, go to sli.do (https://www.sli.do/) and enter the event code BBSession2
All sessions will include subtitles or closed-captioning in English. All video recordings and presentation materials will be made available after the event. If you have any accessibility requirements, please do not hesitate to contact beyondboundaries@ucl.ac.uk
Click here to find out more about Slido and how it works.
Join the discussion on Twitter and follow @UCL_SDGs for updates.
This session is part of Beyond Boundaries: Realising the UN Sustainable Development Goals. See all conference sessions here.