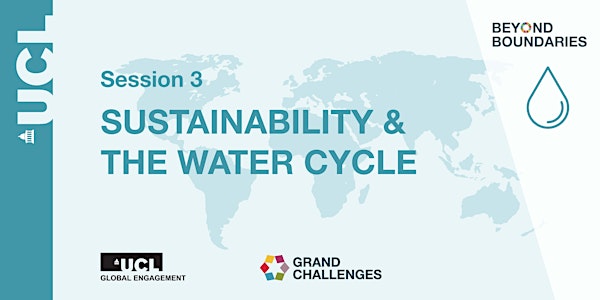 Beyond Boundaries Session 3: Sustainability & the Water Cycle
Session 3 of Beyond Boundaries: Realising the UN Sustainable Development Goals. See all sessions at uclbeyondboundaries.eventbrite.co.uk
About this event
This session will look at how the water elements of SDGs 13 (Climate Action), 14 (Life Below Water) and 15 (Life on Land) are being delivered and whether the targets linked to water are sufficiently comprehensive. Discussions will explore key trade-offs and nexi between the water needs of people, food production, the economy and the environment and ask how we can develop a future knowledge and innovation agenda that could help speed up the delivery of relevant SDGs.
Speakers
Dr Luiza Campos
Associate Professor, Department of Civil, Environmental & Geomatic Engineering, UCL
Dr Campos is Associate Professor in Department of Civil, Environmental & Geomatic Engineering, UCL. Luiza is also head of the Water Management Research Group and Co-Director of the Centre for Urban Sustainability and Resilience. Her research lies within water and sanitation with particular interest on designing, testing, implementing technologies and tools to reduce environmental pollution and enhance human health and wellbeing.
Professor Taikan Oki
Special Advisor to the President and Professor at Graduate School of Engineering, The University of Tokyo and Senior Vice-Rector, United Nations University
Professor Taikan Oki is Special Advisor to the President, and a Professor at Graduate School of Engineering, The University of Tokyo. He is also affiliated as Senior Vice-Rector, United Nations University, Japan, and since 2016 as an Assistant Secretary-General, United Nations. His areas of expertise are global hydrology and the sustainability of world water resources including the virtual water trade and water footprint.
Professor Melanie Austen
Professor of Ocean and Society, University of Plymouth
Mel Austen is Professor of Ocean and Society at the University of Plymouth, honorary Professor at University of Exeter, Member of UK Government's Natural Capital Committee and of the Joint Nature Conservation Committee. She leads and advises on inter/transdisciplinary marine environment research at the interface of social and natural science in the UK, EU and internationally to support policy and management for sustainable ecosystems.
Professor Michael E. McClain
Chair Professor of Ecohydrology, IHE Delft
Michael McClain is Chair Professor of Ecohydrology at IHE Delft. His research focuses on improved understanding of flow-ecology relationships in rivers and wetlands and how knowledge of these relationships can be translated into environmental water allocations to meet the SDGs. Throughout his career he has worked in the Global South. Currently, as Theme Editor for Water, featuring innovative approaches to solving water problems in the wider pursuit of sustainability.
Dr Michel Tsamados
Lecturer in Polar Observation & Modelling/Rheology, UCL
Dr Michel Tsamados is a member of the Centre for Polar Observation and Modelling, UCL. He has a BSc in Theoretical Physics from Ecole Normale Superieure de Lyon and is holder of the 'aggregation' in physics, the highest teaching diploma in France. His research focuses on analysing high-resolution sea ice deformation data in the European Space Agency GLOBICE project and the intercomparison of several observational datasets with sea-ice model results.
Professor Dan Osborn
Professor of Human Ecology, UCL
Dan Osborn is Professor of Human Ecology at UCL, Co-Chair of UCL Environment Domain and Editor-in-Chief, UCL Open: Environment. He researches the links between natural resources and people's wellbeing and how knowledge of these linkages can improve our lives. Dan has participated on advisory committees with government and industry, contributing to UK National Ecosystem Assessments and co-led people and built environment aspects of Evidence Report underpinning the Second UK Climate Change Risk Assessment.
Joining instructions
This event will take place via Sli.do and will be live streamed from here. The link to watch and Sli.do code to participate will be supplied to registrants via email closer to the event. You will be able to participate via Sli.do using the Q&A and poll functions to interact with panel members and ask your own questions.
Follow @UCL_SDGs on twitter for updates.
All sessions will include subtitles or closed-captioning in English. All video recordings and presentation materials will be made available after the event. If you have any accessibility requirements, please do not hesitate to contact beyondboundaries@ucl.ac.uk
This session is part of Beyond Boundaries: Realising the UN Sustainable Development Goals. See all conference sessions here.