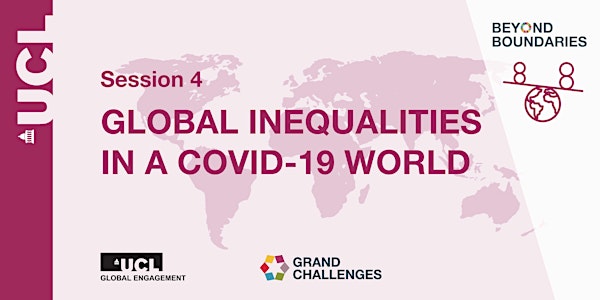 Beyond Boundaries Session 4: Global Inequalities in a COVID-19 World
Session 4 of Beyond Boundaries: Realising the UN Sustainable Development Goals. See all sessions at uclbeyondboundaries.eventbrite.co.uk
About this event
The COVID-19 pandemic has demonstrated and exacerbated the punitive effects of global inequalities in health, wealth, education and infrastructure, drawing mainstream attention to the relationships between poverty, race, gender and wellbeing. This session will invite global thought-leaders to discuss how COVID will shape global efforts to confront inequalities and to reflect on how government, civil society and universities could and should work together towards the UN Sustainable Development Goals in a post-pandemic landscape.
Speakers
Chair: Professor Caren Levy
Professor of Transformative Urban Planning, UCL
Caren Levy is a Professor of Transformative Urban Planning working on community-led development and governance. Her special interest lies in the institutionalization of social justice in policy and planning, particularly related to gender, diversity, and environment. She has 25 years experience in mainstreaming social justice in organizational development, and exploring innovatory approaches to planning methodology, education and capacity building.
Professor Relebohile Moletsane
JL Dube Chair in Rural Education, University of KwaZulu-Natal
Relebohile Moletsane is Professor and the JL Dube Chair in Rural Education, School of Education at the University of KwaZulu-Natal. As part of her Chair in rural education, she works in South African rural schools and communities, focusing on teacher development around issues of poverty alleviation, HIV & AIDS, gender inequality and gender-based violence as barriers to education and development. Moletsane was winner of the Distinguished Women in Science (Humanities) Award (National Department of Science and Technology, 2012).
Professor Ama de-Graft Aikins
British Academy Global Professor, UCL
Ama de-Graft Aikins is a British Academy Global Professor at UCL's Institute for Advanced Studies. Her research focuses on chronic illness representations, experiences and care, and the social, cultural and health systems aspects of Africa's chronic non-communicable disease burden. She also has a strong interest in the history of psychology in Africa and its intersections with critical theory and African Studies.
Professor Phoebe Koundouri
Chair of Sustainable Economic Development, Athens University of Economics and Business; President Elect European Association of Environmental and Resource Economists.
Professor Phoebe Koundouri is the Founder and Scientific Director of the Research Laboratory on Socio-Economic and Environmental Sustainability (ReSEES) at the Athens University of Economics and Business, the director of EIT Climate KIC Hub Greece and the co-chair of United Nations Sustainable Development Network.
Joining instructions
This event will take place via Sli.do and will be live streamed from here. The link to watch and Sli.do code to participate will be supplied to registrants via email closer to the event. You will be able to participate via Sli.do using the Q&A and poll functions to interact with panel members and ask your own questions.
Follow @UCL_SDGs on twitter for updates.
All sessions will include subtitles or closed-captioning in English. All video recordings and presentation materials will be made available after the event. If you have any accessibility requirements, please do not hesitate to contact beyondboundaries@ucl.ac.uk
This session is part of Beyond Boundaries: Realising the UN Sustainable Development Goals. See all conference sessions here.