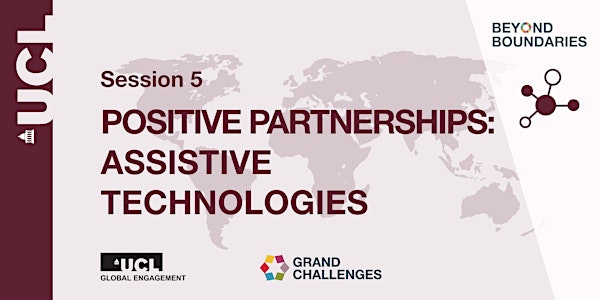 Beyond Boundaries Session 5: Positive Partnerships: Assistive Technologies
Session 5 of Beyond Boundaries: Realising the UN Sustainable Development Goals. See all sessions at uclbeyondboundaries.eventbrite.co.uk.
About this event
Globally, more than 1 billion people need one or more assistive technology products such as hearing aids, wheelchairs, prosthesis and many more to live independent and dignified lives. To develop and innovate these vital technologies, inclusive and collaborative partnerships across transnational organisations, the public sector, the private sector and civil society are required, at a global, regional, national and local level.
In this session, a panel of eminent speakers drawn from a diverse range of sectors will discuss partnership opportunities and development with a focus on assistive technologies. With a focus on SDGs 3 (Good Health and Wellbeing), 9 (Industry, Innovation and Infrastructure) and 17 (Partnerships for the Goals), the session will bring together speakers to share their experiences in developing successful partnerships and overcoming challenges. They will also discuss cross-industry partnerships and building partnerships locally, nationally and internationally.
Join us for what promises to be an energetic and interesting review of how partnerships in the assistive technology field are creating innovative, appropriate, and inclusive solutions.
Speakers
Chair: Professor Monica Lakhanpaul
Professor of Integrated Community Child Health, Pro-Vice-Provost (South Asia), Co-Director CHIP (Childhood Infections and Pollution Consortium) UCL
Monica Lakhanpaul is a consultant paediatrician at Whittington Hospital, Pro-Vice-Provost for South Asia at UCL, Professor of Integrated Community Child Health at UCL Great Ormond Street Institute of Child Health and Co-director of the CHIP consortium. She works in the UK and internationally, using participatory and citizen science approaches. Examples include improving childhood feeding practices in South Asian communities in East London with her NEON project and PANChSHEEEL in rural India.
Professor Catherine Holloway
Associate Professor & Academic Director, Global Disability Innovation Hub
Cathy Holloway is Academic Director and co-founder of the Global Disability Innovation Hub (GDI Hub) and Associate professor in UCL's Interaction Centre. Her research revolves around accessibility, innovation, crossing discipline boundaries into transport, rehabilitation, computer science and entrepreneurship. Her portfolio includes the development of new prosthetics for the UK and lower income countries; the use of the Internet of Things to automate the creation of city-level accessibility maps for wheelchair users in Delhi and London; and the development of inclusive innovation methods.
Chapal Khasnabis
Unit Head (a.i.). Access to Assistive Technology and Medical Devices Unit, Health Product Policy and Standards Department, Access to Medicines and Health Products Division, World Health Organization (WHO)
Chapal Khasnabis is a Prosthetics and Orthotics Engineer holding a Masters degree in Rehabilitation Science from Strathclyde University, and is in the process of completing a PHD from Trinity College Dublin. In 1994, he founded Mobility India, Bangalore to enable, empower and include people with disabilities, everywhere. He currently leads the WHO's Global Cooperation on Assistive Technology (GATE) initiative to improve access to assistive technology for everyone, everywhere.
Prateek Madhav
CEO, Assistive Technology Foundation (ATF)
Prateek is a NIT & IIM Calcutta-educated, corporate-digital-technology-leader turned happy-social-entrepreneur. His belief in technology making a significant impact in lives of disabled, encouraged him to give up an 18-year-old career in IT industry to focus on promoting disability/ assistive technology start-ups through his venture AssisTech Foundation (ATF), www.atflabs.org.
Wendy Walker
Chief of Social Development Thematic Group, Sustainable Development and Climate Change Department, Asian Development Bank
Prior to her role as thematic chief, Wendy worked in the urban and social sectors division of the East Asia Regional Department on PRC and Mongolia and, among her responsibilities, led ADB's first loans and technical assistance projects in PRC on technical and vocational education. She has an M.Phil. from Oxford University and a PhD from John Hopkins University.
Shona McDonald
Director of Shonaquip
Founding director of the Shonaquip, a hybrid Social Enterprise incorporating Uhambo and Champion's Network Trust, as well as the Western Cape Medical Devices Cluster, is a collaborative initiative established to promote and develop the local economy and medical device sector. Shonaquip's in-house design department innovate and develop a range of mobility and 24hr postural support devices which are locally produced in Cape Town.
Joining instructions
· Click on the link: https://app.sli.do/event/7z7wjkbl
· Alternatively, go to sli.do (https://www.sli.do/) and enter the event code BBSession5
All sessions will include subtitles or closed-captioning in English. All video recordings and presentation materials will be made available after the event. If you have any accessibility requirements, please do not hesitate to contact beyondboundaries@ucl.ac.uk
Click here to find out more about Slido and how it works.
Join the discussion on Twitter and follow @UCL_SDGs for updates.