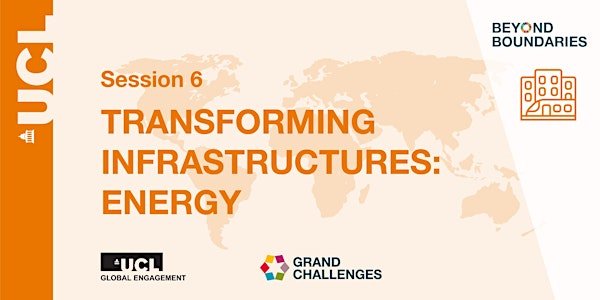 Beyond Boundaries Session 6: Transforming Infrastructures: Energy
Session 6 of Beyond Boundaries: Realising the UN Sustainable Development Goals. See all sessions at uclbeyondboundaries.eventbrite.co.uk
About this event
Infrastructures are central to delivering the SDGs. Energy infrastructure is of particular importance in delivering development outcomes while responding to the climate emergency.
This session will draw out challenges and opportunities from local to global scales of engagement and transition, drawing on experience from Africa, Asia and Europe. It will interrogate the role of a diverse set of actors in catalysing energy transitions – from international financial institutions, public utilities, local governments, to workers, communities and entrepreneurs – and the specific roles of universities in supporting such transitions. The session will be of interest to professionals, students, policy-makers and citizens interested in co-produced approaches to energy transitions and infrastructural transformation
Speakers
Chair: Dr Barbara Lipietz
Associate Professor, The Bartlett Development Planning Unit, UCL
Barbara is Associate Professor at the Development Planning Unit where she directs DPU's MSc in Urban Development Planning and convenes the DPU Research Cluster on Urban Transformations. Barbara co-ordinates the DPU/ACHR (Asian Coalition for Housing Rights) Junior Professional Internship Programme. She is Co-Chair of UCL's Grand Challenges of Sustainable Cities and is a member of the Urban Planning Advisory Group (UPAG) for the United Nations' Office for Disaster Risk Reduction.
Dr Priti Parikh
Fellow of the Institution of Civil Engineers and Associate Professor, UCL
Dr Priti Parikh is a Fellow of the Institution of Civil Engineers and Associate Professor at UCL. She has 15 years of engineering industry experience in Asia, Africa and UK on infrastructure delivery and heads the interdisciplinary EFID Research Centre addressing the SDGs through infrastructure. Priti has been recognised as an Engineers Without Borders Changemaker and serves as chair of the editorial panel for Institution of Civil Engineers Engineering Sustainability Journal.
Sam Mason
National Policy officer at the Public & Commercial Services Union (PCS)
Sam is a national Policy Officer at PCS trade union with a focus on the impacts of climate change and the environment on workers. She is lead author on the PCS pamphlet Energy Democracy and Just Transition: a civil service perspective, and co-author of the PCS pamphlet, Aviation Democracy. She is a member of the New Lucas Plan project and leads the Just Transition working group on human centred technology for socially and ecologically useful production.
Sarah Colenbrander
Director - Climate and Sustainability Programme, Overseas Development Institute
Sarah is an environmental economist who works broadly across urban, climate and fiscal policy. She has worked with policymakers in Asia, Africa and Latin America to design and implement low-carbon development strategies. Sarah has published extensively in academic journals as well as reports for the Global Commission on the Economy and Climate, Intergovernmental Panel on Climate Change, UN Environment and the World Bank. She is a guest lecturer at UCL, Oxford and Manchester.
Cllr Adam Harrison
Cabinet member for A Sustainable Camden, London Borough of Camden
Adam Harrison is a councillor and cabinet member at the London Borough of Camden, where he leads on the council's environmental work, including carbon reduction, air quality, transport, biodiversity, and green space. In 2019 Camden Council conducted the UK's first Citizens' Assembly on the Climate Emergency and incorporated all the citizens' recommendations into its newly adopted Climate Action Plan.
Joining instructions
· Click on the link: https://app.sli.do/event/ewssnmuu
· Alternatively, go to sli.do (https://www.sli.do/) and enter the event code BBSession6
All sessions will include subtitles or closed-captioning in English. All video recordings and presentation materials will be made available after the event. If you have any accessibility requirements, please do not hesitate to contact beyondboundaries@ucl.ac.uk
Join the discussion on Twitter @UCL_SDGs and follow for updates.