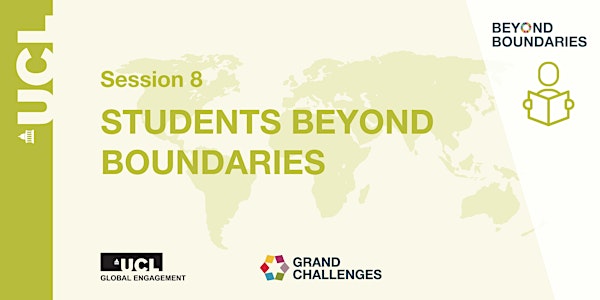 Beyond Boundaries Session 8: Students Beyond Boundaries
Session 8 of Beyond Boundaries: Realising the UN Sustainable Development Goals. See all sessions at uclbeyondboundaries.eventbrite.co.uk
About this event
In this session, we will explore the critical role that students play in pushing UCL's agenda on the SDGs and sustainability more widely. Beginning with a conversation between Professors, sabbatical officers, students, and recent graduates, we ask how the SDGs offer a stimulus for activism and explore the ways students are creating impact beyond their taught curriculum. Students are invited to imagine what's possible at UCL as well as what needs disrupting in order to have a meaningful engagement with the SDGs both at UCL and in future careers.
To compliment this session, UCL Students have also launched Content Hub to showcase students' work on the SDGs. Find out more at www.studentsbeyondboundaries.co.uk.
Speakers
Chair: Tanya Dudnikova
UCL Graduate, BA English Literature and French
Tanya Dudnikova is a recent UCL graduate, former Student Media Representative and former President of the UCL Film & TV Society. She is passionate about enhancing student participation in UCL's approach to sustainable development issues and recently moderated a webinar: "Reaching the Sustainable Development Goals: universities and students looking for solutions", organised by the British Council and University PSL. Tanya is an ambassador for Global Vision International, an organisation specialising in community development and conservation initiatives.
Professor Jane Holder
Professor of Environmental Law, UCL
Jane Holder completed her PhD at Warwick University on environmental assessment, published as a book, Environmental Assessment: the Regulation of Decision Making (OUP, 2004).  She joined UCL in 1992 and teaches Planning Law, Environmental Law and EU Law.  Jane has been a Trustee of the Environmental Law Foundation (ELF) and a member of the Board of the Journal of Environmental Law and Social and Legal Studies.  She is involved in the Education for Sustainable Development movement at UCL and is a member of the university's Steering Group on Environmental Sustainability.
Barney Iley
UCL Student, BSc Architecture
During his first year of study, Barney helped set up Architecture Education Declares, a cross-school effort to increase the centrality of the environmental crisis in architectural teaching. He deferred his second year of study and campaigned for Labour in the 2019 General Election, working at Momentum, building and administrating systems for allocating Labour activists around the country. He is interested in the intersection of education, architecture, and politics, especially in relation to environmental collapse and wealth inequality. Prior to studying at UCL, he studied English Literature at Oxford University, and then worked mostly in theatre.
Isha Kulkarni
UCL Graduate, MEng Civil Engineering
Isha is currently a Fellow at RMI India, focusing on mobilising finance and business innovation for low-carbon mobility. She is co-founder of youth-led climate change solutions platform, Degrees of Change. She has previously worked with UK development bank CDC Group in responsible investment and represents Central & South Asia on the Oil & Gas Climate Initiative youth board. At UCL she led the largest Engineers Without Borders chapter in the UK. Isha is a One Young World Ambassador and a Student Energy Leaders Fellow.
Maë Faugere
Former SU Sustainability Officer, UCL
As UCL's former SU Sustainability Officer, Maë was awarded the Student Sustainability Award for "Outstanding Commitment to Sustainability". During her time at UCL,  Maë  founded and led the Environmental Collective UCL, a non-hierarchical platform for interdisciplinary collective action, as well as the Sustainability Ambassadors, a group leading transformational projects at UCL. She founded and led the Climate Collage UCL and is presently working on organising the Climate Education Kick-Off at UCL.
Kisum Chan and Lincoln Lee
Co-founders of Rice.Inc, UCL graduates
Kisum Chan and Lincoln Lee were both BSc Biomedical students graduating from UCL in 2019. In 2018, Lee and his teammates were awarded the Hult Prize, and granted $1million in seed funding for their social enterprise Rice.Inc. Their goal is to end food poverty in Southeast Asia by using renewable energy to dry rice and reduce food waste while supporting small hold farmers. They are both on the Forbes Asia list for 30 social entrepreneurs under 30, and won the Norman Borlaug Award for their work in agriculture and food production.
Joining instructions
· Click on the link: https://app.sli.do/event/gxyzbj20.
· Alternatively, go to sli.do (https://www.sli.do/) and enter the event code BBSession8
All sessions will include subtitles or closed-captioning in English. All video recordings and presentation materials will be made available after the event. If you have any accessibility requirements, please do not hesitate to contact beyondboundaries@ucl.ac.uk
You can also join the discussion on Twitter @UCL_SDGs and follow for updates.