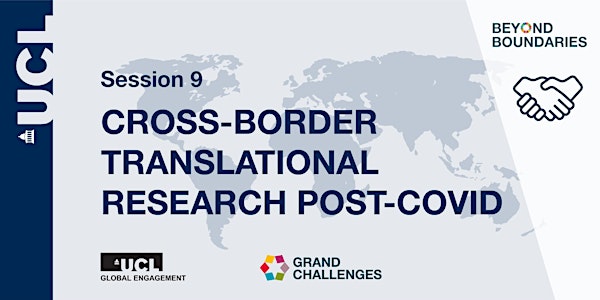 Beyond Boundaries Session 9: Cross-Border Translational Research Post-COVID
Session 9 of Beyond Boundaries: Realising the UN Sustainable Development Goals. See all sessions at uclbeyondboundaries.eventbrite.co.uk
About this event
Good health is essential to sustainable development, and the 2030 Agenda reflects the complexity and interconnectedness of the two. But with the outbreak of COVID-19, health care disruptions could reverse decades of improvements, and the world is currently off-track to achieve the health-related SDG targets. Where we have seen progress, this has been uneven - both between and within countries - with a 31-year gap between the countries with the shortest and longest life expectancies.
In this interactive session, both the panel and audience will discuss the importance of partnerships for enabling the effective delivery of translational research – applying knowledge from science and clinical trials to address critical medical needs - and achieving impact.
Focusing on SDG 3 (Good Health and Wellbeing), the panel will debate the barriers and requirements needed to deliver impact from their research. With research ranging from the development of pain medicines, designing high throughput malaria diagnostics, encouraging behaviour change in health professionals and much more, the panel promises to be a lively and informative affair.
Questions to be explored include:
• What does a post COVID world look like for the translational research agenda?
• Why are scientists not converting excellent research into societal impact?
• How are researchers going to deliver societal benefit in the form of new products and services post COVID-19?
Join us for an interactive discussion where you, the audience, will be asking and answering the questions along with the experts.
Speakers
Chair: Professor Ijeoma Uchegbu
Professor of Pharmaceutical Nanoscience, UCL
Ijeoma Uchegbu is Professor of Pharmaceutical Nanoscience at the School of Pharmacy, UCL, UCL's Pro-Vice Provost for Africa and The Middle East, the Provosts' Envoy for Race Equality, and Chief Scientific Officer of Nanomerics Ltd. Nanomerics, a UCL spin out company, recently licensed NM133 to Iacta Pharmaceuticals. Nanomerics won first prize for its Molecular Envelope Technology at the Royal Society of Chemistry's Emerging Technologies Competition 2017, Health category.
Professor Patty Kostkova
Professor in Digital Health, Director IRDR Centre for Digital Public Health in Emergencies, UCL
Patty Kostkova is Professor in Digital Health and the Director of UCL IRDR Centre for Digital Public Health in Emergencies. Patty was appointed ISI Foundation Fellow for her research into digital epidemiology. She was a consultant at WHO, ECDC, Telefonica and Foundation Merieux. Over two decades, Prof Kostkova has been an internationally leading researcher in the novel interdisciplinary domain of digital public health.
Professor Delmiro Fernandez-Reyes
Professor of Biomedical Computing at UCL Dept. Computer Science and Adjunct Prof. Paediatrics, College of Medicine, University of Ibadan
Delmiro Fernandez-Reyes is is Professor of Biomedical Computing at UCL Department of Computer Science and Adjunct Professor in Paediatrics at the College of Medicine, University of Ibadan, Nigeria. He is Director of the UCL-University of Ibadan African Computational Sciences Centre for Health and Development (ACSC4HD). His interdisciplinary expertise in the clinical-, life-, and computer-sciences has translated into a tight interaction of computational approaches with the hypothesis-forming steps, clinical study design and novel data-generation.
Olubayo Adekanmbi
Business Executive
Bayo Adekanmbi is an award-winning business executive who combines 19 years of cognate industry experience in Strategy, Marketing, Analytics and Business Transformation from two largest economies in Africa (Nigeria and South Africa). He is a Kaggle-validated hands-on Data scientist and a doctoral researcher with a Data Science product patent on Social Pricing Recommender.
Professor Kwang-Leong Choy
Director of the Centre for Materials Discovery and Professor of Materials Discovery, UCL
Kwang-Leong Choy (DSc, FIMMM, FRSC) obtained her D.Phil. in Materials Science from the University of Oxford, where she was awarded the Hetherington Prize and Oxford Metallurgical Society Award. She also held academic position at Imperial College London, and her pioneering on the Electrostatic Spray Assisted Vapour Deposition has led to the Grunfeld Medal and Prize from Institute of Materials (UK) and a spin-out company. She has over 30 years' experience in surface coating and nanomaterials.
Mutale Nkonde
CEO, AI for the People
Mutale Nkonde is the founding CEO of AI for the People (AFP) a non-profit communications agency which seeks to highlight the civil and human rights questions raised by the development of AI Technologies in public life. She is a member of the Tik Tok Content Moderation Advisory Board, a UN Advisor on Race and AI. She holds fellowships at Digital Civil Society Lab at Stanford, the Center of Advanced Study at Notre Dame and an affiliate at the Berkman Klein Center of Internet and Society at Harvard.
Professor Fabiana Arduini
Associate Professor, Department of Chemical Science and Technologies, University of Rome Tor Vergata
Fabiana Arduini is Associate Professor at Department of Chemical Science and Technologies (Laboratory of Analytical Chemistry), University of Rome Tor Vergata. She is the Coordinator of Interdivisional Sensor Group, Italian Chemical Society for the period 2019-2021. She is the Coordinator of European Project ERANETMED2-72-328 NanoSWS 2017-2020 - "Integrated nanotechnologies for sustainable sensing water and sanitation", BIAPTABONT project for the Ministry of Defence, INNOCONCRETE project for the Executive Programme on Scientific and Technological Cooperation between the Italian Republic and the Kingdom of Sweden 2018-2020.
Professor IkeOluwa Lagunju
Professor of Paediatrics at the College of Medicine, University of Ibadan and Consultant Paediatric Neurologist at the University College Hospital, Ibadan, Nigeria
IkeOluwa Lagunju holds the Fellowship of the National Postgraduate Medical College of Nigeria (FMCPaed), Fellowship of the West African College of Physicians (FWACP) and Fellowship of the Royal College of Paediatrics of Child Health (FRCPCH). A recipient of several international awards, Prof Lagunju received the prestigious Association of Commonwealth Universities Fulton Fellowship in 2005, the Bernard D'Souza Award of the Child Neurology Society, United States of America in 2008, and the Bruce Schoenberg Award of the American Academy of Neurology in 2011.
Professor Adesoji Oludotun Ademuyiwa
Hub Lead for the National Institute of Health Research Global Surgery Unit (NIHR GSU), Nigeria
Adesoji Oludotun Ademuyiwa is a Professor at the University of Lagos, Nigeria, Hub Lead for the National Institute of Health Research Global Surgery Unit (NIHR GSU), Chief of Paediatric Gastroenterology and Colorectal Unit at the Lagos University Teaching Hospital, and Secretary of the Pan-African Paediatric Surgical Association (PAPSA). He has been also a Visiting Scholar/Clinical Fellow to Red Cross War Memorial Children's Hospital, Cape Town, Great Ormond Street Children's Hospital, UK, and the Nationwide Children's Hospital, Ohio.
Joining instructions
This event will take place via Sli.do and will be live streamed from here. The link to watch and Sli.do code to participate will be supplied to registrants via email closer to the event.
You will be able to participate via Sli.do using the Q&A and poll functions to interact with panel members and ask your own questions. You can also join the discussion on Twitter @UCL_SDGs and follow for updates.
All sessions will include subtitles or closed-captioning in English. All video recordings and presentation materials will be made available after the event. If you have any accessibility requirements, please do not hesitate to contact beyondboundaries@ucl.ac.uk
This session is part of Beyond Boundaries: Realising the UN Sustainable Development Goals. See all conference sessions here.