This is an exploration of hybrid work, looking beyond pure office redesign, considering what psychological motivations need to be considered
About this event
Description:
The 2020 pandemic and ensuing lockdown triggered a universal pivot to remote working, as organisations battled to both comply with social distancing measures and maintain business continuity.
Vaccination programmes are finally allowing organisations to consider a return to office life.
Successive survey data shows that many people have no desire to return to the workplace full-time, preferring instead to blend remote working with office-based activity. This is known as 'hybrid working'.
With no pre-existing blueprint for hybrid working, organisations must figure out their own optimal mix to accommodate it.
While workspaces are being reconfigured for fewer people in the office and socially distanced working, there are a wider range of considerations to consider when designing for the optimal post-lockdown 'where' of work.
About this Webinar:
This webinar is for business leaders and executives responsible for the office environment and/or people and performance planning. It's designed for those seeking fresh perspectives for future operating dynamics.
The session provides an exploration of factors beyond pure office redesign for the creation of more collaborative workspaces – we know that for organisations to achieve their full potential, the psychological motivations of all staff also need to be considered.
Given the scale of disruption the pandemic has caused, forward-thinking organisations are now seeking deeper understanding of the full spectrum of elements that influence how we work effectively in the 2020s.
The webinar has been devised as a set of thought-starters, to encourage a wider range of considerations when figuring out the ideal blend of office and remote work for your organisation.
You'll learn:
Why blending the physical and psychological redesign of work and workspaces yields superior results
Why workspace customisation improves productivity and performance
How and where to get started
How the right analysis now will deliver enhanced results and longer-term organisational resilience
This is for you if:
Your organisation primarily operates from an office environment.
You're an ambitious business leader who's recognised that the world of work is changing, and who wants to explore hybrid working in closer detail.
You're an executive or HR leader, facilities or office manager who's been tasked with figuring out how to prepare your organisation for both hybrid working and the wider 'future of work'.
You suspect that there are advantages to hybrid working, but you're not sure how to get started.
Speakers: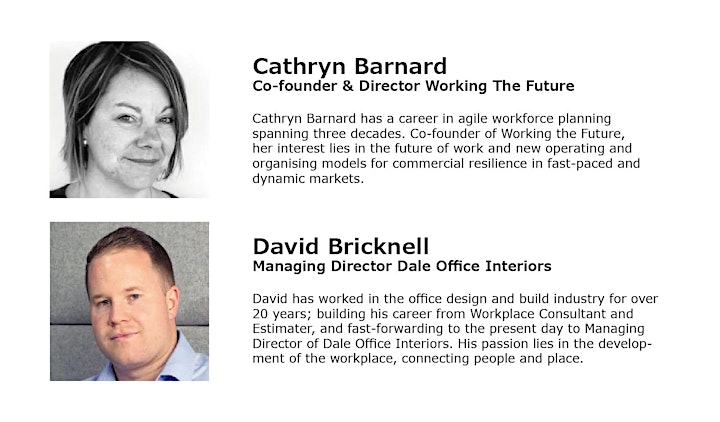 Organiser of Beyond Bricks: Investigating people and place for optimal hybrid work