About this Event
NOTICE AS OF 14 MARCH 2020
Due to the evolving COVID-19 situation, Doctors for Choice UK have sadly decided to postpone their April conference. We will aim to arrange a date for later this summer and will have further information about this in the coming weeks. Please do get in touch using the email doctorsforchoiceuk@gmail.com if you have any questions or would like to discuss refunds.
Join us for a stimulating and inspiring day on improving access to abortion, the path to decriminalisation and future abortion care in Northern Ireland, and busting abortion-related stigma through stories and the arts.
The conference will be followed by a free drinks reception between 5 and 7pm.
CONFERENCE PROGRAMME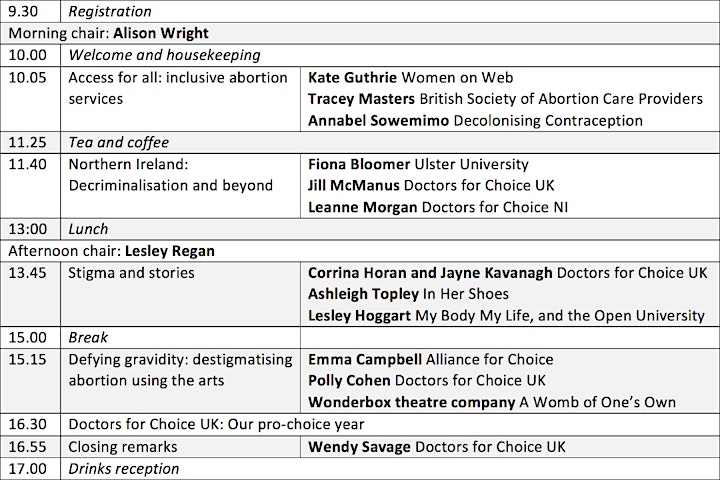 Doctors for Choice UK: Our pro-choice year speakers - Alice Howe, Jayne Kavanagh, Tom Merewether, Sean Rees, Catriona Renninson,
Tea, coffee, lunch and a drinks reception are included in the ticket cost.
TICKETS
£38 waged (non-DfC UK member)
£10 student/unwaged (non-DfC UK member)
Free for Doctors for Choice UK members
Join Doctors for Choice UK at https://www.doctorsforchoiceuk.com/join
Five £50 travel bursaries are available to medical students from outside London. Students should email doctorsforchoiceuk@gmail.com with up to 250 words about why they want to attend the conference by 23 March. The five successful applicants will be notified by 1 April 2020.
For more information, contact Doctors for Choice UK: doctorsforchoiceuk@gmail.com
Speaker Profiles
Emma Campbell is an artist, activist, academic and Abortion Nerd®, all of which she throws into her practice. Leaning on previous generations of feminist artists, she illuminates the structural inequalities that face abortion seekers and activists. As she returned to Belfast, she was welcomed into a fury of Feminists, Queers and Artists who join her in regularly exposing the infected shaving rash on the underbelly of our culture. Emma has shown her work in Belfast, Dublin, Berlin, Stockholm, Prince Edward Island, Bangkok, Prince Town SA and London both solo and as part of Array Studios Collective. Emma is also Co-Convenor of Alliance for Choice in Belfast.
Lesley Hoggart is Professor of Social Policy Research and Research Director of the School of Health Wellbeing and Social Care at the Open University. Her research projects are focused on reproductive health, abortion policy and politics, and sexual health, and she has published widely in these areas. Her recent outputs include the award-winning MyBodyMyLife abortion story-telling exhibition.
Jayne Kavanagh is a Principal Clinical Teaching Fellow and medical ethics lead at UCL Medical School, and a sexual and reproductive health specialty doctor in East London. She set up UCL's widening participation project Target Medicine, and Viva la Vulva, a reproductive rights action group for medical students. She trains medical students to speak about contraception, abortion and pregnancy decision-making in schools. She is co-chair of Doctors for Choice UK and co-founder of the Campaign for Contraception. Last year she produced and directed the documentary Kind to Women, to mark the 50th anniversary of the 1967 Abortion Act. She has toured the UK with My Body My Life, a multimedia exhibition that addresses abortion-related stigma.
Tracey Masters works as a Consultant in Sexual and Reproductive Health Care at the NHS hospital in East London called Homerton University Hospital. She is proud to lead its abortion service, and be part of the Women's Health and Sexual Health teams there which serve the diverse population of Hackney. Tracey is a founding member of the British Society of Abortion Care Providers (BSACP). She is a Fellow of the Royal College of Obstetricians & Gynaecologists and also of the Faculty of Sexual & Reproductive Health and is one of spokespersons on abortion for both organisations. She trained in London in Obstetrics and Gynaecology and completed subspecialty training in in 2000. For the next 12 years she worked in Bristol before returning to London and her current clinical post in 2012.
Leanne Morgan is an obstetrician and gynaecologist working at the Royal Jubilee Maternity Service in Belfast. She also works as a clinical advisor to the Regulation and Quality Improvement Authority. She is a founder member and co-chair of Doctors for Choice NI, which was established in June 2019. Passionate about improving access to abortion and contraception, she sits on the NI Abortion and Contraception Taskgroup. She is the clinical lead for an Ulster University education programme on reproductive rights within healthcare. She is also deputy lead on the development and implementation of a postpartum contraception service within the Belfast and South-Eastern Health and Social Care Trusts. She has recently co-authored an ARK policy brief on 'Developing integrated sexual and reproductive health services in NI', December 2019.
Annabel Sowemimo is founder of Decolonising Contraception (DC); a Black & people of colour community group aimed at addressing the unethical history of sexual and reproductive health (SRH) and the use of race based science. Decolonising contraception is about understanding how we can learn to think about sexual & reproductive health differently and create new solutions to reduce health inequalities. They are currently planning – SexFest - the first sexual health and well-being festival for Black and people of colour in London.