Beyond COP: Conversations to Transform Healthcare
Designed by and for healthcare students, this series seeks to address the lack of coverage of the ecological crisis within the field.
About this event
The planetary crisis poses extreme challenges to the provision of healthcare. This attention must also be extended, with equal urgency and vision, to the training of the healthcare professionals inheriting these difficulties. To aid further discussion and empower healthcare students to envision brave new solutions, the CSH network for sustainable healthcare education is offering this free student-led 4-part online series; featuring a broad collective of experts and students, who come together in conversation to examine the relationship between climate injustice and healthcare.
Critical coverage of climate change, ecosystem collapse and pollution are lacking in institutional healthcare education. Processes of violent exclusion, both planetary degradation and hierarchical education, have the capacity to alienate and marginalise.
Running adjacent to the 26th United Nations Climate Change Conference (COP), this online series seeks to address these shortcomings. By bringing students into the conversation and drawing on perspectives from a range of guest speakers, Beyond COP offers a fresh and radical approach to help empower healthcare students in realising their own moral voice.
Through 4 short online discussions, participants are given the space to start generating the tools necessary to imagine and create transformative change within healthcare training. Based in collaboration and dialogue, the series explores the responsibility of healthcare to the development of its future clinicians as a community. Whilst the series emerges out of a focus on the relationship between planetary and human health, it also draws on an appreciation of how the inherited inequities and instability of our global health system remains rooted in the ongoing impact of colonialism.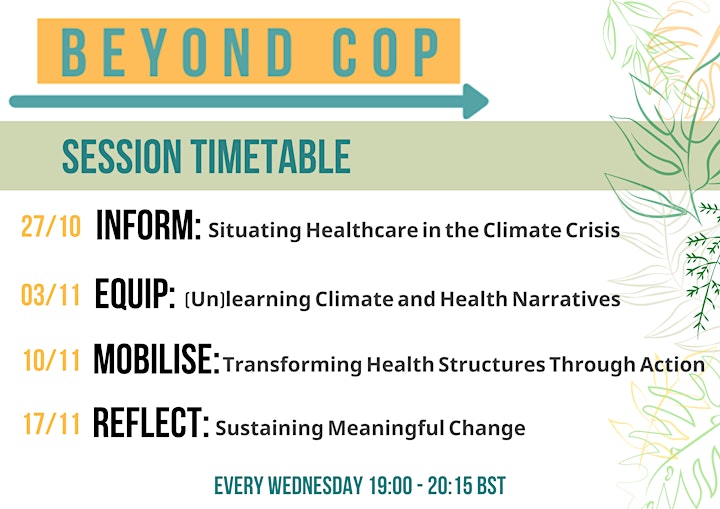 Beyond COP is for everyone – but designed by healthcare students for healthcare students. Access to the series is free. We invite healthcare students of all backgrounds and levels to register and join these discussions live.
Warmth and Solidarity,
BEYOND COP.
*UPDATE* Very excited to release our speakers and session information!
Inform: Situating healthcare in the climate crisis
Student chair: Simran Sehdev
Panellists: Dr Abi Devainayagam, Dr Richard Smith, Dr Ben Rusholme
The 'Inform' session aims to introduce the role and responsibility of healthcare within the climate crisis in promoting sustainability and resisting ecological collapse. Contributions from panellists aim to nurture an appreciation of the interdependence of planetary and human health and why they are so impactful as to prompt changes to healthcare training.
Equip: (Un)Learning climate and health narratives
Student chair: Temitope Fisayo
Panellists: Dr Rita Issa, Dr Norrice Liu, Dr Jacob Krzanowski
The 'Equip' session engages in a re-examination of healthcare systems, to begin to question dominant narratives surrounding the environment, health, and education. Participants will aim to begin to develop the frameworks to be able to examine the systems in order to think critically about different approaches to sustainable healthcare and education therefrom.
Mobilise: Transforming health structures through action
Student chair: Sara el-Solh
Panellists: Dr Rob Abrams, Prof Mahmood Bhutta, Ms Maggie Fay
The 'Mobilise' session explores how we can transform health structures through direct action and system change, whilst examining our own judgements towards these methods. Contributions from panellists and the chair aim to inspire participants to envisage ways of mobilising and taking action outside of the session.
Reflect: Sustaining meaningful change
Student chair: Marty Climenhaga
Panellists: Prof Howard Frumkin, Prof Stefi Barna, Dr Cyan Brown
The 'Reflect' session considers the need for active hope within movements and aims to provide those involved with tools and inspiration to sustain meaningful change through processes of reflection and re-evaluation.
Organiser of Beyond COP: Conversations to Transform Healthcare