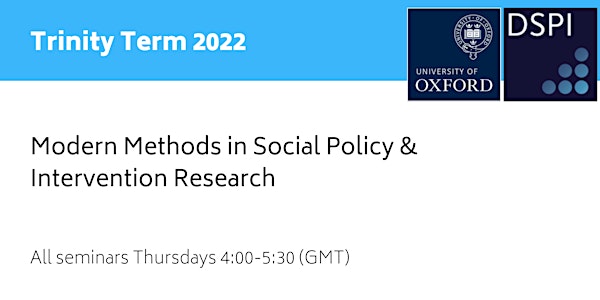 Beyond evidence of effectiveness in public health guideline development
Location
Violet Butler Room University of Oxford - Social Policy and Social Intervention
32 -37 Wellington Square
Oxford
OX1 2ER
United Kingdom
Dr Ani Movsisyan discusses the considerations beyond evidence of effectiveness in public health guideline development
About this event
The event will be hybrid with the option to attend in person in the Violet Butler Room at The Department of Social Policy & Intervention, Barnett House, 32 -37 Wellington Square, Oxford OX1 2ER.
The event will also be live-streamed via Zoom.
The registration closes one hour before the event, and the Zoom link will be sent right after on the day of the seminar.
Public health guidelines contain recommendations for public health policy on what should be done in specific situations to achieve the best (health) outcomes, individually and collectively. Development of such guidelines is a complex process involving multiple perspectives and considerations.
In this talk, I will describe the procedures of public health guideline development making the case for the adoption of a complexity perspective and the use of multiple types and sources of evidence beyond evidence of effectiveness.
I will draw on the ongoing methodological work in developing evidence to decision frameworks and approaches to facilitate the application of such a perspective in guideline development, as well as case illustrations from the published and ongoing World Health Organization (WHO) guidelines.