Location
Kelvin Theatre
The IET
2 Savoy Place
London
WC2R0BL
United Kingdom
Description
HOUSING DESIGN AWARDS SEMINAR 2016 : Beyond Housebuilding
Monday 11th July at the Kelvin Theatre, IET, 2 Savoy Place, London WC2R 0BL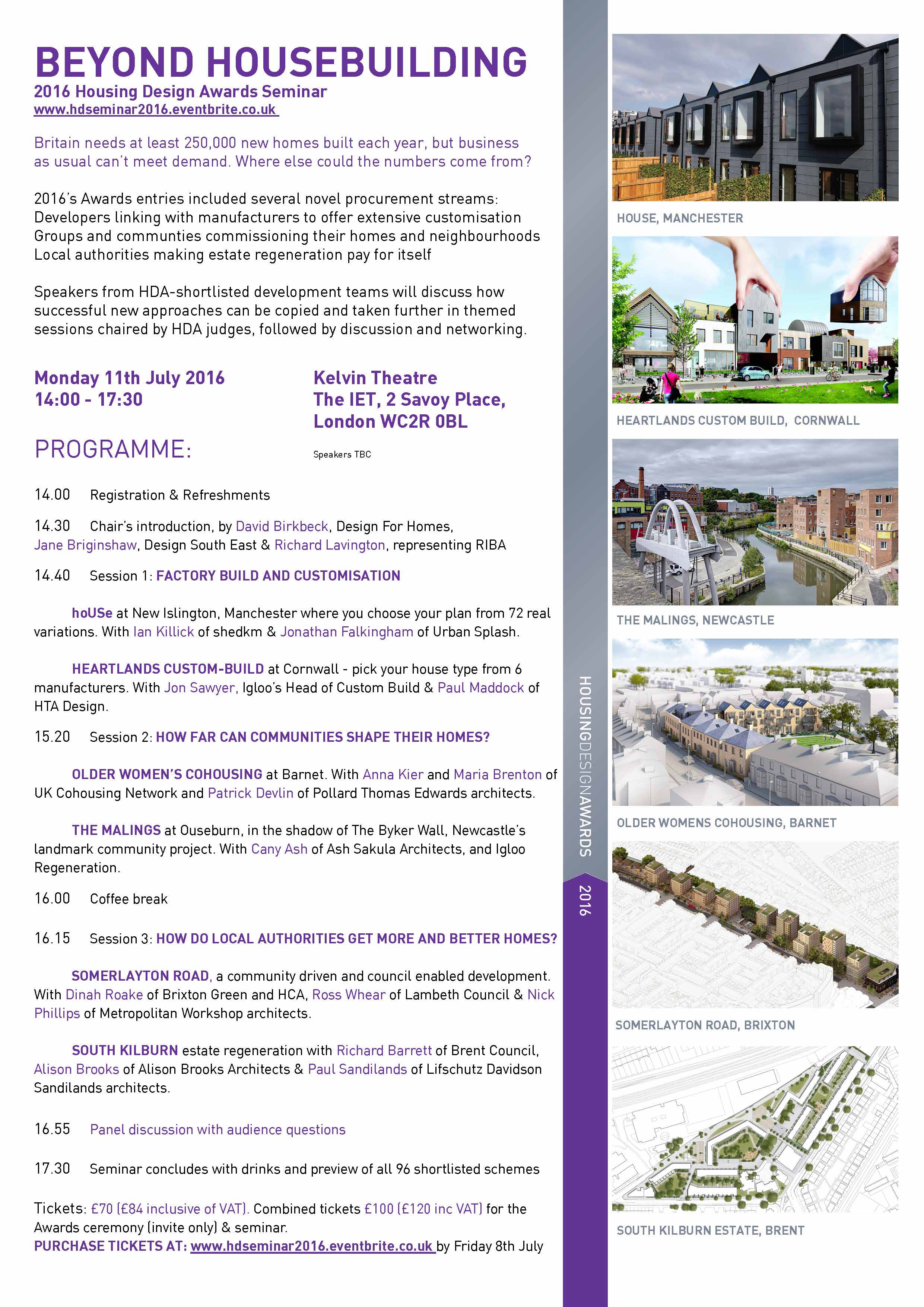 Britain needs to build some 250,000 new homes each year, but business as usual can't meet demand. Where else could the numbers come from?
2016's Awards entries demonstrate innovative approaches to housing procurement and design - from consumer responsive offsite production, to custom-build and co-housing, and local authority direct commissioning.
Speakers from HDA-shortlisted design teams will examine these three approaches in detailed case studies introduced and chaired by HDA judges, followed by discussion and networking.
PROGRAMME
14.00 - Registration for HDA Seminar: Beyond Housebuilding
14.30 - Chair's introduction, by David Birkbeck, Design For Homes; Jane Briginshaw, Design South East; & Richard Lavington, representing RIBA.
14.40 Session 1: FACTORY BUILD AND CUSTOMISATION
hoUSe at New Islington, Manchester where you choose your plan from 72 real variations. With Ian Killick of shedkm & Jonathan Falkingham of Urban Splash.

HEARTLANDS CUSTOM-BUILD at Cornwall. Pick your house type from 6 manufacturers. With Jon Sawyer, Igloo's Head of Custom Build & Paul Maddock of HTA Design.
15.20 Session 2: HOW FAR CAN COMMUNITIES SHAPE THEIR HOMES?
OLDER WOMEN'S COHOUSING at Barnet. With Anna Kier and Maria Brenton of UK Cohousing Network and Patrick Devlin of Pollard Thomas Edwards architects.

THE MALINGS at Ouseburn, in the shadow of The Byker Wall, Newcastle's landmark community project. With Cany Ash of Ash Sakula Architects, and Igloo Regeneration.
16.00 Coffee break
16.15 Session 3: HOW DO LOCAL AUTHORITIES GET MORE AND BETTER HOMES?
SOMERLAYTON ROAD, a community driven and council enabled development. With Dinah Roake of Brixton Green and HCA, Ross Whear of Lambeth Council & Nick Phillips of Metropolitan Workshop architects.

SOUTH KILBURN estate regeneration with Richard Barrett of Brent Council, Alison Brooks of Alison Brooks Architects & Paul Sandilands of Lifschutz Davidson Sandilands architects.
16.55 Panel discussion with audience questions
17.30 Concluding drinks and opportunity to preview all shortlisted schemes
Seminar Tickets : £70 (£84 inclusive of VAT).
Combined tickets for the seminar and awards ceremony (exclusively for invited guests) are £100 (£120 inc VAT). Contact us to book these.
Only guests who have confirmed attendance can be admitted, so please RSVP by purchasing tickets no later than Friday 8th July. Invitations can be transferred between people in the same company or organisation but please tell us of any substitutions ASAP by email to info@hdawards.org, and no later than Friday 8th July, adding 'HDA-RSVP' to the subject line.
All tickets include drinks and a presentation of all 96 of 2016's shortlisted entries. There is no dress code or allocated seating.