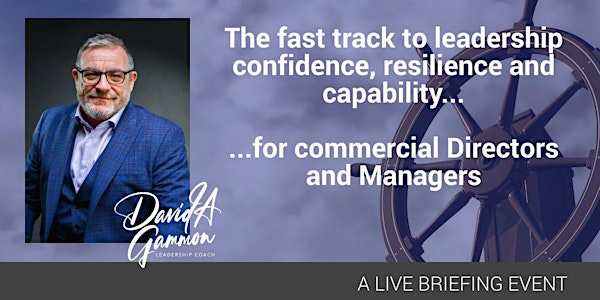 Beyond Impostor - Four shortcuts to confidence, resilience and capability
If you want to feel more confident, resilient and capable as a Leader in your company this briefing will set out your personal roadmap
About this event
Feeling genuinely confident and capable in Business management and leadership seems to be for people who are either
willing to invest a whole bunch of time, energy and money in becoming what they need to be
born with the ability; the 'you've got it or you ain't' argument
The false 'performance gap'
It doesn't matter if you are in a large corporation or an SME, these false assertions set up a performance gap that leaves many company directors, managers and owners feeling ill-equipped to 'show up' fully in their roles. Its exacerbated by
The fast pace of business does not give the space or time for people to get on top of their leadership brief
Rapid promotions based on competence in existing roles, giving a limited amount of 'time served' to develop their leadership style.
Leadership development and training is seen as a luxury that will be sorted out …someday
Whatever the reason(s), the outcome is the same. In the complex range of situations leaders encounter every day, those without a high level of self-awareness and resilience struggle.
They either feel like impostors in their role or exhibit undue confidence in situations they are ill-equipped for.
Both paths have the potential for poor commercial decision making, an inability to make change stick, conflict across and within teams and an uninspiring culture for employees. .. the very things Directors and Managers are paid to deliver.
...and then there is the effect on the individual.
Even when things are going well, people in leadership positions often battle with the relentless sense that they could/should be doing better or that good results are down to luck rather than judgement.
Rather than enjoying their newfound autonomy and ownership (which many people say is the one thing they want more of), they become overwhelmed, anxious, defensive, confrontational and reluctant to take even measured risks.
Some lose themselves in the comfort of low-level transactional activities (which they should be getting others to do). Others struggle on, often oblivious of the blind spots that mean they can't exploit their fullest capability.
It's ridiculous. All this frustration and bottled up potential are caused by a few minor errors in understanding. These are simple enough to correct with a good route map and a willingness to learn.
Been there, seen it, bought the T-shirt
I know because I struggled for decades with my 'tea boy to director' corporate career. My employers invested heavily in me (I was selected for four major development programs throughout my career) because they believed in me, and I was surrounded by talented people to learn from. The development was helpful, but it never dealt with the problem at the root of my struggle. The problem was I couldn't see what was powerful about me and where my own leadership blind spots were. I was successful despite this, not because of it.
In fact, what I learned during the self-employed part of my career finally gave me a breakthrough. I found a level of belief in myself and my capabilities that has given me deep confidence and a level of unshakeable resilience (even though I still face complexity, challenges and struggles every day).
I've spent fifteen years working with a range of Owners, Directors and Leaders across a range of industries and organisation sizes, sharing what I have learned (and am still learning).
It all starts with a simple couple of premises
1. Everyone can be a confident, effective and resilient leader. All they have to do is learn how to get out of their own way and let that deeply authentic Leader emerge. I call this Calibration.
2. Business is simple. People make it complicated. Once you understand and grasp some simple principles, you can think about the company in 'big picture terms. You raise your level of Commercial Acuity.
3. To leade means to inspire, influence and collaborate with other people. This requires a different way of thinking about relationship building and a refined communication style. I refer to this as your capacity to build Connection.
4. Business Leaders have to think, decide and act fast in the face of uncertainty and complexity. This requires some changes to how you see the world around you, make decisions and organise yourself to take action. I use a simple framework called Clean Action for this.
These are not skills or tactics to learn. They are ways of thinking and showing up that enable you to become the best Leader you can be (and I promise that this is a much more powerful position than you think it is).
In this session, I will explain these four elements to you and show you a simple, exciting and powerful three-month roadmap to becoming the kind of powerful Director and Manager you wish you were...
See you there.
Dave