Location
Birmingham City University - The Parkside Building
5 Cardigan Street
Birmingham
B4
United Kingdom
Description
Beyond Jewellery: Performing the Body
10am-5pm, 17 March 2016 at the Parkside Gallery, Birmingham City University
6pm - 8pm flockOmania2 performance
The Beyond Jewellery symposium coincides with flockOmania2, an exhibition and live performance event which crosses boundaries between jewellery and dance. Located within the field of contemporary art jewellery, this symposium explores the relationships between sculptural objects, the body and performance. In doing so, Beyond Jewellery offers a space to interrogate and reflect upon interdisciplinary projects interested in the body as a meeting place or nexus for collaboration. With a keynote from artist, researcher and body-centric sculptor, Di Mainstone, and talks spanning disciplines from textiles, dance, jewellery to sound and film, the point at which the themes of body, object and performance intersect are explored from myriad angles.
Speakers include:
Panels are chaired by:
Prof Sarah Whatley (Coventry University), Prof Jill Journeaux (Coventry University), Prof Jivan Astfalck (Birmingham City University)
Following the Symposium, the audience is invited to join the flockOmania team in the Parkside Gallery, for an improvised durational performance and private view to celebrate this latest stop on flockOmania's world tour. The exhibition showcases wearable objects which explore the relationship between jewellery, dance and performance. It was created by Zoe Robertson in response to a collaborative relationship with dance artists Dr Natalie Garrett Brown and Amy Voris. Their background in contemporary dance, movement improvisation and site based performance provided the catalyst for this body of work. The resulting jewellery is theatrically-sized to emphasise and explore themes relating to the scale and movement of the body. flockOmania2 will be hosted at the Parkside Gallery, Birmingham City University from Monday 22nd February to Friday 1st April 2016.
The flockOmania2 performance and private view begins at 6pm - 8pm and entry is free.
Please join us.
PLEASE NOTE: The Beyond Jewellery symposium will be held at Birmingham City University, The Parkside Building, 5 Cardigan Street, Birmingham, B4 7BD. This will not take place at the School of Jewellery.
It is organised in conjunction with the School of Jewellery (Faculty of Arts Design and Media, Birmingham City University) and the Centre for Dance Research (C-DaRE, Coventry University). Convened by Zoe Roberson and Sian Hindle (School of Jewellery) and Dr Natalie Garrett Brown (C-DaRE).
ABOUT Di Mainstone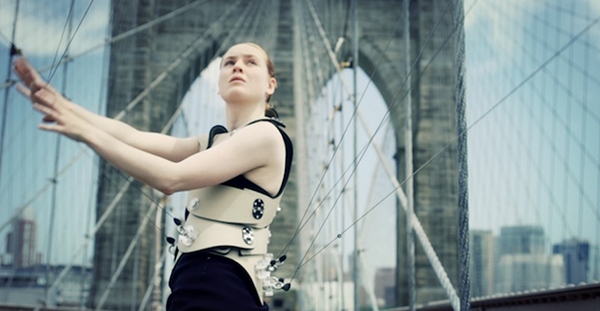 The New York Times has featured Di Mainstone as 'one of a new generation of visionaries' in the international digital-arts scene. Di is the founder of the widely acclaimed Human Harp Project, a collaborative instrument that transforms suspension bridges into giant harps.
Di's sonic devices have been performed at home and abroad, most notably at The V&A, The Barbican, The National Portrait Gallery, Eyebeam NYC, The Brooklyn Bridge and the Swedish National Touring Theatre. Each happening is unique, revealing openings for audience and performer encounters. Her work has been featured in media outlets such as BBC World Service, BBC News, New Yorker, New York Times, Time Out, Dezeen and The Observer. Di's work can also be seen in the films which she writes and directs. Her studio is found up a windy stairway, amidst the reclaimed tube trains that roost on top of Shoreditch's Village Underground, where her sculptural adornments are brought to life with dancers, musicians and scientists. For more information please visit http://www.dimainstone.com
ABOUT flockOmania2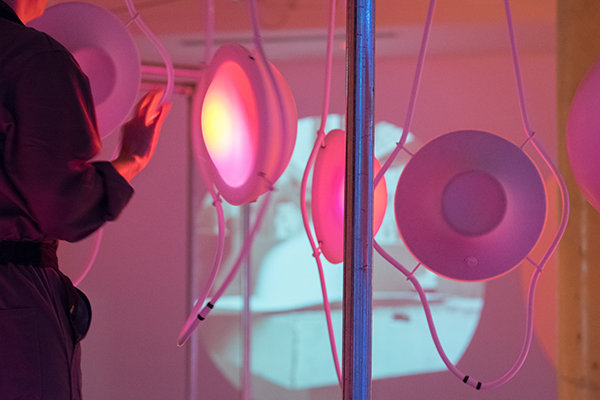 flockOmania2 will be hosted at the Parkside Gallery, Birmingham City University from Monday 22nd February to Friday 1st April 2016. The exhibition showcases wearable objects which explore the relationship between jewellery, dance and performance. It was created by Zoe Robertson in response to a collaborative relationship with dance artists Dr Natalie Garrett Brown and Amy Voris. Their background in contemporary dance, movement improvisation and site based performance provided the catalyst for this body of work. The resulting jewellery is theatrically-sized to emphasise and explore themes relating to the scale and movement of the body. flockOmania2 challenges the traditional conventions of jewellery display: here, the work hangs freely in the space rather than being contained by a glass cabinet, creating an immersive environment encouraging performativity, audience interaction and response. The space is seen as a laboratory of making in which the dance artists improvise movement and the audience is invited to interact, touch, play, wear, explore and respond. For further information please visit www.flockomania.com