'Beyond Labels' is a series of youth events run by the Human Rights Focus for ethnic minority young people (aged 18 -30) in London.
About this event
Our fifth event on 21 May focuses on widening participation for ethnic minority young people in politics and civic activism. Elected and non-elected officials are at the forefront of our democracy. They serve as a vital link between young people and political participation and active civic engagement. Yet, recent polling data showed that in light of the pandemic young people from ethnic minority backgrounds have experienced further isolation and were less likely to vote in recent local elections. This combined with the impact of the pandemic and rising racial inequality has led young people from marginalised backgrounds to become more apathetic politically and further isolated them from decision-makers.
Join us for a discussion with some of the country's leading voices on active participation in politics and civil society to uncover how young people can work with decision-makers across national and local governments to influence policy change. Throughout this panel discussion, we will explore:
- The practical ways in which young people from BAME backgrounds have influenced policy change.
- What organisations to get involved with and how to work with them to change policies across a local and national level.
- Explore challenges and opportunities bought about through the pandemic to increase young people's influence in politics
Event chair: Nadia Khan, Co-Founder of The Delicate Mind C.I.C and Managing Director of The World Youth Alliance United Kingdom, HRF Youth Consultant.
All participants will receive a YouthPass certificate, and the selected young people will be offered a paid work experience at the HRF.
This project is supported by the Erasmus + Programme.
There is no limit on the number of participants joining virtually. Joining details will be emailed after the registration.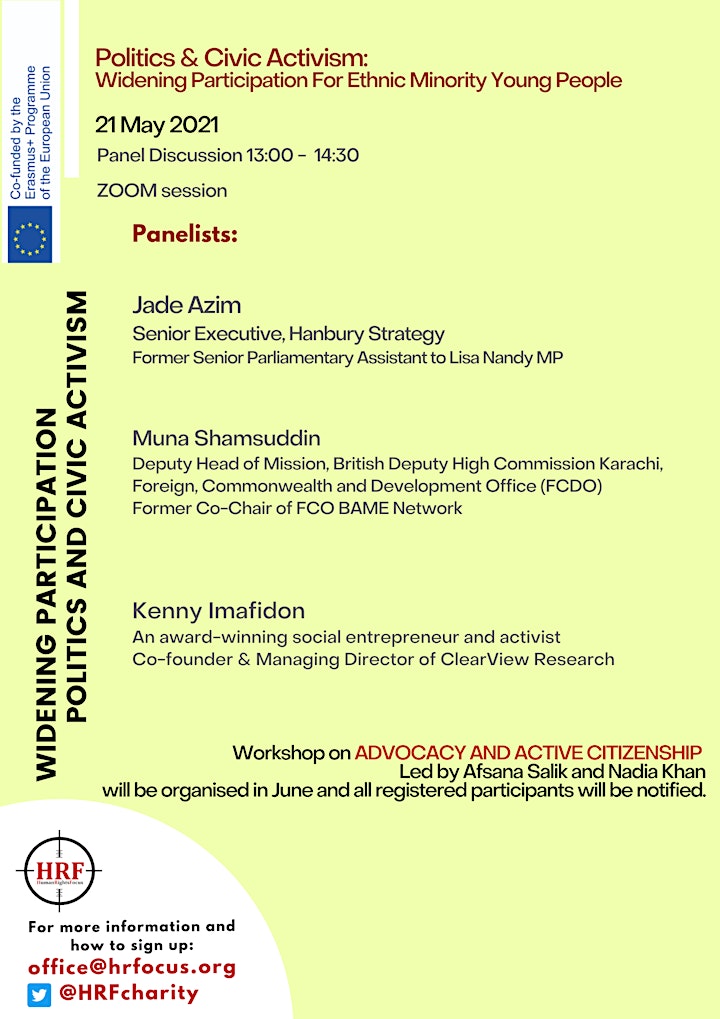 Organiser of Beyond Labels: Widening Participation for Ethnic Minority Young People