Join us for this symposium exploring research and innovation in the creative industries as part of Beyond Conference 2019.
About this event
What exactly is 'creativity' and more specifically, what does it mean to be 'creative' in the context of the Creative Industries? These are some of the questions we have been grappling with here at Creative Informatics in Edinburgh, but they are also cross-sector and countrywide concerns.
In order to start addressing such questions, we would like to invite interested parties to a research symposium taking place as part of the Beyond Conference in Edinburgh in November. Beyond is an annual R&D conference for the creative industries. In 2019 the conference explores the intersection between Artificial Intelligence and creativity, but the symposium will address creativity across the wider creative industries, providing an opportunity for researchers, practitioners and policy makers to meet up and share their experiences, ideas and concerns.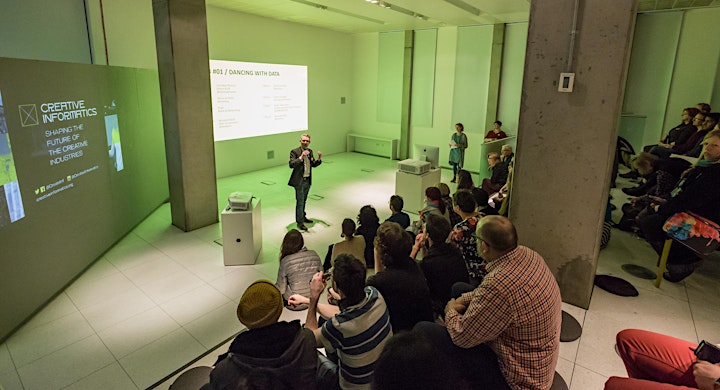 Kicking off the symposium with some lively debate, we have Dr. Oli Mould from Royal Holloway, University of London, giving a provocation based on his 2018 book 'Against Creativity'. Responding to Oli's provocation, we are also delighted to welcome Professor Vicky Gunn, head of learning and teaching at the Glasgow School of Art, to make the case 'for creativity'.
As part of the symposium, participants will be encouraged to give short (3 minute) 'lightning introductions', which might take the form of a poster, an artefact, a performance, a brief talk, or other representation of their work or areas of interest or concern.
In addition, we invite you to submit any 'burning issues' you wish to put on the table for discussion. There will be opportunity to raise these throughout the symposium, but if you wish to send them in advance, please email them to pip.thornton@ed.ac.uk or i.panneels@napier.ac.uk before 5pm on Monday 18th November 2019.
The symposium is free to attend and will conclude with networking drinks. If you wish to attend the main Beyond Conference, ECR/Researcher rates are available here.
Participants for the symposium are welcome from across the creative industries and the cultural sector in Edinburgh and beyond!
About Creative Informatics
Creative Informatics is a collaboration across the University of Edinburgh, Edinburgh Napier University, Codebase and Creative Edinburgh.
Funded by the Creative Industries Clusters Programme managed by the Arts & Humanities Research Council as part of the Industrial Strategy, with additional support from the Scottish Funding Council. The programme is part of the City Region Deal Data Driven Innovation initiative.
Find out more at https://creativeinformatics.org/
Data Protection
In providing your completed registration response you are giving explicit consent for us to use this data in our programme monitoring and reporting processes. The data is managed confidentially. Your data will be held and used by the Creative Informatics delivery team based at the University of Edinburgh with some data shared with our funders the Arts and Humanities Research Council and the Policy and Evidence Centre based at Nesta. Your data will only be reported in anonymous aggregated forms and will always be processed in accordance with the Data Protection Act 2018 and therefore also in accordance with the General Data Protection Act 2018 and therefore also in accordance with the General Data Protection Regulation (GDPR).