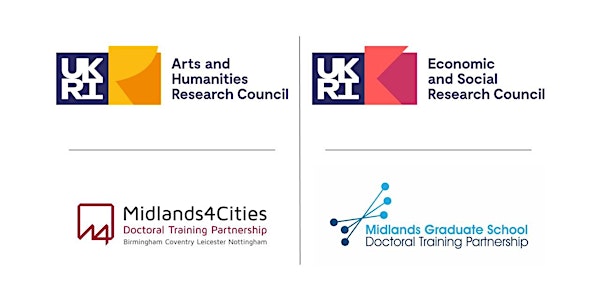 Beyond the PhD: Exploring your options and making the most of your skills
Second workshop of the joint AHRC Midlands4Cities DTP and ESRC Midlands Graduate School DTP Careers Series 2021.
About this event
Who is the event for?
This session is designed for AHRC and ESRC funded researchers in arts, humanities and the social sciences and is primarily aimed at those entering or in their final year of PhD . Those in other years are welcome to attend.
What will the event cover?
The Training and Development Needs Analysis (TNA/DNA): Refocus and review
Be the solution: Articulating your skills and experience to employers
Personal experiences and tips from PhD students who graduated after 2008 financial crisis
Personal experiences from AHRC/ESRC alumni who are working outside of academia
Opportunities to ask questions of all the speakers
Details of support offered at each M4C and MGS institution
Confirmed speakers, as of May 2021, include:
Dr Charlotte May, Researcher Training Development Facilitator, University of Nottingham
Dr Holly Prescott, PGR Careers Adviser, University of Birmingham
Dr Emma Foster, Lecturer in International Politics and Gender, University of Birmingham
Dr Eleonore Batteux, Behavioural Scientist, Public Health England
Dr Ana Alecsandru, Research Fellow in the Proliferation and Nuclear Programme, Royal United Services Institute (RUSI)
Dr Alex Marchbank, Assistant Journal Editor, Oxford University Press
The event will take place online, via Microsoft Teams. A meeting link will be forwarded to all those registering for the event, ahead of the date.