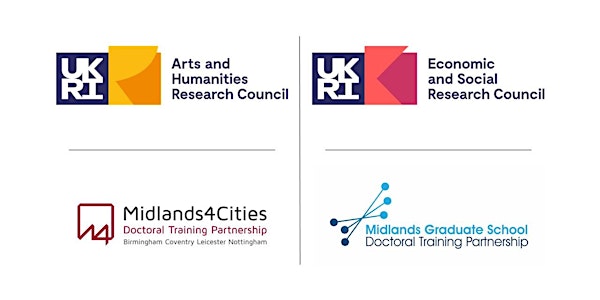 Beyond the PhD: Exploring your options and routes into academic careers
First workshop of the joint AHRC Midlands4Cities DTP and ESRC Midlands Graduate School DTP Careers Series 2021.
About this event
Who is the event for?
This session is designed for AHRC and ESRC funded researchers in arts, humanities and the social sciences and is primarily aimed at those entering or in their final year of PhD . Those in other years are welcome to attend.
What will the event cover?
Research funding opportunities
Advice on crafting funding applications and details of the support available at your institutions
Knowledge Transfer Partnerships - what they are and what is it like to undertake one
Experiences of AHRC/ESRC alumni who have secured academic positions
Opportunities to ask questions of the speakers
Confirmed speakers, as of May 2021, include:
Dr Georgina Nica-Avram, Translational Assistant Professor, University of Nottingham
Dr Susan Lanz, ESRC Postdoctoral Fellow, Aston University
Dr Ceciel Boruwer, Former M3C Student and now ESRC Postdoctoral Fellow, University of Leicester
Dr Amna Nazir, Former M3C Student and now Lecturer in Law, Birmingham City University
The event will take place online, via Microsoft Teams. A meeting link will be forwarded to all those registering for the event, ahead of the date.