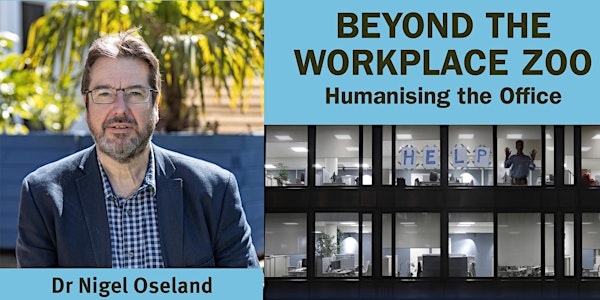 Beyond the Workplace Zoo: Humanising the Office - with Dr Nigel Oseland
Location
ONLINE EVENT or JOIN IN PERSON AT
Herman Miller Showroom
2 Kingsway
London
WC2B 6LH
United Kingdom
This is a Hybrid event - choose between joining online or physically in our London Showroom
About this event
Dr Nigel Oseland begins by outlining the common design mistakes with the modern open plan office and the industry focus on cost that has resulted in the ill-fated workplace zoo. The requirements of office-based workers according to psychological theory and research are explained, citing historical studies in psychophysics and more contemporary research in environmental and evolutionary psychology along with references to biophilia, anthropology, zoology and neuroscience.
Nigel continues with workplace solutions, focussing on how to plan, design and manage offices to accommodate our innate human needs now and in the future. Nigel's proposed workplace solution the "Landscaped Office" is a revived and revised version of Bürolandschaft with a contemporary twist.
The impact of workplace trends, such as agile working and hot-desking, are also explored and found to complement the workplace solution, resulting in the "Agile Landscaped Office".
10 attendees will receive a copy of Nigel's book Beyond The Workplace Zoo
This is a Hybrid event - choose between joining online or physically in our London Showroom
Timings:
Central Daylight Time - 8:00
Eastern Daylight Time- 9:00
British Summer Time - 14:00
Central European Time - 15:00
South African Standard Time - 15:00
Eastern European Summer Time - 16:00
Arabia Standard Time - 16:00
Gulf Standard Time - 17:00
Indian Standard Time - 18.30
You will receive a link 2 days before the webinar
About the speaker
Dr Nigel Oseland is an environmental psychologist, workplace strategist, change manager, researcher, international speaker, lecturer and published author with 11 years research and 23 years consulting experience.
In his consulting business, he draws on his psychology background and his own research to advise occupiers on how to redefine their workstyles and rethink their workplace to create working environments that enhance individual and organisational performance and deliver maximum value. Nigel occasionally lectures at universities on space management, workplace psychology and wellbeing in buildings.
He is the programme advisor and a regular speaker at the Workplace Trends series of international conferences. Nigel regularly presents at international (academic and corporate) conferences on designing workplaces that enhance performance and wellbeing.
He made a TEDx talk in 2018 on "How we can create unique workspaces" and introduced the concept of the workplace zoo.