"Beyond Trauma: Mental Health Issues in Displaced Populations from War Tor...
Description
"Beyond Trauma: Mental Health Issues in Displaced Populations from War Torn Areas and in Asylum Seekers"
Thursday 19th September 9.00 am- 4.30pm
Exclusive One Day CPD Conference- Worth 6 CPD POINTS
Who this conference is for:
•Professionals, medics and clinical colleagues working in mental health service management and delivery at all levels in primary, secondary or community services in the NHS and the wider voluntary and community sector
•Academic and other clinical professionals from outside the NHS with an interest in the mental health of displaced populations and asylum seekers
What the conference will explore:
Assessing and understanding mental health needs of asylum seekers and refugees
•Emerging mental health challenges amongst displaced people
•Experiences of stranded refugees and impact on mental health
•Multi dimensional trauma experiences
•Finding new solutions to dealing with new trauma related experiences
PROGRAMME FOR THE DAY
09.00 - Registration
09.30 - Assessing and understanding of asylum seekers and refugees (facts and discussions) – Dr Mahmood Khan, Consultant Psychiatrist
09.50 - From Damascus to London Mental Health Initiative for Refugees. Mental heal problems among Syrian refugees and Mental Health initiatives e. - Dr Abdulkarim Ekzayez Refugee Trauma Initiative UK
10.30 – Working with Mental Health refugees and asylum seekers; the local voluntary sector perspective – Dr Wafaa Nawaz, Health Lead, Inspired Neighbourhoods CIC, Wright Watson Enterprise Centre
10.50 – Break
11.00 - Multi-dimensional experience of trauma amongst refugees and psychological concomitants – the BDCFT Experience – Dr Wali Wardak, Clinical Psychologist
11.45 - Case Scenarios: Dr Wali Wardak
12.00 - Panel Discussion: Chair Dr Karim, panel members Dr Khan and Dr Wali
12.30 - LUNCH
13.30 - "Escape and Endurance - Service User perspective – Mr Junaid Jaff, Iraqi Refugee
14.00 - "Alone and Scared & Helping Hand" – Lonely unaccompanied young asylum seekers, Their experience and support available – Mr Syed Ikhlam/Nazrul Islam from the charity Lonely Orphans, London
14.40 - Break
15.00 – Stories, of trauma from clinical experience – Dr Anil Pillai
15.20 - Trauma- Finding solutions: Workshop
15.50 - From Trauma to Recovery: Dr Wali, Dr Khan and Dr Pillai
16.30 CLOSE
SPEAKERS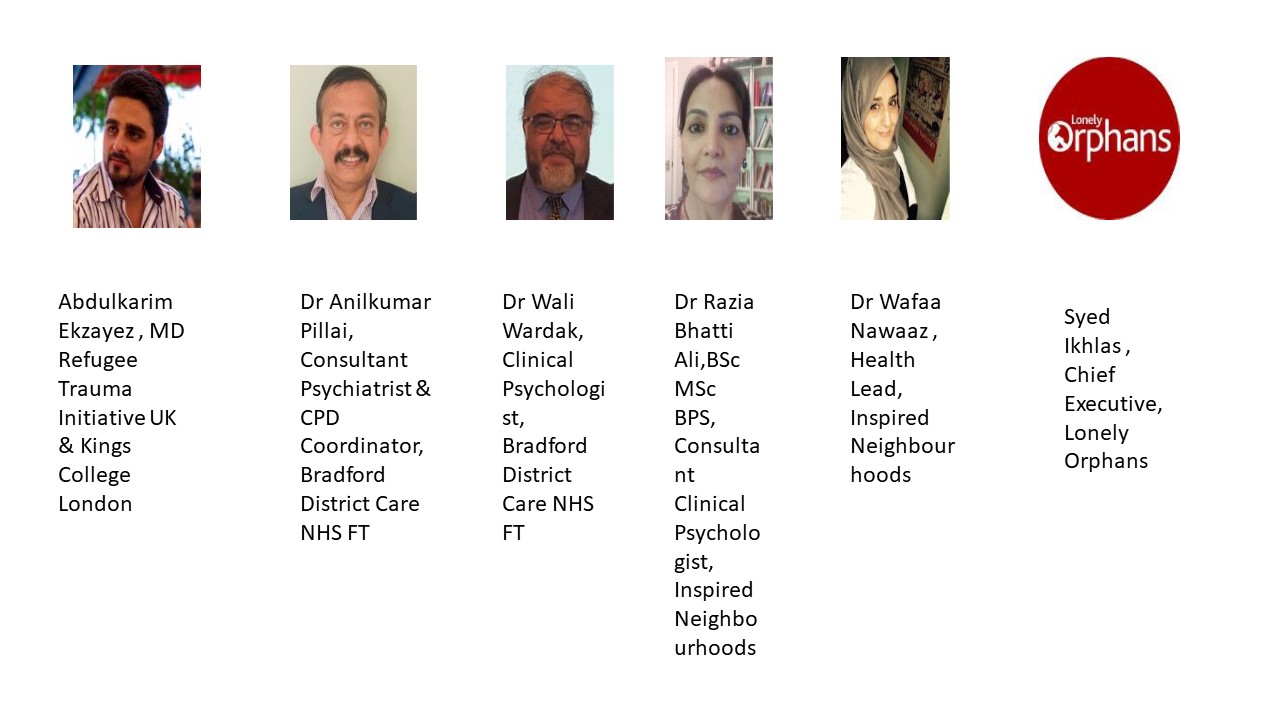 Dr Abdulkarim Ekzayez is a Syrian medical doctor and epidemiologist. He received his MD from Aleppo University and MSc from the London School of Hygiene and Tropical Medicine (LSHTM). In 2013, Dr Ekzayez was training to be a neurosurgeon when his residency was interrupted by the Syrian war as he moved to field hospitals in North West Syria where he provided hundreds of surgeries. He joined Save the Children there, leading their health response until 2017. In this period, he contributed to building the health system in opposition-controlled areas and to specific responses such as the Polio and Measles outbreak response. Currently, Dr Ekzayez is working as a Research Associate at the Research for Health in Conflict in the Middle East (R4HC) programme at the war studies department at King's College London where he is also doing his PhD in health systems in conflict settings. He is also involved in research and projects at London School of Hygiene and Tropical Medicine, Chatham House, American University of Beirut and other Academic and policy institutes. Dr Ekzayez is an active contributor to several medical and civil society institutions in Syria, and is a board member of three NGOs; Shafak in Syria/Turkey, Eye to the Future in the US, and Refugee Trauma Initiative in the UK.

Dr Anil Pillai is a Consultant Psychiatrist in Old Age. He is also Training Programme Director for Higher Trainees (Old Age Psychiatry), HEE Yorkshire and Humber. He has an interest in teaching and training in Mental Health. His other interests are Transcultural Psychiatry and Spirituality and Mental Health.
Dr Wali Wardak is a Clinical Pyschologist and Senior Psychologist Therapist working for Bradford District Care Trust. Since 1998 he worked for the Trust in various places. He as extensively worked with Mental Health issues of the refugees in Asia, Africa, Middle East and Europe. Dr Wardak has also worked as an advisor to governments on issues related to the reconstruction of mental health services in war torn countries. He is a qualified Jurist, familiar with many cultures and speaks several languages
Dr Mahmood Khan has worked for the past 18 years as a Consultant Psychiatrist at Bradford District Care Trust. He has a special interest in Transcultural Psychiatry and whilst working in Bradford City CHMT has led on several major initiatives to improved the quality of mental health services for BME communities. Mahmood is also a Associate Medical Director for Medical Education and Honorary Senior Lecture at Leeds University where he routinely presents lectures.
Dr Wafaa Nawaz is a Children and Young Persons Improved Access to Psychological Therapies trained mental health practitioner with a background in research science. Wafaa leads on Physical and mental health services at Inspired Neighbourhoods Group. She has seven years' experience of managing a community based mental health support service for adults, families, young people and children. To develop community based programmes, Wafaa has adopted collaborative approaches engaging key stakeholders, local communities and health professionals resulting in services that are culturally sensitive, well accessed and delivering much needed impact. Working in partnership with health professionals to deliver services in Bradford, especially supporting those from war torn countries, has provided an in depth understanding of their needs and how current services are insight into services currently available and what it should like in the future.
Syed Ikhlaas - Committed NGO worker, having both practical and academic exposure to development work. Studied and trained in NGO management and development studies, including a Violence, Conflict and Development masters research on the Rohingya Refugees in Bangladesh. Worked in the 3rd sector for 15 years. Been involved with many projects local and global. Being a strategic contributor and consultant for various organisations which include BRAC UK, BRAC INGO & USA, BDI (BRAC Development Institute), and World Bank and CGAP working on a process documentation project across 9 countries piloting micro-finance and ultra-poor graduation programme. Currently CEO of Lonely Orphans.
FAQs
What are my transport/parking options for getting to and from the event?
There is free parking at the hotel, no reservation is required
How can I contact the organiser with any questions?
please email bradfordeducationlearningcentre@bdct.nhs.uk
Do I have to bring my printed ticket to the event?
Yes please
Is it ok if the name on my ticket or registration doesn't match the person who attends?
Yes that is fine,