Sales Have Ended
Registrations are closed
Thank you for booking your place for the BeYou Network Event - Conversation on Developing Resilience and Wellbeing We hope you find the event both interesting and beneficial. Looking forward to meeting you. JDN Consulting UK
Sales Have Ended
Registrations are closed
Thank you for booking your place for the BeYou Network Event - Conversation on Developing Resilience and Wellbeing We hope you find the event both interesting and beneficial. Looking forward to meeting you. JDN Consulting UK
The BeYou Network Event is an informal session, where we ask you to bring your coffee and cake (or fruit!) and take some time out to learn.
About this event
The BeYou Women's Network continues to grow, so we would like to bring even more amazing women together to learn, laugh and share knowledge.
There is no cost to attend or restrictions on geographical location as this event is online.
CONVERSATION ON DEVELOPING RESILIENCE & WELLBEING
Join us for a conversation to discover how resilience and wellbeing link to the way we live our best life, particularly during challenging times. The event will be filled with discussions, tips and tools to help you to build your resilience and wellbeing.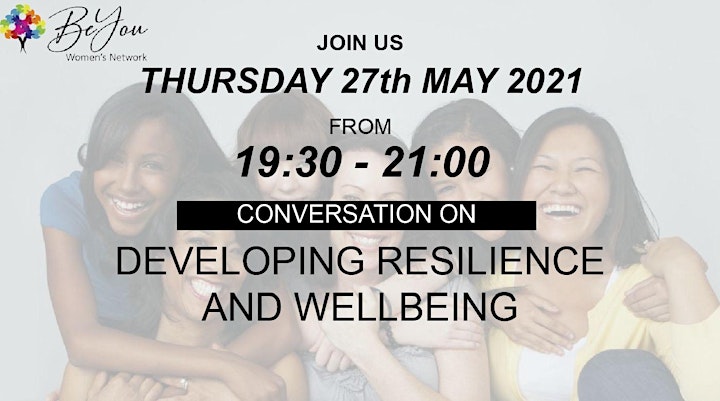 GUEST SPEAKERS
Julie Nelson and Rebecca Noskeau will lead the Conversation on Developing Resilience and Wellbeing. They are both passionate about supporting their clients to discover resources to help them live their best life....after all, we only have one shot at it!
Rebecca and Julie will offer tips, models and activities that you can use in your everyday life to help build resilience and maintain wellbeing.
JULIE NELSON
Julie is the founder of JDN Consulting UK which offers a range of services supporting clients to explore career options and to inspire personal growth.
She is also the founder of the BeYou Women's Network which provides opportunities for women to come together to LEARN SHARE & CONNECT with others.
As an Executive Coach, it is a real passion of Julie's to support women from all backgrounds, whether employed, on a career break or looking to enter the world of employment; to reconnect with their desire to DREAM, BELIEVE and ACHIEVE their personal and professional goals.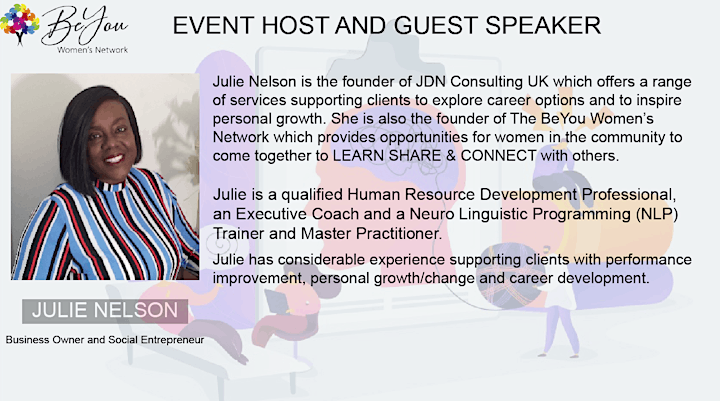 REBECCA NOSKEAU
Rebecca is a qualified Business Psychologist and a coach, who is passionate about cultivating continual learning and growth, for herself and others. She is driven by her purpose to empower others to break free from limiting narratives and grow beyond them.
Rebecca has researched and designed a Wellbeing Tool called 'Wellbeing in Motion', which enables people to holistically measure, manage and gain momentum with their wellbeing, over time.
It is Rebecca's aim is to create empowering and practical solutions for people to use in their lives to achieve and maintain optimum performance and wellbeing. She truly believes these are the fuel for our resilience!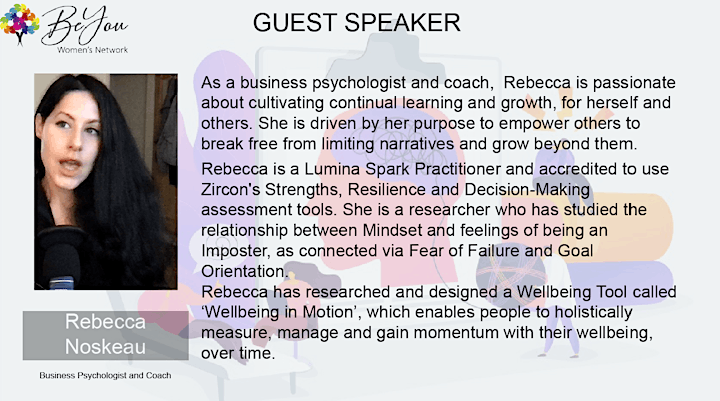 LEARN, SHARE, CONNECT
As with all our BeYou Women's Network Events, your questions, thoughts and experiences are welcomed and encouraged. Expect a practical, insightful and inspirational evening.
So, if this topic interests you, book a place and join the BeYou Women's Network for coffee, cake, and a chat!
KEEP IN TOUCH
Would you like to hear about future BeYou Women's Network and Training Events?
#resilience #wellbeing #womensupportingwomen #wellness #freeonline #conversation #beyou #personaldevelopment #learningonline #jdnconsultinguk #beyoupersonaldevelopment #beyouwomensnetwork #personalgrowth #selfcare #taketimeoutforyou #eveninglearning #femaleempowerment #femaleentrepreneur
Organiser of BeYou Women's Network Event: CONVERSATION ON RESILIENCE AND WELLBEING