Sales Have Ended
Registrations are closed
Thank you for booking your place for the BeYou Network Event - Conversation on RIDING THE WAVES OF CHANGE & UNCERTAINTY. We hope you find the event both interesting and beneficial. Looking forward to meeting you. JDN Consulting UK
Sales Have Ended
Registrations are closed
Thank you for booking your place for the BeYou Network Event - Conversation on RIDING THE WAVES OF CHANGE & UNCERTAINTY. We hope you find the event both interesting and beneficial. Looking forward to meeting you. JDN Consulting UK
The BeYou Network Event is an informal session, where we ask you to bring your coffee and cake (or fruit!) and take some time out to learn.
About this event
The BeYou Women's Network continues to grow, so we would like to bring even more amazing women together to learn, laugh and share knowledge.
There is no cost to attend or restrictions on geographical location as this event is online.
CONVERSATION ON RIDING THE WAVES OF CHANGE AND UNCERTAINTY
This idea that we have all been in the same boat over the last 16 months is, strictly speaking, not true. We may have been in the same sea - but most likely on very different boats.
During the course of this conversation, we will acknowledge the shared form of the global pandemic, but then we will drill down into the principles underpinning why our personal experiences are strikingly unique.
By separating out 'change' from 'transition' and focusing clearly on the individual nature of our responses, we can gain insight to help each of us recover and grow.
The event will be filled with discussions, tips and tools to help you get a grip on changes and uncertainty imposed on you by a global pandemic.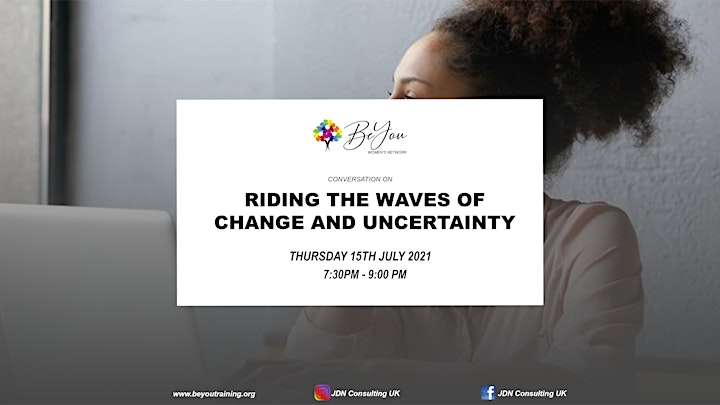 EVENT HOST AND GUEST SPEAKER
The conversation 'RIDING THE WAVES OF CHANGE AND UNCERTAINTY' will be hosted by Julie Nelson and led by our fabulous guest speaker, Rachel Morris.
Both are passionate about supporting their clients to discover resources to help them live their best life....after all, we only have one shot at it!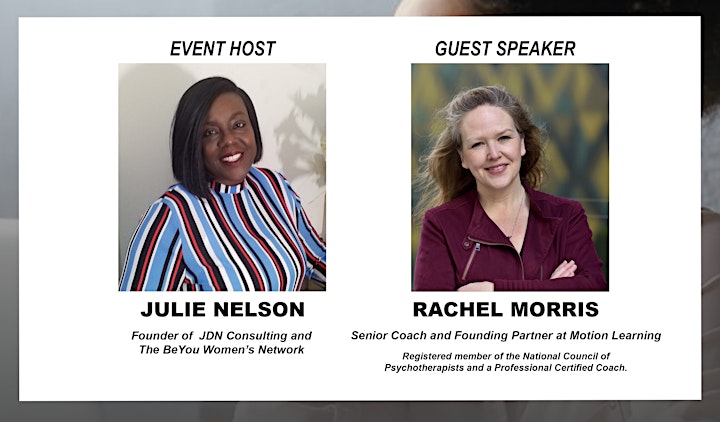 EVENT HOST - JULIE NELSON
Julie is the founder of JDN Consulting UK which offers a range of services supporting clients to explore career options and to inspire personal growth.
She is also the founder of the BeYou Women's Network which provides opportunities for women to come together to LEARN SHARE & CONNECT with others.
As an Executive Coach and established Training Provider, it is a real passion of Julie's to support women from all backgrounds, whether employed, on a career break or looking to enter the world of employment; to reconnect with their desire to DREAM, BELIEVE and ACHIEVE their personal and professional goals.
GUEST SPEAKER - RACHEL MORRIS
Rachel Morris is a founding partner of the professional coaching company Motion Learning, which was established in 2004.
For over 20 years, Rachel has built her expertise on developing individuals and teams within a diverse range of professional environments. Rachel is a registered member of the National Council of Psychotherapists and a Professional Certified Coach.
As an experienced business coach, Rachel supports clients to gain clarity of whom they really are right now, where they are aiming to be, and how they are going to get there. Rachel believes every relationship has a unique dynamic and works with her clients to support the increase of personal clarity, motivation and internal satisfaction. Her style is based on high support and high challenge principles.
Rachel specialises in working with business leaders. Her recent client list includes leaders of Channel 4, Chanel, Vogue and The V&A. She coaches on a daily basis, as well as leading the experienced team of coaches at Motion Learning.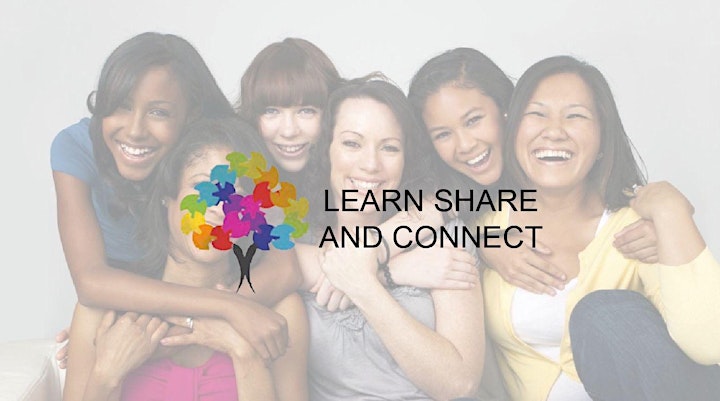 LEARN, SHARE, CONNECT
As with all our BeYou Women's Network Events, your questions, thoughts and experiences are welcomed and encouraged. Expect a practical, insightful and inspirational evening.
So, if this topic interests you, book a place and join the BeYou Women's Network for coffee, cake, and a chat!
KEEP IN TOUCH
Would you like to hear about future BeYou Women's Network and Training Events?
#resilience #wellbeing #womensupportingwomen #wellness #freeonline #conversation #beyou #personaldevelopment #learningonline #jdnconsultinguk #beyoupersonaldevelopment #beyouwomensnetwork #personalgrowth #selfcare #taketimeoutforyou #eveninglearning #femaleempowerment #femaleentrepreneur #respondingtochange #changingtimes #changeskills #womenlearningtogether #transition #transitioncoaching #insights #executivecoaching
Organiser of BeYou Women's Network Event: RIDING THE WAVES OF CHANGE & UNCERTAINTY