Description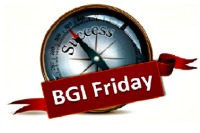 Transform your business…in just 2 hours a month!
Here's what has been said about BGI Friday so far...
"Really useful session that has helped me to focus my mind set on growing my business. My main learning is to focus on being more productive versus 'busy'. Also I must remember to have fun on the way! " Karen McElroy, FCM Associates Ltd, Friday 29thApril 2016
What is BGI Friday?
This is our unique Business Growth Initiative (BGI) Forum for small and medium sized local businesses.
Who is BGI Friday for?
It is ideally suited to any businesses owners who is enthusiastic about giving that extra BOOST to the profits and growth of their business.You might have just started out and need that extra edge over your competition…or you might have been going a while but things have gone a bit flat. Whatever. This is the group for people that want to move their business onto the next level!
What happens at BGI Friday?
This is an exclusive business forum for like-minded business owners (just like you and me). It meets once a month, at The National Brewery Centre, Horninglow Street, Burton upon Trent DE14 1NG on a Friday, at 8.00am for a light breakfast and a chat around a table in a relaxed setting with the forum taking place from 8.30 to 10.00 am (but you are welcome to stay on to talk after that) . Normally there will be a small charge of £15 (inc. VAT) to cover our costs BUT FOR THE FIRST 10 PEOPLE TO BOOK FOR THIS LAUNCH WE WILL PAY...so you can come along for FREE!
Each month will have a key business boosting theme such as:
How to find a few extra hours to WORK ON YOUR BUSINESS
How to kick start your business growth with 3 simple fixes
How to turn your business into a money making cash machine!
How to get more and more customers coming to your business
How to create marketing pieces that really get results
How to quickly and easily understand the key information on your Financial Accounts.

OK…So what will I get out of it?
Spending 2 hours each month WORKING ON your business

Many easy, low cost, step by step techniques to increasing your profits now and into the future.

Every month you will come away with FREE resources from our Business Growth Vault to give your business the edge over your competition

The opportunity to pick the brains of key fellow business people and learn from their successes (and how to avoid their mistakes!).
… and of course we hope you'll also take the chance to build up plenty of local business contacts, network and hopefully do a bit of business together.
There is no membership, or long term commitment...
but we can GUARANTEE that once you've been along you will want to come again!
BUT numbers will be limited on a first come- first served
So that everyone has opportunity to take part, share ideas and pick up tips and FREE resources.
REMEMBER... the first 10 people to book can come along for FREE!
So … make sure you book now to secure your FREE place