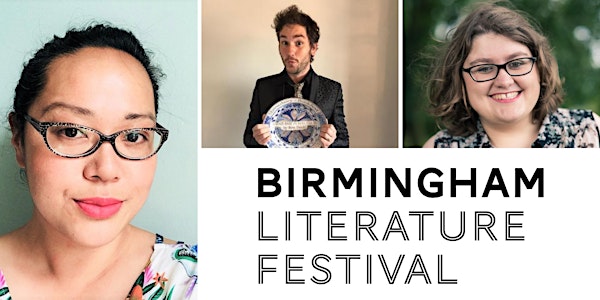 Bham Lit Fest 21: Maisie Chan, Ben Davis & Lauren James on Children's Books
Writers of children's fiction Maisie Chan, Ben Davis and Lauren James talk about their new books and how they write. A READ ON EU event.
About this event
Children's Books: Maisie Chan, Ben Davis and Lauren James
Chaired by Emma Boniwell
Presented as part of the READ ON EU project
Join us for a discussion with three recently-published children's writers, all with connections to the West Midlands. We'll talk about writing for children aged 7/8+ ("children's fiction books"), the inspiration behind their characters, and how they make them believable. We'll discuss how they have each adapted their workshops for young people when they had to move online during the pandemic.
An event for writers and readers alike, as well as children aged 8+ who want to meet the writers behind the books they love.
About the speaker(s):
Maisie Chan is British Chinese children's author from Birmingham. She loves dim sum, yoga and travelling. She has written early readers for Hachette and Big Cat Collins, and has a collection of myths and legends out with Scholastic. She is the author of Danny Chung Does Not Do Maths (U.K.) also known as Danny Chung Sums It Up (U.S.), and the Tiger Warrior chapter book series (M Chan).
Ben Davis writes funny books for older children and teenagers. His first book, The Private Blog of Joe Cowley series has been hailed as a Wimpy Kid for a new generation. He has also written standalone books for younger readers, like the supervillain tale, Danny Dread, and the critically acclaimed My Embarrassing Dad's Gone Viral.
Lauren James is the twice Carnegie-nominated British author of many Young Adult novels, including Green Rising, The Reckless Afterlife of Harriet Stoker and The Loneliest Girl in the Universe. She is also a Creative Writing lecturer, freelance editor, screenwriter, and the founder of the Climate Fiction Writers League.
About this event:
Event information: This event will take place in person, in a space with only half capacity sold.
Event Duration: This event will last for 60 minutes.
Covid-19 requirements: The space is well ventilated, and will only be sold to half capacity. Attendees will be encouraged to wear a face covering whilst moving around inside the venue.
Book signing: A book stall will be available at the venue, and book signing will take place after the event.
Get involved: The speakers will take questions from the audience at the end of the event.
This event is run by Birmingham Literature Festival, a project of Writing West Midlands. Writing West Midlands is an Arts Council England National Portfolio Organisation.
Organiser of Bham Lit Fest 21: Maisie Chan, Ben Davis & Lauren James on Children's Books
Writing West Midlands is the region's literature development organisation. We run events, activities and projects for writers in the West Midlands.