The buzz around NFTs shows no signs of easing, but what are they and how can creatives make their way into the NFT space? Lets find out!
About this event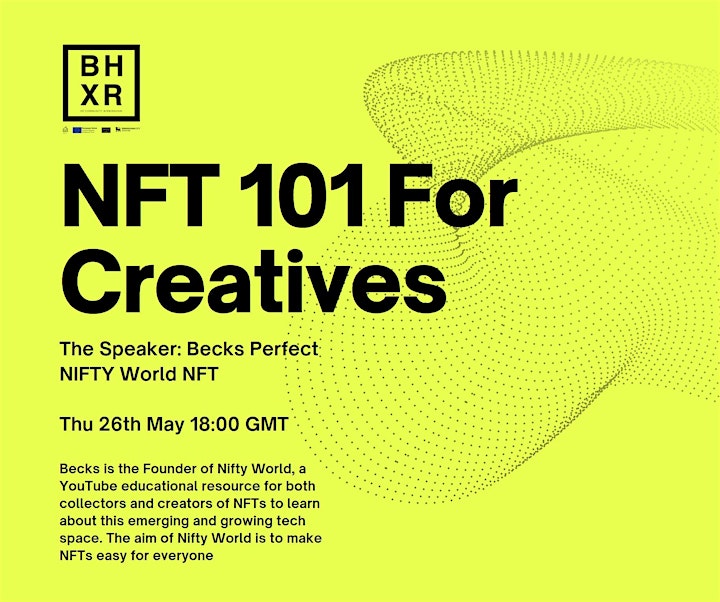 BHXR brings together the XR community of Birmingham and beyond for another fantastic digital event. This time we are focusing on the NFT space.
This May artists of all backgrounds and levels are invited by BHXR & STEAMhouse to join us for a Insight session into the new and exciting world of NFTs.
In this session we will be joined by NFT industry expert Becks Perfect from Nifty World NFT who will guide us through the often confusing world of NFTs. We will cover the basics of NFTs including how you can go from idea to market and what things to look out for along the way.
After the session you will be well equipped with the confidence and know how to create and sell your first NFT and have a good understanding of what the NFT space and how it works.
Take Away
What are NFTs and how do they work?
How this is different to traditional art selling platforms?
Are NFTs right for me?
How do NFTs protect sellers?
Pros and Cons of NFTs
How to buy and sell your first NFT (Overview of workflow from concept to market)
Q&A Session with Becks Perfect
Who's it for
Anyone looking to explore the NFT space
Anyone looking to demystify NFTs and Crypto Art
Anyone looking to explore new platforms and gain new exposure
Anyone looking to understand the pros and cons of exploring the NFT space
Anyone looking to understand how NFTs work
About the speaker
Becks is the Founder of Nifty World, a YouTube educational resource for both collectors and creators of NFTs to learn about this emerging and growing tech space, it is also a future Metaverse Media Company. The aim of Nifty World is to make NFTs easy for everyone and she uses her broadcast skills to interview top creators and thought leaders in the space, as well as providing investment analysis and tutorials to help anyone looking to start their journey into the world of NFTs. Becks has been a broadcaster for over a decade working in tech, film and entertainment. Having started her career representing major broadcast clients such as Sony Broadcast and Fremantle Media as a PR Executive for Ogilvy and Mather, she then progressed into broadcast journalism and was the resident Film Critic for the BBC Asian Network and TalkRADIO for over five years. Becks has been a film and tech pundit for Sky News, ITV, BBC Radio 1, Channel 5 News, Weekend on ITV and The Saturday Show. Becks remains a Tech Expert on QVC and the Film, TV and Tech reporter for TalkSPORT with Paul Ross.