Come and celebrate the first EVER UK Bi Pride on the 7th September 2019.
About this event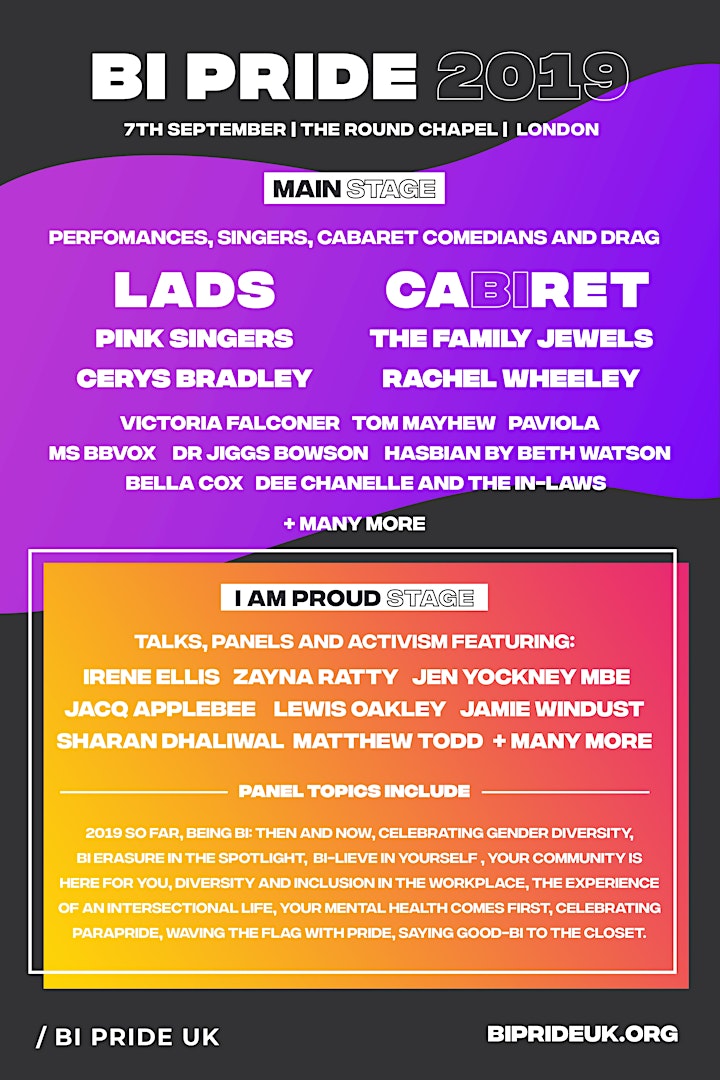 Bi people exist. In fact, they are the MAJORITY of the GRSD (Gender, Romantic and Sexual Diversity) community. So, why are we made to feel like we're the minority? It's OUR TIME to celebrate attraction beyond gender and STAND UP to make our beautiful bi voices heard! Whoever you are; bi, bisexual, biromantic, pan, pansexual, panromantic, poly, polysexual, polyromantic, queer, fluid, heteroflexible, homoflexible, something totally different, a combination of these, or even no label at all.
Come and celebrate with us at the beautiful Round Chapel in Hackney on the 7th September 2019 and show your Pride.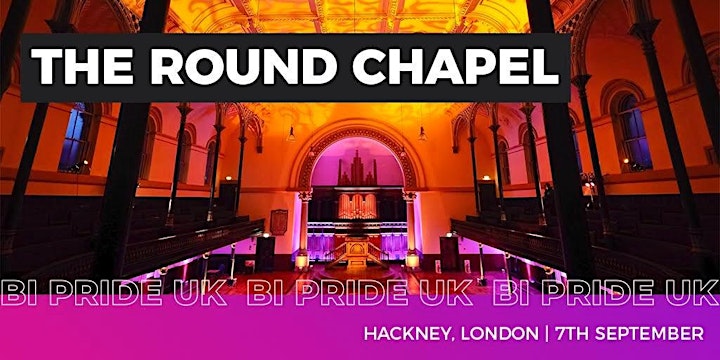 THE PROGRAMME
To celebrate the UK's first ever Bi Pride, we're really going to start with a bang!
On our Entertainment Stage you can see some of the hottest UK Bi and wider LGBTQ+ community performers. On our I Am Proud Stage join us for Panels, Activism and Spoken Word, where we will be exploring a wide variety of issues you'll love to get involved in.
Our lineup is being announced regularly, just remember to keep your eye on our Facebook & Twitter! Subscribed to our mailing list? Then check your inbox, we will be updating our mailing list before anywhere else!
Not only have we got two incredible stages jam packed with entertainment, we will also have our Community Village located in the Old School Rooms, where you can take it easy, browse our stalls and relax. You'll meet charities and Prides from all around the UK to learn about and support. There will also be stalls to shop at and a variety of food and drinks options available on the day.
ACCESSIBILITY
We appreciate Prides aren't always the most accessible places for those with disabilities. We will have BSL interpreters for both of our stages, accessible mobiloo branded toilets and a calming sensory space.
We want everyone to feel safe with us at our Pride, so we will also have gender neutral toilets with sanitary facilities and a trans changing area.
You can find our full accessibility statement here.
Feel free to contact us if you have any questions about accessibility or diversity.
THE VENUE
The Round Chapel is a stunning part of London's architectural heritage and is a grade 2 listed building. Alongside its adjoining Old School Rooms, the Round Chapel is renowned for its beauty and excellent acoustics.
Please be aware there is no onsite parking, but the venue is accessible via public transport.
You can find more out about the historical Round Chapel and The Old School Rooms here http://www.roundchapel.org
Excited? We are too! We can't wait to see you and wave that flag.
It's time to make history and show our community is PROUD!