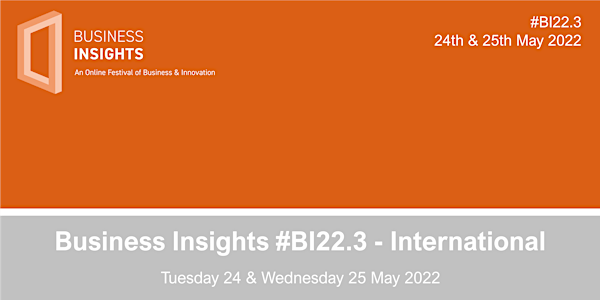 #BI22.3 - Business Insights International Festival of Business Innovation
#BI22.3 - Business Insights International Festival of Business Innovation Two days of great business discussion and thinking
About this event
#BI22.3 - Business Insights International Festival of Business & Innovation
Business Insights #BI22.3 is a festival of business & innovation. Our model embraces a wide range of topical issues each year and we will offer our audience more choice than they can fulfil. From our online business exhibition, through to the wide-ranging content, we invite you to choose what is right for you, spend time building relationships, be inspired by new ideas and thoughts, and come back next time and tell us how it went!
It's all presented by a collaboration of internationally based businesses and business leaders with ideas, thinking and discussion that will help businesses anywhere in the world to build relationships, understand more about doing better business and to start addressing some of the real challenges faced by businesses – whether on an individual level, across regions and nations, or on a truly global basis.
The festival offers speakers, panel discussions and forums. As well as informing and learning, it creates discussion in the areas most challenging to today's business communities.
It is accompanied by our online in a live business exhibition which you can visit at:
https://www.business-shows.co.uk/business-insights/the-exhibition/
our online exhibition, available 24 hours a day, 7 days a week allows exhibitors and sponsors to promote their businesses, identify with the discussions and content of the show and to focus on business development delivering outcomes to support and grow their business.
By engaging our audiences, our aim is to inform and create a momentum that will contribute to building a vibrant and engaged business community wherever you are and allow you to reach out and engage other business communities in joined up thinking. We believe passionately in collaboration and innovation.
We embrace challenging thinking, and our aim is to create a space for new ideas and relationships that will lead to innovation, communication, business development and transactions.