BIC's Advanced ONIX for Books Training Course

Wednesday, November 2, 2016 from 9:00 AM to 5:00 PM (GMT)
Event Details
BIC Training Courses
Training for an empowered, informed supply chain
Advanced ONIX for Books
WHO IS THE COURSE AIMED AT:
The Advanced ONIX for Books course is aimed at staff with management responsibility for metadata, either in IT, marketing or production within a publisher, or in similar roles in distribution and retailing.
 
COURSE LEVEL:
Delegates should previously have attended the BIC training course, "ONIX: Essentials" (formerly known as the Bibliographic Metadata & ONIX training course), or have extensive experience with ONIX gained over several years. It is not aimed primarily at developers – there is relatively little technical content – but developers wishing to gain broad background knowledge will benefit from attending.
 
COURSE CONTENT:
 
1. Identifiers and core semantics
WMI stack in indecs, WEMI in FRBR, comparison with other stacks

Class inheritance, where in the stack does each data element live

Class diagrams and database schemas

SKUs and proprietary GTINs

ISNI and other name identifiers

ISTC and proprietary work IDs
 
2. ONIX for e-books
The basic differences

Can I do...?

Accessibility

Rentals
 
3. ONIX 2.1 to ONIX 3 migration
Why does ONIX 3.0 exist (rather than 2.2)

What current data is okay, what are you likely to be missing

The key parts of a migration (what parts of the message change)

Block updates
 
4. ONIX quirks
Barcode for North America

Imprint ID for Amazon
 
5. Question & Answer session
 (Bring your own ONIX file...)
 
6. Practical demos (spread throughout the day)
How to validate ONIX messages

Why character sets and encodings are important

Tag name conversion
To read more about this course, please click here. 
Please note: travel and accommodation costs are not included in the ticket price.
THE TRAINER
Graham Bell, Executive Director, EDItEUR
Graham Bell joined EDItEUR in 2010, and he focuses on the continuing development and application of ONIX for Books, and on other EDItEUR metadata standards for the global book, e-book, and serials sectors. Graham previously worked for HarperCollins Publishers in the UK where he was Head of Publishing Systems. He led the development of bibliographic and digital asset management systems, and was involved with the launches of many recent HarperCollins digital initiatives including e-audio, e-books, and print-on-demand programs. Prior to HarperCollins, he worked as an editor and in IT roles within the magazine industry with Redwood Publishing. Read more about BIC's trainers here.
THE VENUE
Faber Creative Spaces
Bloomsbury House
74-77 Great Russell Street
London 
WC1B 3DA
Located on the fourth floor of Faber. Each Faber Creative Space comes with excellent technical facilities, including WiFi and audio-visual equipment.The intimacy of the Academy Space, with its archive of reference, fiction and poetry books and decor that nods to Faber's history, is perfect for creative meetings, training sessions and away days.
Faber Creative Spaces are accessible via excellent transport links and a lift to the fourth floor.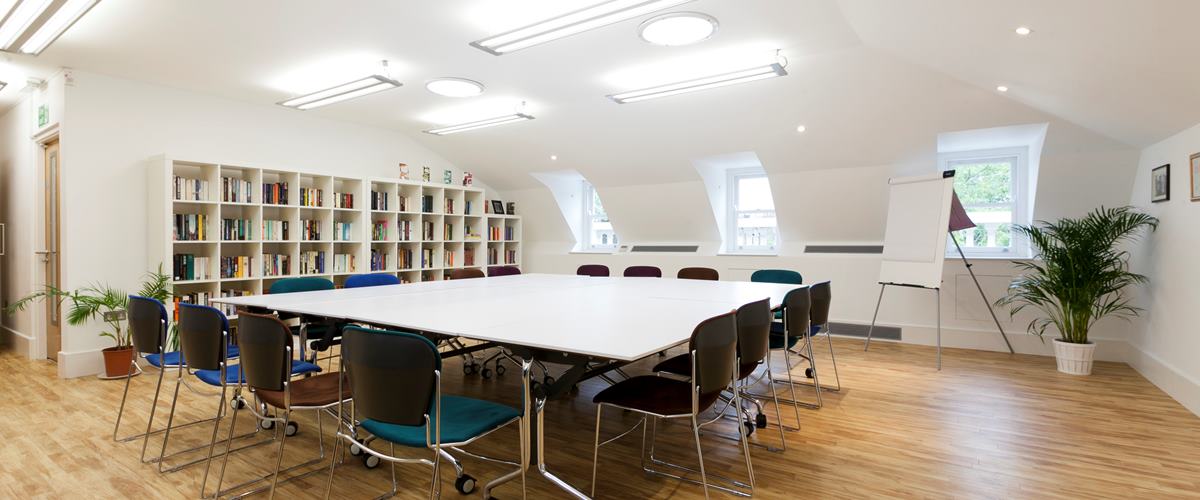 WIFI ACCESS
A password will be provided on the day to delegates.
ON THE DAY
All of BIC's full day courses include refreshments and a full working lunch.
TRAVEL INFORMATION
Tube/ Rail station:
Holborn, Tottenham Court Road, Russell Square
www.journeyplanner.tfl.gov.uk / www.nationalrail.co.uk
Airports:
London City Airport – 9 miles, ca 20 min by car
Heathrow – 20miles, ca 30 min by car
Luton – 33 miles, ca 50 min by car
Stansted – 36 miles, ca 50 min by car
Gatwick – 32 miles, ca 60 min by car
Car parks:
Bloomsbury Square Carpark (approx 3 min walk)
http://secure-parking.co.uk/DisplayCarPark.aspx?carparkid=4
Conquer Publishing Discoverability with BIC
BookMachine have teamed up with BIC to make sure that everyone who takes a BIC training course can be discovered quickly on BookMachine Connect. The courses are taught by experts in their field and teach all the core skills that those working in the publishing supply chain need to make a success of their careers. Find out more here: http://www.bic.org.uk/143/Conquer-Publishing-Discoverability-with-BIC/
Discounted rates apply to BIC members only.
Not sure if your organisation is a BIC member? Check our members list here.
Graham Bell
EDItEUR
Executive Director
When & Where

Faber Creative Spaces
Bloomsbury House
74-77 Great Russell Street
WC1B 3DA London
United Kingdom


Wednesday, November 2, 2016 from 9:00 AM to 5:00 PM (GMT)
Add to my calendar
Organizer
BIC is an independent organisation set up and sponsored by the Publishers Association, Booksellers Association, the Chartered Institute of Library and Information Professionals and the British Library to promote supply chain efficiency in all sectors of the book world through e-commerce and the application of best practice, standard processes and procedures. We have excellent relationships with all major standards bodies and we work closely with the Book Industry Study Group in the US.

BIC unites all sectors of the publishing industry, so whether you're a publisher, on-line retailer, "bricks & mortar" retailer, distributor, library (academic or public), wholesaler, digital partner, literary agent, conversion house, or any combination of these, we're here for you. We offer a "one stop shop" experience, impartial advice and support on anything & everything related to the Supply Chain (digital and/or physical) and we always love to hear from our members...and anyone who might like to become a member. Your feedback is invaluable to us.

We want to hear your ideas, what you're working on, what's challenging you right now, and what changes/developments/projects etc you think the industry might benefit from - so that we can work on your behalf to deliver solutions.

Finally, as an FYI: without neglecting the printed book world, BIC will now be focussing an increasing amount of its energy on work in the Digital Supply Chain.
Specialties
Digital & Physical Supply Chain, EDI/e-commerce, Metadata optimisation, Training courses, Industry Accreditation Schemes, Product Identifiers/Bar codes/ISBNs etc..., ONIX, Bibliographic standards, RFID, BIC Codes, Web Services, Addressing industry needs, Best practice
BIC's Advanced ONIX for Books Training Course