Big Alcohol, Big Tobacco, Big Influence - new vectors for global diseases 12.03.14

Wednesday, 12 March 2014 from 13:30 to 16:30 (GMT)
Event Details
You are invited to a symposium to highlight the harmful effects from non-communicable diseases, the global health challenge of the 21st century.
 According to the World Health Organisation, the diseases of unhealthy behaviors linked to tobacco, alcohol and obesogenic diets are the global health challenge of the 21st century. This event will bring together an important and inspiring range of speakers: policy makers, practitioners and academics, to debate the role of NCDs in society and their common vector – marketing by industry, to consider where and how policy interventions might effect change.
 Guest speakers including: Professor Don Nutbeam, Vice-Chancellor, University of Southampton, Professor Linda Bauld, Professor of Health Policy, University of Stirling, Professor Gerard Hastings, Professor of Social Marketing and Director of the Institute for Social Marketing and Centre for Tobacco Control Research, University of Stirling, Dr Richard Horton, Editor in Chief, The Lancet.  Chair: Professor Sir Ian Gilmore, Honorary Professor in Clinical Science.
13:30 - Registration
14:00 - Event opens
16:30 - Event closes
16:30 - Evening drinks and buffet reception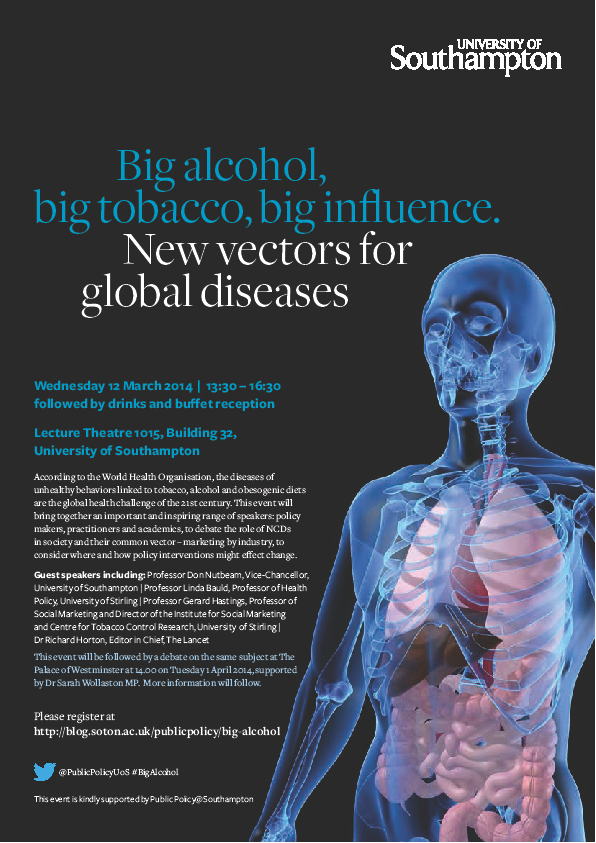 This event will be followed by a debate on the same subject at The Palace of Westminster at 14.00 on Tuesday 1 April 2014, supported by Dr Sarah Wollaston MP.                        
Please register on our separate eventbrite page.
When & Where
Lecture Theatre 1015, Building 32, University of Southampton, SO17 1BJ



Wednesday, 12 March 2014 from 13:30 to 16:30 (GMT)
Add to my calendar