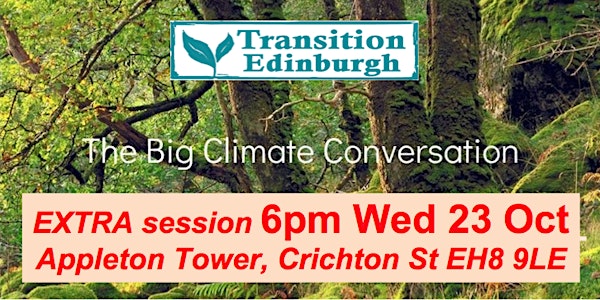 Big Climate Conversation EXTRA 6-8.30pm Wed 23 Oct Appleton Tower EH8 9LE
Location
Appleton Tower Studio M2
University of Edinburgh
11 Crichton St
Edinburgh
EH8 9LE
United Kingdom
Description
The Scottish Government has launched a Big Climate Conversation and Transition Edinburgh is organising a second Local Event 6 for 6.30 - 8.30pm, Wednesday 23 October at Appleton Tower Studio M2, 11 Crichton St, Edinburgh EH8 9LE. Refreshments from 6pm.
NB This is an EXTRA session due to overwhelming demand.

Have your say on the Climate and Ecological Emergency!
[Text from Scot Gov invitation:]
Would you reduce how much meat you eat?
Would you give up your car to help stop climate change?
Would you switch to renewable energy for your house?
"The Scottish Government has hosted several engagement events where they invited the public to give their thoughts on how they feel about what Scotland is doing and what they think Scotland needs to do going forward to combat the global issue of climate chaos.
These events were held across the length and breadth of Scotland and were all over-subscribed. So Transition Edinburgh invites all local groups in Edinburgh to a Local Session. Everyone is welcome! You don't need to know anything about climate change to join in the discussion – we are looking to hear opinions from everyone regarding changes that will affect all of us.
The Scottish Government are setting world leading targets to be the first country to reach net-zero emissions by 2045. Reaching our targets must be a shared, national endeavour involving people in their schools, workplaces and communities as well as government. The views you share at these conversations will help the Scottish Government develop a new public engagement strategy that will help Scotland transition to a greener and more sustainable society that we can all be proud of.
We encourage you to keep an eye out for further information about these events which will be available on our twitter @ScotGovClimate in the coming weeks."

NOTE. This extra session has been organised because the event on 8 October has been so popular. You can come to either one - same content! https://bcc8oct.eventbrite.co.uk